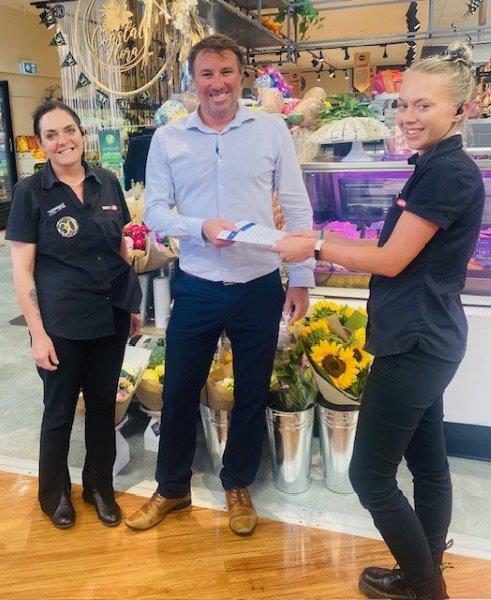 WHITE'S IGA Mount Coolum were the lucky winners of the recent 'Paint the Store Purple' Cadbury chocolate challenge with their $500 cash prize win going to their nominated charity, the Marcoola Surf Club.
The store took out the colourful win in a field that was against other participating IGA stores along the Sunshine Coast.
The challenge asked stores to boost Cadbury sales via impressive displays and to nominate who they would give their winnings to at the start of the challenge. The winnings could only go to a charity.
Store Manager Candice Mason said that it was a promotion that Cadbury did every year, and it was great fun winning.
"We put up a massive display full of chocolate with purple everywhere and we had bins full of Cadbury chocolates all over the store and our catalogue had Cadbury items at a really good price which also helped us during the six weeks of the promotion."
Candice said that amongst all of the newer flavours and blocks, it was the traditional family block of plain dairy milk that was the most popular.  
The store chose to support the Marcoola Surf Club in recognition of their exceptional contributions to the local area with the $500 warmly received by the Surf Club management.
White's IGA has a rich history of supporting various local organisations, and their commitment to giving back remains steadfast, even as they prepare for their 30th birthday celebrations to be held on October 28 at their Forest Glen store.
The group is giving away a huge $30,000 with $20,000 going to one lucky customer and $10,000 going to their chosen charity. Customers simply have to buy from their selected suppliers at any of the White's IGA stores which includes Bli Bli, Mount Coolum, and Peregian and fill in their details in-store. For more information please visit one of the local stores and get shopping for your chance to win.