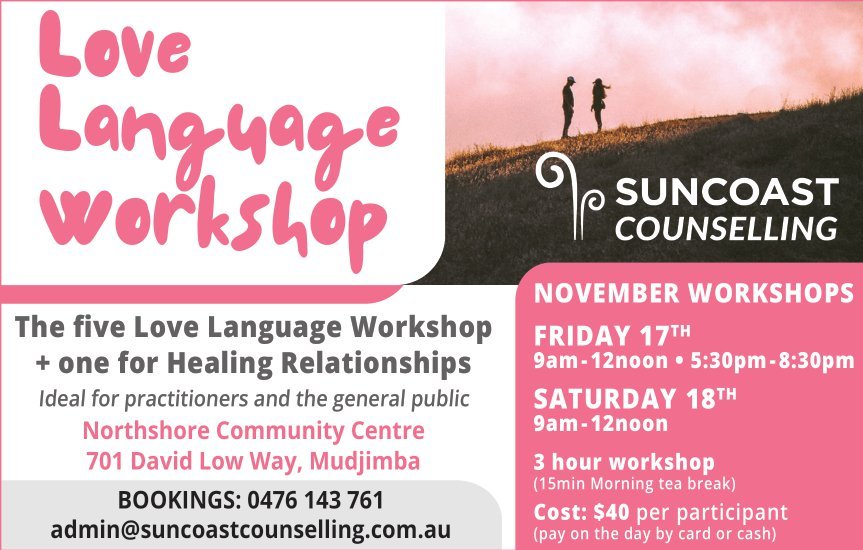 Have you ever wondered how relationships really work or go wrong? How do people feel loved and express their love? Do relationships really know how the other person wants to be loved? What happens if our love languages do not align?
Love languages workshop is a great way for practitioners to help clients heal their relationships. The Five Love Languages Plus + one more, making it six Love languages, is a fantastic tool in assisting individuals, couples, and young people to reduce and resolve conflict and dramatically improve
their relationship.
Most individuals love others through their Love Language. However, what if their partner or friend's love language is different? When this discord occurs, people do not feel loved. They can feel the relationship love tank is empty and the relationship starts to fall apart. We have found that most clients do not understand what their partner's Love Languages are. This is an opportunity to be trained in this vital key relationship tool.
This workshop is best suited to those involved in couple work but can be used successfully for individual or family counselling. Once a practitioner knows how to use the Love Language approach, within a few sessions it can turn relationships around.
Working with Love Languages is solution-focused and uses a strength-based approach. Although love languages can stand alone as a therapeutic model, it complements other counselling practices such as Motivational Interviewing, Cognitive Behaviour Therapy, Core Value Therapy, Acceptance Commitment Therapy, Narrative Therapy and Shema Therapy.
 The workshop will cover:
What are the five love languages?
What is the Plus + one love language?
How to use the information form a love language test
How to interpret and explain the results for your clients when they are different from their partner