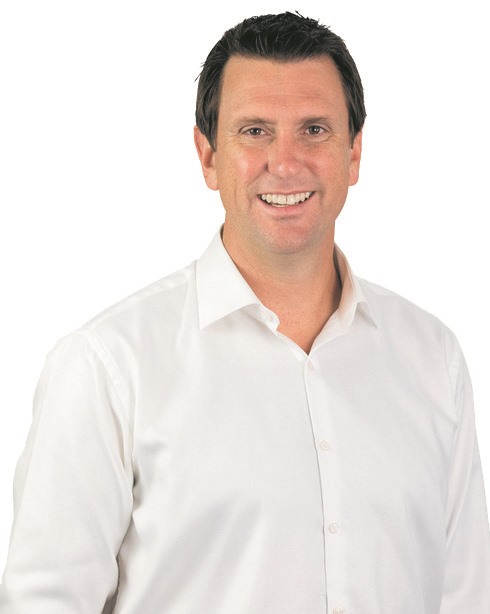 18th October 2023
Crime committee
IN EXCITING news, I am proud to have been appointed to the new Parliamentary Select Committee for Youth Crime. This committee, chaired by my neighbour, Noosa MP Sandy Bolton, has been charged with examining youth justice, and the state's crime epidemic.
My hope is that we will be able to hear directly from the experts, including front-line police officers, about the legislation and resources they need to allow them to do their jobs, and keep our community safe. I look forward to sharing more updates as our work gets underway.  
Coolum High shout-out 
Last week in Parliament, I spoke about Coolum State High's annual Celebration of Excellence that was held during the previous sitting week, in September. Although it was a parliamentary sitting week, I made the mad dash back to Coolum for the event, which is without a doubt, one of the highlights of the school year. I spoke about the recipient of the Wandama Award, Jessnee, who made history by becoming the first student to achieve a perfect score of 110 points.
I also mentioned the recipient of the Outstanding Citizen Award which I sponsor, Polly Salsbury. Polly is involved in all aspects of school life and has been a quiet, yet influential leader of the school council, fostering an inclusive culture within the school. As I said to Principal Troy Ascot on the night, it was abundantly clear to the large crowd in attendance, who got to witness some of the amazing talent that was on display by the singers, dancers, musicians, performers, speakers and award recipients, that a lot of people have invested a lot of time into the students at Coolum State High School and that the students, thanks to this mentoring and expert tuition, are clearly thriving across all disciplines in that environment.  
I also spoke about the first-class facilities the school boasts, including the newest building named Gagel Giri, which will be officially opened next month. In Gubbi Gubbi language, Gagel Giri means 'shining light', which reflects the outstanding musical excellence that shines at Coolum High. The facility boasts soundproof music studios that will help foster the astounding talent and success being achieved by students, along with state-of-the-art classrooms and art facilities and four new basketball courts. 
I took the opportunity while in Parliament last week to personally invite Education Minister Grace Grace to next month's opening so she can check out the outstanding facility and learn more about the school's many amazing achievements. 
---
20th September 2023
Crime Forum
Thank you to the more than 50 locals who attended the community Crime Forum in Peregian Springs earlier this month. Thank you also to the officers from QPS, along with representatives from Crimestoppers and Neighbourhood Watch.
It was a very good opportunity to listen to residents' concerns, as well as get an update from our local police, who also shared information about how we can better work together to help keep our community safe.
One of the main points to come out of the evening was that crime rates in our local area are low, especially when we look at what is happening in other areas of the state. We are very fortunate in that regard.
Other key outcomes included establishing an online forum similar to Neighbourhood Watch in conjunction with police so that accurate and timely information can be shared; creating a petition calling for more police and resources, and highlighting online reporting tools such as Crimestoppers and Policelink. These tools are vital as they allow police to track crime, and ensure resources are directed to where it's most needed.
Policelink – police.qld.gov.au/policelink-reporting (including hooning and speeding)
Community Camera Alliance – police.qld.gov.au/safety-and-preventing-crime/community-camera-alliance
Crimestoppers Qld – Crimestoppersqld.com.au
Our next forum will be held in Bli Bli, on 17 October.
Top Honour for SES Volunteer
Congratulations to Coolum SES Group Controller Brendan Jones, who during SES Week was acknowledged for 40 years as a volunteer. We all appreciate and recognize the wonderful job the SES does, so to have dedicated so many years as a volunteer, serving the community during times of crisis and emergency is such an incredible achievement. Thank you Brendan, and congratulations!
---
23rd August 2023
CRIME FORUM
AFTER speaking with a number of affected locals about the increase in stolen cars and anti-social behaviour in Peregian Springs and surrounds, we are planning on hosting a community Crime Forum early next month.
It's no secret police numbers are down. Coolum Police Station used to have 24 officers rostered around the clock. Now, there's only nine, and it's not uncommon for there to be no police on patrol in our area, as there's simply not enough staff. When you combine that with weaker laws, it's not surprising we've seen a 111% increase in stolen vehicles on the Sunshine Coast in the past three months.
It's not good enough.
The aim of the crime forum will be to give locals an opportunity to have their say, share their stories and put forward suggestions on how we can improve safety in our community.
One suggestion already flagged is to set up a local Neighbourhood Watch group. This is a great first step, and the forum will provide a great opportunity to speak with QPS officers and stakeholders on how they can support us.
More details of the event will be available in coming days – keep an eye out online for further information.
MATILDAS
How great are the Matildas? It has been phenomenal to watch our female footballers capture the heart of our nation and fans around the world. Their performance in the World Cup has been one of the most significant moments in our sporting history, and I am so pleased to see our state and federal government finally commit much-needed funding into more facilities for female players, and more funding for our grassroots clubs, to ensure the Matilda's legacy endures.
---
26th July 2023
Shadow Ministers visit Coolum
LAST WEEK, I was fortunate to be able to host Shadow Ministers Tim Mander and John Paul Langbroek for a quick pitstop in Coolum.
As Shadow Minister for Seniors and Disability Services, John Paul Langbroek was given an insight into the facilities at Coolum Hearts, where we were fortunate enough to check out the brand-new extension to their shed. This small but dedicated team of volunteers provide an essential service to our community, with a wide range of programs and activities on offer.
As Shadow Minister for Housing, Tim Mander was impressed by the work being done by the award-winning team at Aussie Tiny Houses, who are working with government and key stakeholders to deliver innovative and sustainable housing solutions. A big thanks to Alex for showing us around.
Also, Shadow Minister for Sport, Tim and I dropped in on a training session with the Coolum Beach Breakers, where the young players relished the chance to put Tim and I through our paces. Thanks to President Tyson Smalley who also took the time to update Tim on the exciting growth plans for the Club.
Crime
Crime in Queensland is out of control, and there is a growing chorus of voices, including former police officers, who are calling on the government to take action.
Earlier this week I spoke to the media about what experts have labelled a 'state of lawlessness' in Queensland, as a result of weak laws and fewer police and resources.
As I've mentioned previously, I was a police officer on the front line in 2015 when the Palaszczuk Labor Government started watering down the youth justice laws.
Now, repeat youth offenders are simply thumbing their noses at the law, and we're in a situation where young offenders in stolen cars are chasing and ramming the police.
Despite the State Government promising to get re-offenders down to just 5%, new data reveals a staggering 85% of hardcore youth criminals re-offend within a year, and the number of hardcore youth criminals has grown, from 374 to 449, in just one year. That's a 17 per cent increase.
There are solutions, and we need to do better. We need to create consequences for actions. We need to unshackle the judiciary by removing detention as a last resort and deliver gold standard early intervention.
I welcome your feedback on this serious issue.
---
28th June 2023
State Budget
THE RECENT State Budget, bolstered by more than $15billion from coal royalties, was a missed opportunity for our region.
With proverbial rivers of gold flowing into the state's coffers, much needed investment in our road infrastructure should have been a key priority for the government. With less than nine years until the 2032 Olympics, now is the time to build and upgrade critical infrastructure that will ensure the Sunshine Coast has the capacity to host events and cater for the tens of thousands of visitors that will descend on our region. Not to mention the massive population growth we're already experiencing, which is forecast to reach over 500,000 in the next two decades.
In my Budget reply, I highlighted some of the long overdue local projects that should be funded – projects I've been fighting for since being elected. It was back in 2008 when the Beattie government first announced plans to duplicate the Sunshine Motorway. Now, 15 years later, work is now finally underway, but this Budget should have provided more funding to fast track this multimillion-dollar project.
Similarly, there should have been funding to upgrade the western section of Yandina Coolum Road, which despite being a major arterial road, is a patchwork of resurfaced potholes, and a danger to road users.
There should also have been funding for our local schools – to repair and upgrade flood-prone and asbestos ridden buildings at Coolum State School, and for a new hall for Coolum State High.
The Budget also failed to deliver any long-term solutions for those big issues impacting our community, including the health crisis, homelessness, youth crime and cost of living pressures.
The investment in free kindy is very welcome, and I know households will welcome the one-off cost of living payments, but it simply doesn't go far enough at a time when services have never been worse.
King's Birthday Honours
Congratulations to local residents whose many years of service have been recognised nationally, taking out prestigious awards in the King's Birthday 2023 Honours List.
Mr Milton 'Ross' Bartlett AM
Mr Allan Davies OAM
Mrs Lyn Davies OAM
Ms Michele Lipner OAM
Very deserving recipients of a nationally revered awards program. Well done!
---
31st May 2023
Coolum Beach Clean up
THANK YOU to everyone who joined us at Coolum Beach for the second annual clean-up recently. The event was hosted by the Coolum Surf Club and Coolum and Northshore Coast Care, and I was proud to help sponsor it alongside Gage Roads Brew Co. We are so blessed to have such a pristine local environment, but it is one that we all need to take responsibility for.
Active Club grants
Great news for a number of our local clubs, who were successful in their grant applications for Round three of the Active Clubs program. Across the electorate, 22 clubs will share in a total of $55,000 in funding, including:
Coolum Beach Bowls Club, Coolum Colts, Coolum Beach Pony Club Inc, Coolum Beach Surf Lifesaving Club Inc, Coolum Cricket Club, Coolum Croquet Club, Coolum-Peregian Swimming Club and Saints Rugby Union.
Youth justice
The youth crime crisis has once again come under the spotlight in Parliament, with more tragic stories of innocent lives being lost at the hands of repeat young offenders. During the last sitting week, a petition signed by more than 7000 Queenslanders was tabled, which called for urgent reforms to the state's revolving door youth justice system.
I was proud to sponsor the petition, which was launched by the Beaumont family last year, following the death of 15-year-old Angus Beaumont who was killed in 2020 during an altercation with two young recidivist offenders, one of whom was out on bail.
Under current laws, young repeat violent offenders are walking away free with little more than a slap on the wrist. There's no punishment, no consequences for actions, and innocent Queenslanders like the Beaumont family are paying the ultimate price.
And the recent reshuffling of Cabinet has done little to restore the faith of the community, who are simply seeking justice.
Queenslanders deserve strong laws that put the rights of victims ahead of offenders, and it's about time the Government started listening.
---
3rd May 2023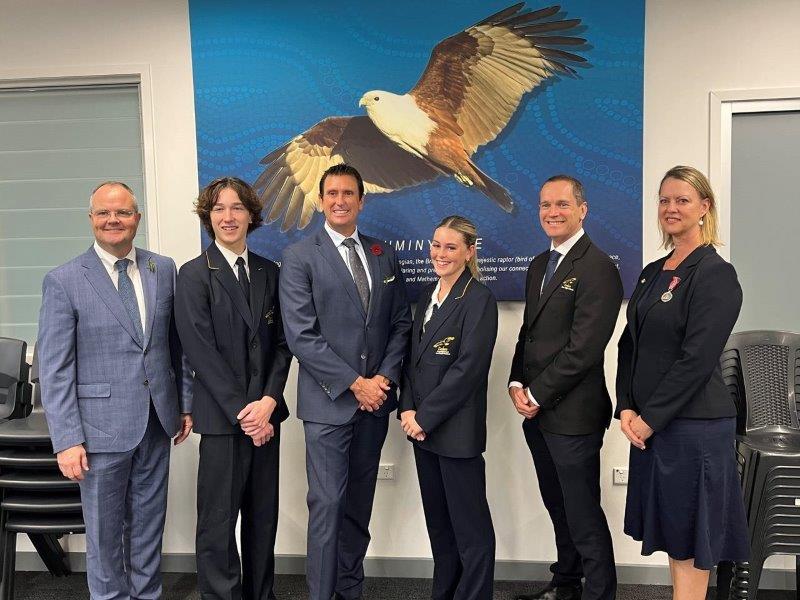 Anzac Day
In 1918 our Nation made a promise to never forget the service and sacrifice of those Australians who enlisted in the First World War.
As I travelled across the electorate in the lead-up to and on Anzac Day to attend local services, I was humbled to see so many people, of all walks of life, share their respects and honour the memories of our fallen servicemen and women.
A special thank you to the Coolum Peregian RSL Sub-branch for hosting the Dawn Service, and to everyone who attended. Thank you also to all our local schools for hosting services, and ensuring students had the opportunity to participate. Lest We Forget.

Extent of cost of living crisis revealed
Latest statistics released by the Australian Bureau of Statistics have highlighted the extent of the cost-of-living crisis, revealing that Queensland families are facing the worst increases in the country.
The shocking ABS data for the first quarter of 2023 reveals that under the Palaszczuk Labor Government, Queenslanders copped the biggest cost rises, including:
32% increase in electricity bills;
3.4% increase in housing costs and
5.4% increase in healthcare costs.
These increases far exceed any other cost increases, in any State or Territory.
Additional analysis of cost-of-living pressures released last week reveals Queenslanders have consistently paid more for government fees and services under the current government. Queensland families are paying on average $300 more for their electricity bills, despite the Palaszczuk Labor Government promising 150 times in the past six months they would make household power bills cheaper.
The new cost-of-living analysis also reveals:
• Wholesale power prices up 162% in just one year (2021-2022)
• SEQ water costs up 45% since 2015
• Car and boat registration costs up 28% since 2015
• Car licence fees up 25% since 2015
These statistics paint a very grim picture. But they are not just statistics. Every day I am hearing from locals struggling to make ends meet. Meanwhile, we have a state government that lurches from crisis to crisis, more concerned about managing the political fallout than the harsh reality facing Queenslanders. It's simply not good enough.
Coolum Surf Club gives back
Just in case you missed it, last week the Coolum Surf Club generously donated $54,924 to 15 local not-for-profit and charities as part of their annual Clubs Community Benefit Fund.
Congratulations to each of these groups, who will put the funds to good use by continuing to support the many locals who rely on them. Since the Surf Club started the program, they've donated more than $700,000 back to our community, a champion effort from a champion club!
---
5th April 2023
Thanks to everyone who provided feedback in the most recent round of consultation on the preferred options to upgrade the Sunshine Motorway and our local road network. TMR have now released the details of the preferred design for one of the key components, the upgrade to the intersection at Yandina Coolum Road, School Road and South Coolum Road.
As was previously flagged, this new intersection will feature signals to improve the safety for pedestrians and motorists, as well as reduce congestion.
Details of the signalized intersection include:
Three new signalized pedestrian crossings at the intersection
Removal of existing pedestrian crossing on Yandina-Coolum Road
New concrete footpath to connect Barns Lane school bus drop-off zone to School Road
New dedicated left-turn lane into School Road from Yandina-Coolum Road
New dedicated right-turn lane into South Coolum Road from Yandina-Coolum Road
New dedicated right-turn lane into School Road from Yandina-Coolum Road
Pavement widening to incorporate the above traffic modifications
Provision of active transport modifications including on-road bike lanes where possible
Line-marking where needed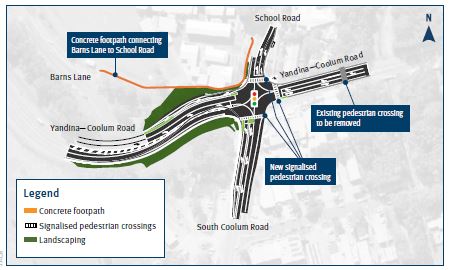 I'm assured there will be another round of consultation on this important project as it continues, with the detailed design expected to be completed later this year.
This fully funded intersection upgrade is a key component of the multimillion-dollar plan to bust congestion and improve safety in Coolum, which will include the duplication of a 10km section of the Sunshine Motorway. If you have any questions or feedback, please don't hesitate to contact me.
Road safety
With the onset of the Easter holidays, just a reminder to use a little more patience on our local roads. Tourism is a critical part of our community, and the annual inundation of visitors to our beautiful region keeps the doors of our thriving small businesses open.
Over the school holidays the police will be out in force as part of Operation Victor Easter, and targeting the fatal five – speeding, drink and drug driving, not wearing a seatbelt, driving tired, and distracted driving.
---
8th March 2023
Local women in the spotlight
What a week of celebration for women in our community! I was honoured to host a table of successful businesswomen at this year's International Women's Day breakfast, hosted by the Sunshine Coast Businesswomen's Network.
This year's theme is #Embrace Equity, and my guests have certainly done just that, in their respective fields of influence.
My guests included acclaimed social media expert, Dr Karen Sutherland, the award-winning duo behind local business Pleasant State, Ami Bateman and Sian Murray, the 2023 Queensland Agri-futures Rural Women Award winner Emma Gibbons of local business Huds and Toke, Ellie Degraeve of Go for Zero (based in Kunda Park), and community advocate Leigh McCready of Peregian Family and Friends.
Each of these women have not only made a significant contribution to their industry, but are setting new standards of excellence for the next generation of successful businesswomen.
Survey results
Late last year, I asked locals to list their top local issues, and while the results weren't surprising, they deserve further discussion. Given recent statistics which revealed the poor performance of the Sunshine Coast University Hospital and Nambour Hospital, I was not surprised to learn that the health crisis is still the top local issue in my electorate. Recent performance data showed that both of these hospitals were amongst the worst in the state for both urgent and non-urgent surgeries—failing to meet all wait time thresholds. Despite the best efforts of our local hardworking medical professionals, Sunshine Coast residents are concerned with delays in receiving timely treatment at our public hospitals, combined with some of the worst ramping rates in the country.
The issue that came in next was cost of living. If the rising costs of groceries, fuel, housing and electricity were not bad enough, Queenslanders have also been hit with no fewer than eight new taxes.
The third biggest issue is the condition of our roads. While we have secured initial funding to bust congestion and improve road safety in Coolum, our local road network has been ignored for many years. Investment in roads has not kept pace with population growth on the Sunshine Coast, and across the electorate there are a number of major arterial roads in desperate need of an upgrade, including Old Maroochydore Road, which was recently listed in RACQ's list of top 10 worst roads, along with the western section of the Yandina Coolum Road and Eumundi Noosa Road.
I raised these issues in Parliament last month, and I will continue to raise them and advocate on behalf of locals, whose voices deserve to be heard. If you would like a copy of my speech, please get in touch.
---
21st December 2022
Following two years of lockdowns and restrictions, it's great to see our community finally able to come together to celebrate the joy of the season. If the success of Coolum's first carols event in three years was anything to go by, it's clearly a sentiment shared by many.
I've certainly enjoyed being able to head back to our local schools to celebrate students' achievements, and I know there will be lots of people looking forward to being able to reunite with family, friends and distant relatives over Christmas.
On reflection, it's been a year of positive progress for our community, and being able to tick off some big wins on our wishlist.
One of the top local priorities has been to bust congestion, and we've made some significant progress, securing $5million to upgrade the School Road roundabout. Along with Coolum State School's new Masterplan and $1.75million to start the planning for the Motorway duplication, our ongoing advocacy is paying off.
I'm mindful that we've still got a lot of work to do, particularly when it comes to road infrastructure, but we're heading in the right direction, and I am looking forward to some further exciting announcements for Coolum in the new year.
For many families, this time of year can be extremely challenging, and I would like to acknowledge the many groups, service organisations and local providers who have been working tirelessly all year to help those less fortunate.
While we are blessed to be surrounded by the many volunteers who support the community, few of us are immune from the effects of the housing affordability crisis and cost of living pressures. This year there has been a marked increase in demand for support services, particularly for those who've previously never needed help.
It's been my privilege to be able to provide financial support to many of the clubs and groups who in turn help others, and I remain committed to holding the government to account, and ensuring everything is being done to reduce the impact of increased electricity prices and taxes.
Merry Christmas to you, I hope you are able to find time to relax and find some peace and joy during the festive season.
---
23rd November 2022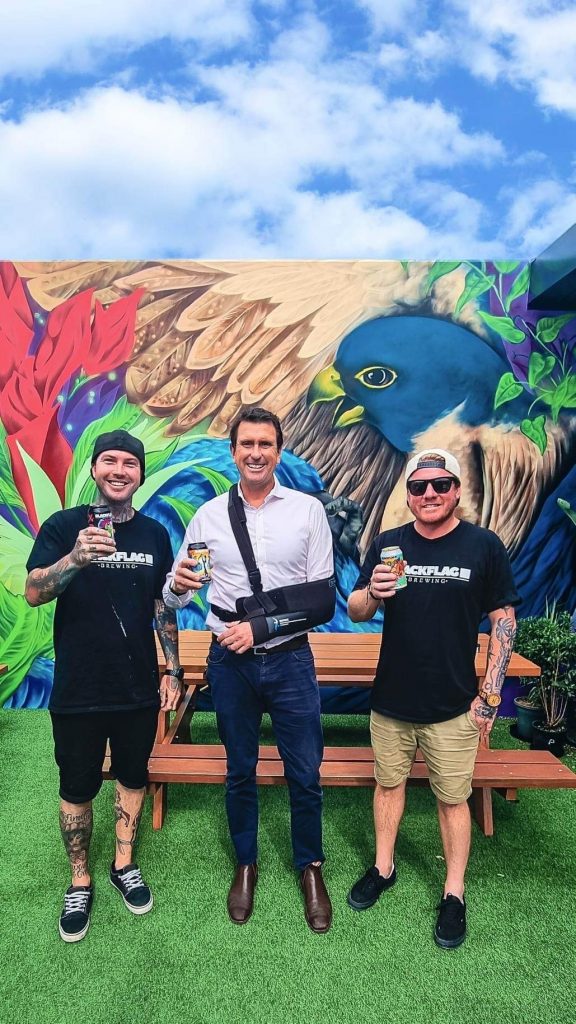 Remembrance Day
It was an honour to deliver the Remembrance Day speech at Coolum Peregian RSL Sub Branch earlier this month. Thank you to the Sub Branch for hosting what was a very fitting service that was well attended by locals and current and former defence force personnel. A highlight was the new clay poppy garden that has been installed. The handmade poppies, crafted by the Clayden Potters, are a permanent reminder of the sacrifice and service of those brave, courageous men and women who have served our country. Lest We Forget.
Justice for Angus
Earlier this month in Parliament, I spoke of my support for the Beaumont family's petition to amend the Youth Justice Act, and reinstate tougher laws. The family were driven to start the petition after their 15-year-old son Angus was murdered in 2020 by recidivist juvenile offenders, who were out on bail at the time. As I said in my speech in Parliament, I met the family later that year, and I remain in awe of their strength, courage and resolve. One question they asked me back then, and the question they continue to ask is, could Angus's death have been prevented? And sadly, the answer is yes.
At the moment, we have a revolving-door youth justice system. We need to give our police and the courts the laws and powers they need to keep us safe. We need to ensure there are consequences for actions. On this occasion, the breach of bail offence would have given the police or the courts the power to take action, detain the offenders and bring them to justice before they committed another offence.
To learn more about this, and to sign the Beaumont Family's petition, check out my Facebook page, or visit www.parliament.qld.gov.au/work-of-the-assembly/petitions/current-epetitions.
Cheers to BlackFlag Brewing
A huge cheers to one of the newest members to join Coolum's growing small business community, BlackFlag Brewing. I popped out to take a look around their new headquarters in the Coolum industrial estate and was very impressed with their expansive, bright and colourful establishment. Well done to Ross, Steve and the team for their expansion, and for joining us here in Coolum.
---
26th October 2022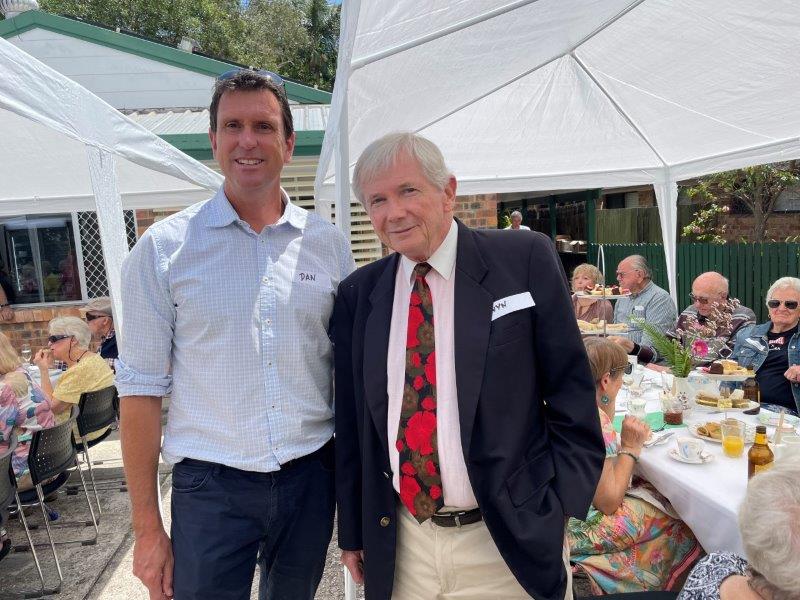 Have your say on David Low Way
THERE are only a few more days left to have your say on how we can future-proof the David Low Way. Planning is currently underway on how this vital arterial road, formerly known as the Maroochydore Noosa Road, can be improved in order to meet the needs of our growing communities.
Every day, around 15,000 vehicles travel this stretch of road, providing a vital link between communities from Maroochydore through to Coolum Beach.
The 28km road also forms part of the principal cycle network, and as we encourage more people to leave their cars at home, it's vital that any planning addresses active transport options, and making our roads safer for all road users.
A total of $550,000 has been allocated to this planning process, and I strongly encourage locals to use this opportunity to have their say.
Consultation closes on October 30 – for further information and to have your say visit https://www.tmr.qld.gov.au/projects/maroochydore-noosa-road-route-strategy-and-link-plan
State Education Week
Hats off to all our educators! This week is State Education Week, and to say thanks to all our hard-working educators at our local schools, I've teamed up with the German Bakehouse (Coolum) and The Wonky Loaf (Kuluin) to ensure they know just how much we appreciate them, with a special delivery of freshly baked goodies.
This year's theme, 'Realising the potential of every student', serves as a reminder that success can take many forms, and it is thanks to the impressive efforts of teachers and staff that we are constantly hearing good news stories about the achievements of our local student population.
Seniors Month
As the curtain closes on Queensland Seniors Month for another year, one of the highlights for me was Coolum Meals on Wheels High Tea, where I was joined by both seniors and volunteers who all contribute to the success of this wonderful organisation. Guests included well-known local identity Dr Wyn Lewis, who entertained the audience with the story of how, in his absence attending to a medical emergency, he became the inaugural President! Forty years later, and Coolum Meals on Wheels remains in great hands.
Grant reminder
Just a reminder that the last round of the Gambling Community Benefit Fund for the year closes on October 31.
---
28th September 2022
Roundabout funds secured
We've had a great win in our ongoing battle to bust congestion and improve safety in Coolum, securing $5 million to upgrade the School Road roundabout. This is the first stage of a much bigger project to upgrade the Sunshine Motorway, which will include a second access point at Mt Coolum.
Detailed design and consultation on the roundabout upgrade are due to commence in early 2023, and this will be done in conjunction with Coolum State School's new Masterplan. Based on initial traffic surveys, engineers have determined that a signalised intersection is the safest way to manage the flow of traffic at this intersection, however, we will learn more when the detailed design process gets underway.
In the meantime, Council has recently completed the design for the connection at Mt Coolum, which will be a crucial part of the overall solution.
The second round of consultation on the motorway upgrade, which will include information on the preferred design, is due to start any day now, so keep an eye out for your opportunity to have your say.
Since I was elected, locals have told me that upgrading the roundabout, busting congestion, and improving safety is their top priority, so I'm glad we are starting to make some real progress.
DV Safe Phone collection point
If you have an old mobile phone still in working order, my office is now a collection point for DV Safe Phone. DV Safe Phone collects, repurposes and gifts mobile phones to victims of domestic violence through registered charities, safe houses, and authorities. For more information about how you can support their work, and how to donate your old phone, visit dvsafephone.org, or drop by my office.
Gambling grants
Just a reminder the final round of the Gambling Community Benefit Fund grants for the year is now open, closing on 31 October.
Paint the Town Read
Congratulations to everyone involved in Coolum State School's recent Paint the Town Read initiative. It was a real hoot to be involved, and it was clearly a winner with the students too, who took the time to follow up their visit with this beauty of a card pictured below – thank you to the students for sending this in.
---
31st August 2022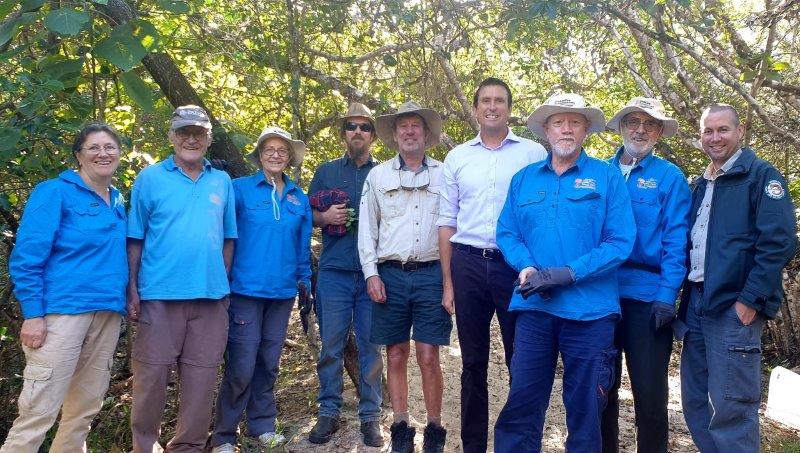 COAST CARE VOLUNTEERS
EARLIER this month I got a preview of a new project that our tireless volunteers at Coolum and North Shore Coast Care are about to embark on.
They recently received a $20,000 Community Sustainability Action grant from the Department of Environment for weeding activities in the Noosa National Park in conjunction with Queensland Parks and Wildlife, and Brendan Stephen from Natural Bushland Ecology.
I caught up with them at the Peregian section of the national park, which will be targeted along with other northern locations.
I can't speak highly enough of these environmental warriors who are so passionate about preserving and protecting our natural areas. They are always on the lookout for more volunteers, so if you've got some time on your hands and want to make a positive contribution to our local environment, please get in touch with them!
GRANTS
The next round of the Gambling Community Benefit Fund is expected to open within the next two weeks. After two super rounds of $100,000 this year, this will be a standard round of $35,000. Local group Clayden Potters know just how beneficial this program can be, having secured over $20,000 in a recent funding round to purchase a new kiln. This will come in very handy as the group continues to grow. They've been busy of late making handcrafted clay poppies, which will soon be featuring in a new 'garden of remembrance' at Coolum Peregian RSL Club.
STEM AWARD
Some of our best and brightest students in the fields of science, technology, engineering and mathematics (STEM) have recently been recognised in the 2022 Peter Doherty Awards, and it will come as no surprise that included was a student from Coolum State High. Congratulations to Jemima Bainbridge, who took out the Outstanding ATSI Senior Stem Student award. This is an incredible achievement, given the tough competition from across the State, and is further evidence of the high standards being set at the school. Coolum High is going from strength to strength across all areas of the curriculum thanks to the hard work and dedication of the amazing teachers and support staff. Another reason to love where we live – surrounded by some of the best schools on the Coast that are delivering outstanding results.
---
3rd August 2022
Celebrating Success
There are a lot of reasons to love where we live. Not only are we blessed with a pristine environment and a great community, but we also seem to breed a lot of talent, and an ever-increasing number of small and family businesses achieving success.
Many would be familiar with the great work of Coolum Business & Tourism, but when President Mark Cameron isn't busy promoting our region and supporting local business, he's also running a very successful business of his own, The Point Coolum Beach, which has just been named in the exclusive list of 'Best in Queensland Experiences'. This is a huge accolade for Mark and his business, which had to meet a range of strict criteria to qualify.
Congratulations to Mark and his family for this impressive achievement.
Coolum Business & Tourism have certainly been busy at late, with their latest initiative, Ignite the Night, set to have us all in a spin for the next few months.
I was fortunate to attend the launch recently, with the centrepiece, the Hot91 Skyline Ferris Wheel, taking pride of place in Lions Park. This is a huge drawcard for Coolum and our local businesses who will hopefully reap the rewards of this great initiative. Make sure you don't miss out on your chance for a bird's eye view of Coolum while it's here.
Export success
Congratulations to two local businesses spreading their wings and sending their products overseas. Belladotti and Huds and Toke, who both operate out of the Coolum Industrial Estate, have secured export grants to help them take the next step to expand into the international market. This is a significant opportunity for them, and I wish them all the best. Keep an eye out for their products and support local.
Coolum Industrial Park flooding concerns
With work on the second stage of Coolum Industrial Park set to commence shortly, I recently met with a group of property owners and representatives from Economic Development Queensland to discuss concerns around flooding.
During the extreme weather events earlier this year, Coolum Industrial Park was heavily impacted by flooding, and several affected businesses expressed concern about the impact of development on the surrounding land.
At this stage, discussions are continuing with Council, who approved the development applications, to ensure flooding risks are mitigated. I'll be sure to keep locals and the business community updated as this issue progresses.
---
6th July 2022
DURING Budget Week, I tabled the community's petition signed by thousands of locals that called on the State Government to fast-track funding and start construction on the long-overdue safety and congestion-busting upgrades to our local road network.
It was disappointing that the State Government failed to listen to the concerns of thousands of locals, with no additional funds for these critical upgrades in the Budget.
One positive highlight for our community was $9m for new classrooms for Coolum State High, but disappointingly, still no funds for their new hall, or to upgrade the asbestos-ridden demountables at Coolum State School.
Anyone interested in reading my full Budget reply speech, or any of my other Parliament speeches, can contact the office for a copy.
Just a reminder that the $100,000 Disaster Recovery Round of the Gambling Community Benefit Fund closes at midnight on July 15. Not-for-profit groups can apply for funding up to $100,000 for disaster recovery projects, while applicants for non-disaster-related projects is limited to $35,000.
Nominations are now also open for the 2023 Australian of the Year Awards. These prestigious awards celebrate the achievements and contributions of those individuals making a positive difference in their community. Nominations can be made in the following categories:
Queensland Australian of the Year
Queensland Senior Australian of the Year (65 years and over)
Queensland Young Australian of the Year (16-30)
Queensland Local Hero.
Queensland recipients will be announced in November, and progress to the national awards in Canberra on Australia Day 2023. For more information and how to nominate someone, visit www.australianoftheyear.org.au. Nominations close on July 31.
As part of #PlasticFreeJuly, I caught up with local business 'Pottery for the Planet', who are embracing the philosophy 365 days of the year! Did you know this eco-friendly business which used to trade out of a backyard shed in Coolum now exports their sustainable pieces around the world? Make sure you check them out, at Potteryfortheplanet.com
---
22nd June 2022
Budget priorities
WITH the State Budget to be handed down this week, I will be tabling the petition that thousands of locals have signed, which calls on the State Government to fast-track funding and start construction on the long-overdue safety and congestion-busting upgrades to our local road network.
The joint campaign with Coolum State School P&C and Coolum Business and Tourism called on the State Government to allocate funds in the Budget to put shovels in the ground. After years of lobbying, the State Government finally committed funds at the last election to start planning for the duplication of the Motorway, along with fixing the interchange with Yandina Coolum Road. This is despite the Beattie-Bligh government first announcing the project back in 2008!
Since then, our population has grown exponentially, and too many lives have been lost on our roads. The statistics are frightening – since 2008, 25 lives have been lost on the Motorway alone. Enough is enough, the time for action is now. As Coolum Business & Tourism President Mark Cameron said, it's time to get this off the 'to do' list, and just get it done!
Grant funding
Congratulations to those local clubs who secured funding in the recent round of Active Clubs grants. Each of these clubs has received $2,000 to either help grow members, support volunteers or improve safety:
Coolum Colts Junior Rugby League
Saints Rugby (Peregian Springs)
Coolum Beach Croquet Club
Coolum Peregian Swimming Club
Coolum Tennis Club
Coolum & District Netball Assoc
Kuluin Netball
Sunshine Coast Paddlesports Club
Sunshine Coast Masters Australian Football
Sunshine Coast Sports Aviators
Eumundi Tennis
Maroochydore Football Club
Sunshine Coast Physie and Dance
It's great to see so many local clubs benefit! Just a reminder also that the next round of Gambling Benefit Community Fund grants closes soon, on July 15, 2022.
More bus services for Bli Bli
Great news for Bli Bli residents, who are set to benefit from the extension of the popular 612 bus route, as well as additional school bus services for Good Samaritan College. I've been lobbying for these extra services for some time, so it's great that together with the community's support, we've been able to secure them. The extended 612 service will commence on 11 July, and the school services, which include a new route from Eumundi, commences at the start of the new school term.
Coolum Beach Clean up
Thank you to everyone who came down and joined in the inaugural Coolum Beach Clean-up, held in conjunction with Coolum and North Shore Coast Care, Coolum Surf Club and Gage Roads Brew Co., will hopefully become a more frequent event, so watch this space for details of the next one.
---
18th May 2022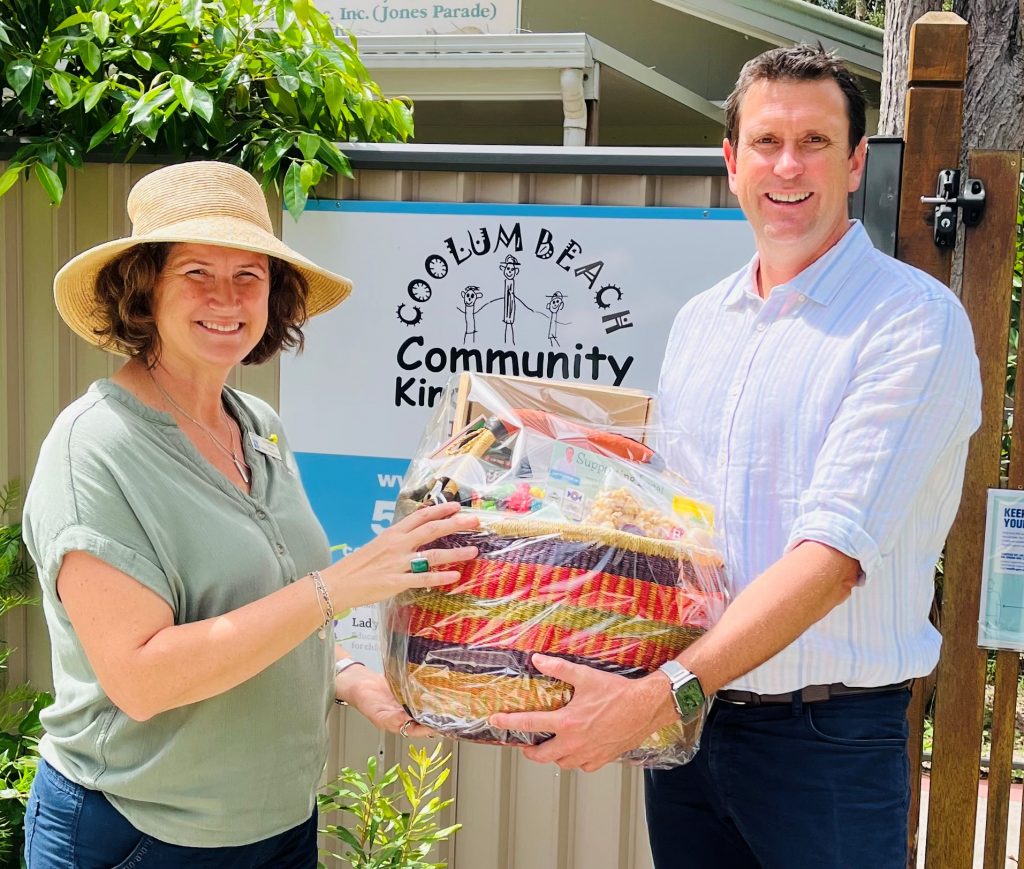 Small Business month
MAY IS small business month, and there's no better time to be showcasing the diversity of small and family-owned businesses that are operating in our backyard. Recently, I launched a new campaign to help put the spotlight on some of these businesses. The centrepiece of the 'Supporting Local' campaign is a hamper stocked entirely with locally made goods, including:
Environmentally friendly cleaning products from The Pleasant State and Go for Zero
Handmade soap and bath bombs from The Soap Bar
Selection of teas and spices from Planet Organic
Popcorn from Sweet Az Popcorn
Longlife meat alternatives from Veff by Fenn Foods
Pasta, couscous and risotto mixes from Belladotti
Coffee from Flying West Roasters
Craft beer from Eumundi Brewery
These hampers are being donated to local charities and groups to help them with their fundraising efforts, including the Coolum Women's Shed, Coolum Business and Tourism, Coolum Kindy, Coolum Peregian RSL and Coolum Hearts. If you know a local not-for-profit that could benefit from one of these proudly local hampers, get in touch.
National Volunteer Week
This week is National Volunteer Week, an opportunity to show our thanks and appreciation for all the hard-working volunteers who help keep many important community and support services operating. If you are one of these many dedicated volunteers who donate your time to help others, thank you on behalf of the wider community.
Gambling Grant super round
If you are part of a community club or group that has been impacted by a natural disaster in the past two years, you are encouraged to apply for a grant of up to $100,000 in the Gambling Community Benefit Fund's super-sized Disaster Recovery Round. This round is open now, with applications closing on 15 July. Applications from non-affected groups are still welcome in this round, with grants capped at $35,000. For more information visit www.justice.qld.gov.au/initiatives/community-grants.
Coolum Touch Footy funding
Congratulations to Coolum Touch Football for securing a $127,000 grant to upgrade their lighting through the Active Gameday Grants. It's great to see our local clubs benefit from such a significant investment, which will allow them to continue to upgrade their facilities for the benefit of their members.
---
20th April 2022
Eggscellent Easter helps local businesses rebound
BEAUTIFUL weather set the stage for bumper crowds and visitor numbers over the Easter holiday period, which hopefully will continue in the next couple of weeks thanks to the run of public holidays. I have no doubt the lifting of the vaccine mandates just before Easter had a significant impact on business confidence, which following two years of restrictions and lockdowns, had plummeted, and forced many of our small and family businesses to the wall. I've got to say it was heartening to see our tourism and hospitality providers benefitting from the influx of holidaymakers across our region, especially right here in Coolum.
YMCA Youth Parliament
Recently I met the new YMCA Queensland Youth Parliament Member for Ninderry – Sradha Rajesh. Sradha told me she nominated for the role to learn about the world of politics and the role governments play in our lives. In addition to her year 12 studies, Sradha will work as part of a team in the Youth Parliament's Prevention of Domestic and Family Violence, Housing, Infrastructure and Transport portfolio. Sradha has been appointed to the position of Policy Coordinator and will play an active role in writing a Bill and then debating it at Parliament House in Brisbane.
Graffiti vandals
In recent weeks, my office sign has been the target of a number of graffiti attacks. I dismissed the first couple of incidents, but after the third time, I reported it to the police, as it's not only an eyesore and an inconvenience, it's also a crime.
While I respect that everyone has their own political views, there are also plenty of channels to have your say, including picking up the phone or making a time to come and speak with me. I'm available 24/7, so if you or someone you know has a burning issue to discuss, simply get in touch.
Funds flow for heavy rail extension
I am sure many locals were pleased to hear that the Federal government has committed $1.6billion for the extension of heavy rail from Beerwah to Maroochydore. This transformational infrastructure project is exactly the type of investment our region needs; however, it's been disappointing to see it become a political football, especially given it's been on the agenda for nearly two decades. I urge the State Government to get on board and fund their share of this vital upgrade to make this vital public transport link a reality before the 2032 Olympic Games.
---
16th March 2022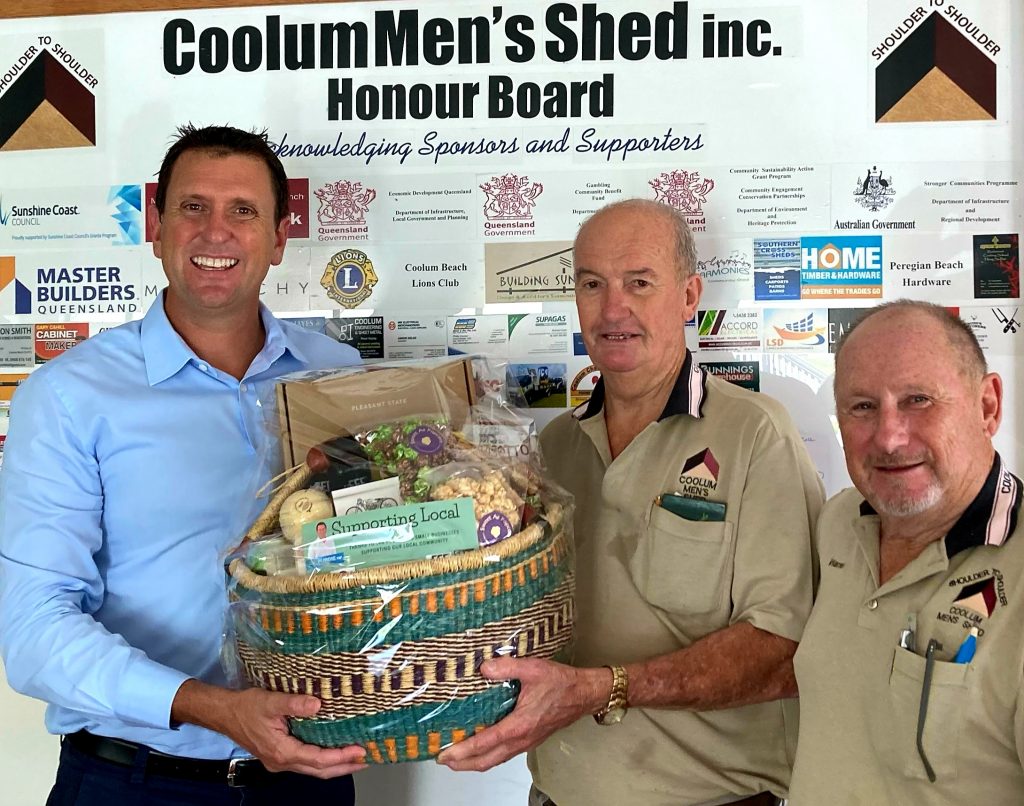 Celebrating school leaders
I admit it was an emotional occasion to finally be able to attend whole of school assemblies and to share our students' successes and achievements with parents, family and friends! Last week I went along to a number of student leader inductions at local schools including Coolum Beach Christian College, Coolum State School and Coolum State High, where the highlight was not only seeing the pride of the students on display but being able to share that with the school community after two years of restrictions.
Congratulations to all our student leaders, with whom I share this piece of advice – if you make the right choices, you'll never go wrong. Here's to a positive, challenging and rewarding year ahead.
New 'Supporting Local' campaign launches
Have you ever stopped to think about just how many businesses our local community supports, and vice versa? As I travel around the electorate, I am constantly blown away and inspired by the wide range of businesses that operate right here in our backyard, and I've come up with a novel way to not only recognise them and support them but also share this support with our hard-working community groups.
I am donating these 'Supporting Local' hampers to local clubs, groups and charities who are looking to fundraise in the next few months. Each of these hampers is valued at around $200 each, and feature a special selection of locally produced goods from local businesses in the electorate, including The Shop (Coolum Beach), Flying West Roasters (Doonan), Veef by Fenn Foods (Kunda Park), Belladotti (Coolum Beach), Pleasant State (Coolum Beach), Planet Organic (Coolum Beach), The Soap Bar (Coolum Beach), Go Zero (Kunda Park), Sweet Az Popcorn (Coolum Beach) and Eumundi Brewery.
A huge thank you to each of these businesses for their support and willingness to be involved.
If you are part of a club that is looking to fundraise, or a local business that wants to be involved, get in touch today.
Australia Day Awards Honour Board
Thank you to the mighty Coolum Lions for organising the new 2022 Australia Day Awards Honour Board, which is now proudly on display at my electorate office, in Heathfield Road. The new board has been updated to include the details of our 2022 Australia Day Award winners, and it was great to be able to host them at my office last week to celebrate this important tribute.
---
16th February 2022
Back to Parliament
Next week I head back to Parliament for the first sitting week of the year. Some of the important legislation coming up includes important amendments to allow video evidence in domestic violence court proceedings and stronger laws to protect journalists. I also expect there will be a lot of pressure on the government to announce a small business relief package, following the further decline of business confidence revealed earlier this week. Small business is the backbone of our economy, and a number of local businesses have told me they are on the brink of collapse, and desperate for some financial relief. I will be standing up next week to throw my full support behind a support package, like targeted grants and payroll tax relief. If you have a small business story to share, I'd love to hear from you.
Marquees
Does your club or group need a new marquee? You may be eligible for one of my free sponsored marquees! These 3m x 3m pop up marquees are quick and easy to assemble, and are customised with your club logo and colours. Send an email to my office at ninderry@parliament.qld.gov.au by the end of the month to be considered.
Coolum Women's Shed
Mark your calendars! On Saturday, March 12 the Coolum Women's Shed will throw open their doors as part of week-long activities to celebrate International Women's Day (March 8) Week, Queensland Women's Week and National Women's Shed Week. As one of the only groups of its kind in the region, Coolum Women's Shed offers a wide range of programs and networking opportunities for women of all ages. If you haven't already checked it out, the Open Day on March 12 is the perfect opportunity.
Coolum Wedge
The countdown is also on for the second annual Coolum Wedge, from March 25-27. Last year's event saw some of the country's best body surfers ranging in age from 10 to 80 years hit our local waves for the inaugural competition, which was also a great boost for the local economy. Registrations close on March 11. For all the details visit their new website at www.coolumwedge.com
Teacher Appreciation
During last week's back to school rush, I took some time out to deliver some goodies for all our hard-working teachers and staff. During COVID, they've had to re-imagine lessons and the way that education is delivered, so it was a great opportunity to show our appreciation for their efforts as the school year gets underway.
---
26th January 202

2
Aussie, Aussie Aussie!
While some of our traditional Australia Day celebrations may have been restricted due to COVID, we were still able to acknowledge some deserving locals who were recognised at the Coolum Lions Australia Day Awards. Congratulations to Citizen of the Year Fay Beutel, Volunteer of the Year Jessica Appel, Young Person of the Year Local Pieters and Community Group Community Bank Marcoola. A special thanks also to the Coolum Lions who worked extremely hard to ensure the awards were able to proceed.
Back to school
Although the official start of school has been delayed, just a reminder that school zones are now back in operation. While many students won't be attending until Monday, February 7, schools are open, so please don't forget to slow down in these areas and observe the reduced speed limit.
Salty Saturdays
Last weekend marked the launch of Salty Saturdays, an exciting new market event designed to promote our unique culture and community. An initiative of Coolum Business & Tourism, the markets are a family and pet friendly event that showcases some of the best our area has to offer, from food, small business, live music, entertainment and more. Thanks to all the sponsors including Richardson & Wrench Coolum, Aussie Home Loans Coolum, The Point Coolum, Coolum Holidays and Diablo Co & Blackflag Brewing who've come on board to help support this fantastic event. If you missed it, mark the date of the next event in your diary – Saturday, February 12 at Jack Morgan Park.
Upcoming safety works
Work is due to start on the installation of a protective screen along the full length of the Havana Road footbridge over the Motorway at Peregian Springs. The footbridge will remain open during the day, but will be closed at night when most of the works will be completed. Please ensure you observe changed road conditions and reduce your speed accordingly.
Get playing with FairPlay vouchers
If you are a parent or guardian you may be eligible to financial assistance of up to $150 towards the cost of sport and active recreation memberships for your child. Applications for FairPlay vouchers are open now. For information on eligibility, visit www.qld.gov.au/recreation/sports/funding/fairplay/apply
Changes to Gambling Community Benefit Fund
This year, the Gambling Community Benefit Fund will operate a little differently, offering four funding rounds, commencing with one super round of grants up to $100,000. This first funding round opens February 21 and closes March 31. The following three rounds will offer grants of up to $35,000 later in the year.
Single-use plastics survey
Should our statewide ban on single-use plastics be extended? The State Government is currently asking people to have their say by completing an online survey. For more information and to complete the survey (closing January 28) at https://www.qld.gov.au/environment/pollution/management/waste/recovery/reduction/plastic-pollution/tackling-plastic-waste
---
15th December 2021
This week, our local tourism and hospitality businesses have had reason to smile again with the easing of border restrictions. While there's still a lot of concern around how new public health measures will be enforced from next week, there's also been an overwhelming sense of relief, as the tourists and visitors return.
After months and months of uncertainty, I am hopeful the state government makes good on its commitment to keep borders open, and avoids any further lockdowns. The majority of people I've heard from agree that we need to learn to live with this virus. It's time to get back to business as usual, and vaccinations are the key!
As we count down the days to Christmas, if you are still on the hunt for the perfect present, look no further than a Sunny Coast Cash Gift card.
For every $100 card (redeemable at a large number of local businesses), $180 in benefits is returned to our local economy. Christmas doesn't get any better than that. For all the details, including the chance to win a $1,000 Sunny Coast Cash Gift Certificate, head to the Coolum Business and Tourism Facebook page.
And don't forget the line of up Flicks in the Park, proudly hosted by our local Chamber, throughout the festive season.
It was a busy conclusion to the end of the Parliamentary year, with landmark legislation being passed in the final sitting week. 'Sian's Law' is the legacy of a community-led campaign supported by more than 72,000 people who showed their support and signed the petition. For more information about this important legislation, and what it means for the worst of the worst offenders, head to my Facebook page.
As this is my final column for the year, I would like to take this opportunity to wish everyone a very Merry Christmas, and a safe, healthy and prosperous New Year. Thank you for all your support throughout the year, I look forward to continuing to work together and representing you in State Parliament in 2022.
---
17th November 2021
Business Awards
Our local business community really shined at last week's 2021 Sunshine Coast Business Awards. From clean technology to food and retail, we are blessed by the creativity, innovation and professionalism of the growing list of businesses who call Coolum home. Congratulations to Aussie Tiny Homes, Good Harvest Organic Farm and Pleasant State who were recognised for their outstanding achievements over the past year, not to mention the many other local businesses who were named as finalists, including:
EnviroCom Australia
FIREUP Coaching
Huds and Toke Pty Ltd
Kultured Wellness Pty Ltd
The Ohana Group
Nourishing Wholefoods
Zone RV
Hulk Media
King IT
Admins the Answer
Our small and family-run businesses really are the backbone of our local economy, and by supporting them, we are not only supporting local jobs, we are also ensuring they have the confidence and capacity to weather the storm during times of uncertainty, as we've all witnessed over the past 18 months. I look forward to the State Government providing more clarity for our hard-working business operators in coming days as restrictions start to ease and borders open in the lead up to Christmas. There has never been a more critical time as we emerge from the health pandemic, and learn to live with COVID.
Roadworks update
Major resealing works that were due to be carried out earlier this year on Yandina Coolum Road have been rescheduled and should now be underway, on a 5km section from the Bruce Highway to Valdora Road. These works are expected to take up to six weeks, so please be aware of the changed conditions, including reduced speed limits, when travelling in this area.
Similarly, resurfacing works on Emu Mountain Road, at Peregian Springs and Weyba Downs have been delayed, and are now expected to get underway this month. Works will take place on a 7km section between Peregian Springs Drive (south) to Murdering Creek Road roundabouts, and from Murdering Creek Road to Eumarella Road roundabouts.
If you have any queries about these works, don't hesitate to give me a call, and thank you for your patience while these important works to improve the condition and safety of our roads are underway.
---
20th October 2021
State Government releases COVID roadmap
For months now, my LNP colleagues and I have been calling on the State Government to provide a roadmap out of COVID lockdowns and restrictions. Queenslanders want to choose hope over fever. They want answers, clarity, accountability, common sense and compassion.
There's little doubt they've become more sick of politics than they have from COVID, so although it was long overdue, I welcomed the announcement earlier this week on the vaccination targets we need to meet in order to open our borders and regain some of our lost freedoms.
I applaud our local chamber, Coolum Business and Tourism, who has been doing the heavy lifting, launching local activation programs to help keep businesses afloat. Without their support, many businesses would not have survived, and as we all do our part in reaching the vaccination targets in the lead up to Christmas, please continue to show your support by shopping locally, and helping a local business keep their doors open.
Barrie John Watts parole denied
Welcome news for the Kingi family, who last week finally received the news that the parole application of convicted child killer Barrie Watts was denied. To those who are not familiar with this story, Watts was convicted of the heinous torture, rape and murder of 12 year old Sian Kingi in 1987. Earlier this year, the family and I tabled a petition in Parliament calling on the Queensland Parole Board to reject his parole application. It's been an agonising wait for the family, and I've made a commitment to them to ensure the government passes tough new laws to ensure that Watts and monsters like him never see the light of day again.
Housing crisis
Other than COVID, one of the most pressing social issues that I am regularly contacted about is the housing crisis our region is currently experiencing, and last week, I spoke about it in Parliament. Here on the Sunshine Coast, we have 3000 properties on the social housing register, with recent statistics indicating around 1,800 families on the waitlist.
To make matters worse, the Sunshine Coast is one of the most expensive property markets, with a median house price of $825,000. With the Government committing to just 140 new dwellings, it is clear that much more needs to be done to break the cycle of homelessness and housing stress.
One local business that is making a difference is Aussie Tiny Homes, located in the Coolum Industrial Park. I recently met with them to learn more about the innovative work they are doing with Noosa Shire Council, helping to meet the demand for housing for younger people. They have projected that next year alone, they will build over 200 tiny mobile homes that could be used for emergency accommodation or granny flats. While this will make only a small dent in an ever-growing problem, I applaud Fabio, Thiago and the team for all their hard work and innovation.
---
16th September 2021
Voluntary Assisted Dying legislation
I am writing my contribution this week from Parliament, where I, along with all my fellow elected representatives, are considering one of the most important yet divisive pieces of legislation to have come before the House.
I've long said the issue of voluntary assisted dying is beyond politics, and while it was unfortunate to see it become used as a political weapon during last year's state election campaign, it is an important issue that now must be addressed.
Over the past few months, I've spent a lot of time consulting with stakeholders from both sides of the debate, as well as with my own community. I've heard heartbreaking stories of loss, pain and grief and trauma, and these have had a huge impact on me.
Despite this, I've done my best to keep an open mind, and while the majority of the feedback I've received from the electorate has been supportive of voluntary assisted dying, what struck me the most has been the strong response to the need to better fund palliative care. While the concept of VAD was broadly supported, 100% of respondents supported improvements in palliative care.
I am of the firm belief that one of our primary responsibilities as lawmakers is to protect our most vulnerable. The huge gap that still remains in palliative care funding needs to be resolved before we can make legislative changes that will impact on end of life decisions.
Ultimately, I believe all Queenslanders deserve the choice. It should not only be a choice about when to die, it should also be a choice to live, in relative pain-free comfort.
You can listen or read my full speech on my Facebook page later this week.
---
18th August 2021
Road infrastructure upgrades
Following years of fighting to bust congestion in Coolum, I'm pleased to see money finally start flowing on long overdue road infrastructure upgrades in Coolum.
Thank you to the local community who've been vocal in their support for our campaign, which has helped secure $1.75million to commence planning for the duplication of the Motorway, as well as upgrades to the School Road intersection and Yandina Coolum roundabout.
This funding is long overdue, and I look forward to working with key stakeholders to ensure the upgrades can be completed as soon as practical.
There's no doubt our local road network is struggling to cope with the increased population, and securing this funding is a critical first step towards future-proofing the Sunshine Motorway, and an important acknowledgement that the State Government can't continue to ignore the needs of our region.
In other road news, earlier this year we were advised of resurfacing works on a section of the Yandina Coolum Road, again after a community-driven campaign to highlight the dangerous conditions. Earlier this week, TMR has advised that the work has not yet been done, and it has been rescheduled for later in the year, with line marking on that section to follow. Once TMR has confirmed a new start date, I will share this information with the community.
Voluntary Assisted Dying
Unfortunately, due to border lockdowns and COVID restrictions, the VAD forum I had planned to host earlier this month was cancelled. My apologies to those residents who had expressed an interest in attending. There's still time to have your say – my survey runs until the end of the month. Hard copies are available at my office, or you can complete it online, by visiting http://www.danpurdie.com.au
Single Use Plastics Ban
An important reminder for all our community groups about the upcoming ban on single-use plastics, which comes into effect from September 1. The ban includes single-use plastic straws, stirrers, plates and bowls, cutlery and polystyrene takeaway containers. An information forum will be held on Monday, September 6 for those groups who would like more information. To register, go to www.eventbrite.com.au.
Upcoming grant opportunities
COVID-10 Business Support Grants – now open, visit www.business.qld.gov.au/supportgrant
Gambling Community Benefit Fund – next round closes on August 31
Fair Play Vouchers – applications close September 29
Queensland Day 2022 grants – applications close August 31
Celebrating Multicultural Queensland grants – close September 12
---
15th July 2021
VAD Forum
Thank you to everyone who has completed my survey on Voluntary Assisted Dying. I've been impressed by the great response, with hundreds of surveys returned, and encourage those who haven't yet completed it, to have their say.
If you would like to know more about the proposed legislation, I am hosting a forum next month, on Wednesday, August 4 at the Coolum Peregian RSL from 5.30pm. There will be speakers presenting both sides of the debate, as well as a legal professional who will be able to answer questions about the legislation. Due to COVID, numbers are strictly limited, so if you would like to attend, please register by contacting my office.
New tobacco outlet a cause for concern
In the past few weeks I've been receiving lots of complaints about the new tobacco shop across from Coolum State School. Unfortunately, while there are restrictions on the sale, advertising, display and promotion of tobacco products, there are no restrictions on where a tobacconist can be located.
In 2015 smoking was banned at all schools, and five metres beyond their boundaries. Given that strict laws to control tobacco marketing are central to efforts to reduce smoking, it's concerning to think how these laws don't also apply to the location of retailers, particularly in such close proximity to children. I have written to the Health Minister seeking urgent advice on what we, as a community, can do to address this, to help better protect the younger generation.
Upcoming roadworks
Vegetation clearing works are due to get underway this weekend along the Sunshine Motorway, between the Pacific Paradise bypass bridge and Yandina Coolum Road. The works will be done at night, between 7pm-6am (conditions permitting) for a period of approximately two weeks, and motorists should expect delays with single-lane closures and reduced speed limits. The works will help improve visibility along the road corridor, so thank you in advance for your patience and understanding.
---
17th June 2021
Sign for Sian
Thank you to everyone who has signed the petition calling on the Queensland Parole Board to ensure that for the worst of the worst offenders, like convicted killer Barrie John Watts, life means life. This week I tabled the petition in Parliament, which has received overwhelming support from individuals right across the State.
If you would like to keep up to date with our campaign, including the outcome of Barrie Watts' parole application, please sign up for regular updates via my website, or contact my office.
State Budget
This week, the State Government handed down its second Budget, but unfortunately for the majority of locals, there was little to get excited about. There are some local highlights worth celebrating, with Coolum High set to benefit from a $11.2million investment this financial year for a range of infrastructure projects including building extensions and classrooms, as well as $4.5m for a new administration building for North Arm State School, and $450,000 for Bli Bli State School. These are great outcomes, although I am disappointed there was no new money for a performance hall for Coolum High, or to fast track the long overdue air-conditioning at Coolum State School.
Other welcome investment includes just over $1million for pedestrian access at the intersection of Scrub Road and David Low Way, and an additional $450,000 for the Motorway duplication planning process. The State is also chipping in more than $1million to seal a section of Zgrajewksi Road. These are all important projects I have been lobbying for, so it's great to see the funding allocated, although there's still much more needed.
At a time when more and more people are choosing to call the Sunshine Coast home, we need to see more money being invested into our road network. We need to fast-track major infrastructure projects like the upgrade to the Coolum roundabout, and upgrades to major arterial roads like the Yandina Coolum Road and Bli Bli Road, which are no longer fit for purpose.
While I welcome a funding commitment of $1.9billion over four years for social housing, and a new $1billion Housing Investment Fund, there is so much more that needs to be done, which this Budget simply doesn't deliver.
Voluntary Assisted Dying – survey now available
For those residents keen to have their say on the Government's proposed Voluntary Assisted Dying legislation, you can now access the survey on my website. A hard copy will be available in your letterbox from next week.
---
20th May 2021
Thanking our Volunteers
As National Volunteer Week wraps up, I want to again pay tribute to all the hard working volunteers who give up their time to serve the local community. From service groups to social support, sports and recreational clubs, schools, aged care and the environment, volunteers come in all shapes and sizes. This week, I've made a point of showcasing some of the many different roles our valued volunteers take on. Check out my most recent posts on Facebook, and like and share to say thanks.
Sponsorship secured for Raffa, the Story Dog
Earlier this month I was invited along to Coolum State School to read with some of the prep students. During the visit, I learnt that one of the Story Dogs, Raffa, needed a sponsor, so I gladly took the opportunity to support this fantastic learning support program.
Story Dogs is a great way to help engage younger students with reading. Raffa is the second Story Dog I proudly sponsor, the other dog, Molly, is based at Kuluin State School.
Member for a Day
Earlier this week, I was joined by the Youth Member for Ninderry, Micah Carswell, who shadowed me for a day. Micah helped me host a special morning tea with the Coolum Lionesses, and also came along to one of my regular meetings with Division 10 Councillor, David Law. We also dropped in to deliver a new Queensland flag to the Coolum Bowls Club, and toured the Nambour Meals on Wheels facility. Thanks for keeping me company Micah, I hope you enjoyed the experience.
Hundreds of A'Vanners descend on Coolum
Many of you may have noticed an extra buzz in our local shops in and around Coolum this week, with nearly 300 visitors arriving as part of the 22nd AGM of the A'Van Club of Australia. Club members, who have set up at the Coolum Beach Holiday Park and Mudjimba Caravan Park, are expected to spend around $500,000 during their stay in our region. I had the pleasure of attending their official function earlier this week, and was happy to spruik some of the many tourist offerings available locally.
---
25th April 2021
I was delighted to announce some important resealing works for a notorious section of Yandina Coolum Road last week. Work is expected to start next month on resurfacing a five kilometre section of the road from just the other side of the Bruce Highway through to Valdora Road. For months I have been lobbying TMR for upgrades to this dangerous road, which locals have told me is an accident waiting to happen. I recently took a ride with a local truck driver to film just how bad the conditions are, which you can check out for yourself on my Face book page. These resealing works won't fix all the problems, but it's a good start to our ongoing campaign to upgrade the road.
Work will also start soon on the installation of a CCTV camera at the intersection of David Low Way and Beach Road. According to TMR, the footage from the camera will be used to help monitor the traffic lights at the intersection, allowing the traffic management centre (TMC) operators to adjust signals when necessary. Given the massive increase in local traffic, any investment in new technology to help address the congestion is welcome.
It's been great to see so much grant money being shared by local clubs and groups lately!
Congratulations to the latest recipients of Gambling grants, including Coolum Colts ($35,000 for field lighting), Coolum Croquet Club ($15,100 for a new shed), and Coolum Peregian RSL Sub Branch ($35,000 for a van with disabled access). This follows the generous grants recently awarded by Coolum Surf Lifesaving Supporters Club, which distributed $42,000 to some of most deserving community groups, including Coolum Hearts, Coolum Quota, Coolum Beach Meals on Wheels, Coolum and North Shore Coast Care, St Vincent de Paul Coolum Beach, and Salvation Army.
Coolum Tennis has also benefitted from a much needed injection of funds, with the official opening of the new courts recently. It was a vast improvement from when I visited last year to announce the $350,000 Works for Queensland funding, which was used to not only replace the four courts, but also upgrade the lighting and fencing. Sunshine Coast Council also contributed $70,000 for the refurbishment, which I know will be well received by our ever-growing local tennis community.
---
18th March 2021
Update from Parliament
Last week in Parliament I asked the Minister for Education for an update on the roll-out of air-conditioning for Coolum State School. Nearly two years ago, the P&C fundraised around $400,000 to upgrade the school's electrical system in preparation for air-conditioning, however they are still waiting. It's just not acceptable to think that students, teachers and staff will have to swelter through yet another hot summer, especially when the community have stepped up to help cover the costs.
I am back down in Parliament again next week, where the focus will again be on our local schools. In recent years Coolum State High has undergone significant growth and has developed an outstanding reputation for its quality learning and educational program. While there has been substantial investment in new buildings, one key facility that has been overlooked is a purpose-built performance hall that will also service the needs of the community. As our region continues to grow, it's imperative we plan for the future now, and invest in educational resources to give our kids the best opportunity to reach their full potential, so I will be asking the Education Minister to allocate funding for this project.
Spotlight on Coolum
On Saturday, Coolum will play host to close to one hundred bodysurfers from across the country as part of the inaugural Coolum Wedge bodysurfing competition. This all ages and all abilities event will see competitors, aged from 10 to 80 across five categories take on the waves. Not only will this be a fantastic event to watch, it will also be a welcome boost to local businesses who will benefit from the influx of visitors keen to enjoy their stay. I look forward to this event becoming a regular on our annual calendar.
JP Service
Don't forget you can now access a JP service at my office on the first and third Wednesday of every month, from 1pm-4pm. The next session is coming up on Wednesday April 7. Call on 54067900 or email ninderry@parliament.qld.gov.au to book.
---
18th February 2021
Youth Justice laws on the agenda
It's back to Parliament next week for the first sitting week of the year. It will be a busy one, with the Government's long overdue youth justice reforms due to be tabled. I have been very vocal about the need to give our police stronger laws and more resources, and while the changes are welcome, I don't think they go far enough. I'd love to hear your thoughts on this subject, and if I get the chance, I intend on sharing the community's feedback in Parliament.
I will also be asking the Transport and Main Roads Minister for an update on the survey and design work currently underway on the roundabout at the intersection of Yandina Coolum Road and School Road, in Coolum.
Following years of lobbying, we've been able to secure initial funding of $100,000 to start work on this important infrastructure upgrade, and I am keen to find out how this money has been spent.
Last week, I went along to a SafeST committee meeting at the Coolum State School where the issue of the roundabout was canvassed, along with other options to reduce the impact of congestion during peak times. I'll keep you posted as these discussions continue.
JP Service coming soon!
I'm pleased to announce that a free Justice of the Peace service will be available in my office from 1-4pm on the first and third Wednesday of every month, starting Wednesday March 3. Two wonderful local JPs, Sharon and Laraine, have volunteered their time to be able to help with all JP-related inquiries. Bookings are required, so just give my office a call on 5406 7900 or email ninderry@parliament.qld.gov.au to take advantage of this service.
Grants bonanza for Ninderry
Congratulations to all the local clubs who secured funding in the last round of gambling grants. More than $300,000 was shared between 10 clubs and groups, including Coolum Beach Bowls Club, Coolum Cricket Club, Coolum Men's Shed and Coolum State High P&C Association. If you missed out, make sure you apply for the next round, which closes on February 28.
---
28th January 2021
School resumes
Happy New Year! It's been a whirlwind of a start to 2021, and with the new school year now underway, its full steam ahead for everyone, and with teachers and students returning to the classroom, don't forget to slow down in school zones. Police will be actively enforcing these reduced speed zones, so make sure you slow down in these areas.
One of my top priorities for 2021 is holding the Labor Government to account when it comes to investing in our state road network. During the election, Labor announced they would duplicate the Sunshine Motorway, and begin work on the upgrades to the roundabout near Coolum State School.
Locals would know I have been lobbying the Government for urgent safety upgrades to this roundabout, as well as busting the congestion, so I look forward to seeing some progress this year.
Australia Day
It was great to see so many locals taking time out with their families and friends to celebrate Australia Day. While it was a shame our local Lions awards ceremony wasn't able to go ahead, it was great to join the crowd for the fifth annual charity cricket match between the Coolum Beach Hotel and the Bowlo. Congratulations to <insert winner>, who took out this year's trophy.
Fair Play vouchers
If you are a parent or carer of a young person aged 5-17 and have a valid health care card or pensioner concession card, you may be eligible for the next round of FairPlay vouchers, which aim to help keep our kids active and healthy by assisting with the cost of club registration fees. For more information or to apply, visit www.qld.gov.au/fairplayvouchers. Applications close March 17.
I am always keen to hear about your local concerns, so please keep in touch if you come across an issue or need help with a specific state government matter.