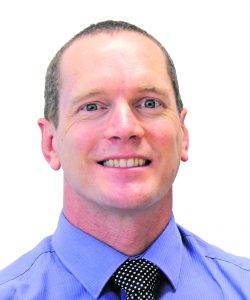 1st April 2021
Can you believe it's Easter? A quarter of the school year has already gone by. At the front of our school is a sign that says "2021 – It's the Year!" Well, it couldn't be more true. It's a great year as we rebound from the COVID-disrupted school year of 2020.
What does a COVID-rebound year look like? Firstly, it looks like students participating in the broadest range of activities from the wind symphony to robotics academy, from AFL to Art club, from box-fit to chess and from netball to cheerleading. In short, Coolum High is a hive of activity with there is literally something for everyone.
The state government has set a goal of "every student succeeding," and you can see that everywhere at Coolum High. From students who haven't yet dropped a mark in complex subjects like Specialist Maths to students receiving skilled and targeted support through specialised focus classes – there are students succeeding right across our school.
On Mondays, the school looks fantastic when all students wear the white formal uniform for which we are becoming known across the community.  The musical performances on our assemblies just keep on getting better, especially with the addition of the senior Music Extension subject.  So in the complexity of our world today, as we face up to a not-yet-over pandemic, when education is more important for young people than it ever has been, we can see how students are responding with their commitment, their energies and their talents – they are succeeding in ways we may never have anticipated.  We are one quarter down, but we're only just getting started!
---
25th March 2021
The Brisbane Broncos failed again – unfortunately. I used to love seeing the Broncos play that attacking style of league when Alfie Langer was at the helm. Later on, Darren Lockyer took over and we saw it at the Storm with Cameron Smith. What I am talking about, is that indefinable, but impossible to win without quality – leadership. To me, it is so obviously lacking at the Broncos at the moment, and so needed in the key moments in the heat of battle.
It wasn't lacking at Coolum High, though, last week when school captain, Charlotte Luck, took it upon herself to organise the inaugural Student Leader Forum, inviting the leaders of Sunshine Beach and Noosa District State High Schools to a symposium at our school designed to discuss that key topic of leadership. The students involved were intelligent and engaging, humble enough to know they have more to learn, yet courageous enough to stand up and be prepared to lead their school communities. They were, in short, inspiring!
In my experience, young people today are engaged and determined.  They know our world has complex challenges like climate change to conquer, a pandemic that isn't yet over, and social problems that haven't been resolved, and yet they face these challenges with optimism and idealism.  Charlotte's actions also show that this year's leaders have no shortage of ideas, no willingness to be ordinary and no chance of fading away without having made their mark.  They have their sleeves rolled up and are ready to dig in and have a real go at leading their school and their community to a brighter future – they know that 2021 is their year.  Maybe they could get together with some of the Broncos and think of some new ideas!
---
18th March 2021
Who is the best Australian band of all time? Is it INXS or Midnight Oil? ACDC or Cold Chisel? The Divinyls or the BeeGees? Well, I'm not sure if anyone can really answer this question, but what I do know is that the NEXT big Australian band could well come from Coolum High.
That is because music is everywhere at the moment, including rock, pop, classical and jazz. Every lunchtime, if you happen to pass the Performing Arts block, you will hear students working on covers of well-known songs, and creating their own original music. In Year 12, our 'Music Extension' students can blow you away with their arrangements of songs you've heard your whole life, while also creating their own compositions.
For me, music sits at the centre of a great school. I'm not sure I can fully explain why, but I think it starts with the fact that, as people, we are more than facts and figures; we are greater than rules and algorithms. As people, we also have a rhythm, we have thoughts and emotions to share, we have stories to communicate, we like to dance and express ourselves in energetic ways – some people have a desire to be on stage and feel the rush of live performance. Music is exciting and brave – every student who performs on one of our assemblies is unbelievably courageous. Every culture loves music, and different cultures around the world bring a different sound to their stories and to their dreams and ideas.
So, I'm not sure who IS the best Australian band of all time but I do know how proud I am of our student musicians as they pursue their own ambitions, and I'm pretty sure that we haven't heard anything yet. I strongly believe that the best is yet to come!
To check out some of Coolum High's amazing musical and vocal performances head over to their FaceBook page and look for their assembly videos
---
11th March 2021
THE US presidential candidate from 1920, Warren G Harding once campaigned on a platform of a "return to normalcy." While we might use the word "normality" as accepted English today, the phrase has its uses now as we, hopefully, begin to emerge from the COVID era.
So, what does this mean for us at Coolum High? Firstly, it means that sport can return to normal and we can participate in all the competitions that we enjoy, offering a world of opportunity for our students. It means that we can prepare our music under normal conditions, allowing for the continued growth of all our music programs including the celebrated Wind Symphony. It means we can begin planning the trips and excursions that support our educational and extra-curricular programs.
Of course, we have to be careful and there is much water to pass under the bridge. But it will be wonderful to plan as normal for a full and rich program of education and extra-curricular activities, and start to build again on some of the ambitious programs we had in place. Before the pandemic struck, some Coolum High students were booked and ready to go to NASA. The Cheerleading Academy had travelled to and succeeded in Las Vegas. Instrumental Music students had travelled to Melbourne. We have big plans and bold ambitions for our students and as the world allows, we are hopeful of continuing these strides to create more opportunity for our students.
One thing is for sure – whatever happens, we will be doing whatever it takes to provide opportunity for our students, to allow them to develop the self-belief that will shape their character and their future. As, hopefully, we can begin the journey into "normalcy", we are looking forward to creating more and more opportunities for our students to shine.
---
4th March 2021
As you walk into Coolum State High School, you will see a large sign that says "2021, It's the Year!" There are so many reasons why it is the year but a major one is the sheer quality of student leaders that we have in the school this year.
Last week at Coolum High, our senior leaders were inducted and given their badges of office. School captains, Ethan Irvine and Charlotte Luck, are young people of the highest calibre, and I know they will do the school proud. The whole school community are raving about them. When you meet young adults with manners, poise, intelligence and regard for the wellbeing of others, you just know you are seeing someone who will become successful in life.
Vice captains, Tom Oxley and Ziah Harvey, are the same. Their qualities can't be overstated. Added to that, this year's indigenous, music and sports captains, along with the chairs of our Student Council add a wonderful breadth of quality and personality to the school's student leadership group.
I have long thought that everything good and bad in our world is the product of leadership. Leadership is hard; it takes courage and character, resilience, resourcefulness, inspiration and determination in large measure. For these students to commit themselves to growing as leaders shows the quality of them as young people. To earn the honour of leading their school, these students made speeches to their fellow students and to their teachers and were voted on by both groups, before undergoing a rigorous interview process – now that takes courage. With students like these taking up the reins, I know that in 2021, at Coolum High, it will be a great year!
---
25th February 2021
Facebook has been in the news this week after banning Australian news content and inadvertently taking down government and community sites that people rely on for important messages. It brought an instant backlash against Facebook, after what appeared to be a snap decision for which no-one was prepared.
The decision to ban news from Facebook's platform certainly put "big tech" in the spotlight. I know I certainly have my concerns, especially at the way social media is allowed to be used by children to create an extremely unhealthy environment in which cyber bullying thrives unchallenged, while the tech companies creating the platforms that allow it to happen reap billions. The whole situation makes me uncomfortable.
You see, for me, after working with them every day I know that our teenagers, while appearing full of bravado, are deeply vulnerable. They don't deserve to be pawns in an impossibly profitable game, while their mental health and their sense of self is attacked mercilessly. Yes, as parents we have a role, but it's a role our own parents never had to fill. If there were more checks and balances around the tech companies themselves, more regulations to support children – parents wouldn't have to feel as if they need to monitor their child's every action when they are online.
Facebook has shown that it doesn't seem to believe that it can be controlled by rules. It doesn't appear to have a conscience around the content that appears on its platforms. It certainly doesn't believe it's a publisher in the way that a newspaper is a publisher and it has shown it will fight all the way to keep things this way. I just wish there was more that we could do, that more was being done, to protect children from the harm that occurs on social media and that today's children didn't have to navigate this unchartered world on their own. Maybe one day this world will be regulated and we won't see the harm we see that is being done in this unregulated space because our children deserve to have their childhood free from bullying and abuse.
---
18th February 2021
Coolum High is an inclusive school; a place where all students are welcome and valued and where our aim is to see all young people succeed. It's so important to our future that every young person accesses a great education. I believe that education is the backbone of our nation; that students who learn to love learning are the ones who shape the future, who find cures for diseases (don't we value that right now), who can right wrongs and become leaders, and who can use science and emerging technologies to do things we don't even know are possible right now.
Just think of our mobile phones. I remember watching the comedy show, Get Smart, and Agent Maxwell Smart had a 'shoe phone' that was meant as a joke about James Bond style technologies. I had always thought that to have a phone you needed phone lines. Now we all walk around with a phone in our hands that isn't just a phone but a powerful computer capable of accessing the worldwide web. That all came about because of some seriously smart and well-educated people. And, to think it all starts with curiosity and a willingness to learn.
As for inclusion – it's about valuing everyone for who they are and what they bring. It's about people who may seem 'different' but through whose eyes we can learn to see things in different, new and special ways. When we educate everyone, when we value what they bring, even more special things become possible. As a wise person said, "what if the cure for cancer lies inside the mind of someone who doesn't have the education to realise their idea?" We could add, "what if the cure for cancer meant listening to everyone and educating everyone, until someone says something in a way that we understand?" Albert Einstein didn't master conventional education, he mastered ideas that were powerful and innovative and barrier-breaking. It's by being inclusive that we value those who bring something different to our world. Child eco-warrior Greta Thunberg described autism as her "superpower." It's by being inclusive that everyone's superpower can shine, and we can see the world in new ways. It's hard to think of anything as important as an education for everybody.
---
11th February 2021
Can you believe the power of music? I don't know what it is, I can't define it, but I do know that music does so many amazing and powerful things for a school.
The first thing it does is bring people together. While you can play solo, generally music is made in groups – it's produced by bands, ensembles, symphony groups and giant orchestras. Music is a way ideas and feelings can be passed from one generation to the next. I think I can understand what the anti-Vietnam protestors of the late sixties were feeling by listening to their music.
In schools, music takes a special place. I know that students who participate in music achieve more highly in their studies. I don't need another research presentation to show me that – I have observed it for years. There is no doubt that students who "do" music, also achieve well at whatever else they undertake. It appears that there is an undeniable link between music and learning.
It's for these reasons and many more that music takes a central place at Coolum High. From our award-winning Wind Symphony to embryonic rock bands, Coolum High is growing and nurturing its music programs to allow more and more students to reap the benefits of an education enriched by music. 2021 promises to be an amazing year in the continued growth of music in our school. I'm hoping that as the year rolls out our community can hear more of the fantastic music being made by students across our school. I can't wait to hear more of it!
---
4th February 2021
Coolum is changing at breakneck speed, having been "discovered" by southerners and even those from overseas. By all accounts, Coolum has been one of the top places searched by people doing real estate internet searches from foreign locations. Of course, we all know why. With the outstanding quality of our beaches and a village-like community, there is every reason to want to be here.
Yet, it wasn't that long ago that things were very different. Francis Windolf's story in the last Advertiser explaining how the Coolum State School was literally moved "on the back of a truck" to its current location was a cracker. It shows that stark contrast between then and now and how quickly things have moved forward.
Our job, at Coolum High, is to stay ahead of this change, and to show the community that we have the school that can be at the centre of this change and development. Our Health Hub has been a major part of this process, with Health being the growth industry of our time. The school's two new Design studios allow students to explore design ideas in the digital world and then make them in the physical world through the school's high-tech 3-D printer and laser cutter. If you give our young people scope to be creative the possibilities are endless.
I have no doubt that Coolum High is moving in the direction of the future – that the local educational landscape that changed shape so dramatically when a truck literally moved the primary school forever has evolved to a cutting-edged environment that leads students towards a future full of promise and purpose. We are looking forward to playing a central role in the evolution of our community into a vibrant 21st Century destination.
---
28th January 2021
Is there anything as Coolum as Charlie Caulfield? Not much, I'd say. Isabella Nichols perhaps – lots of people in the community are already proud of what Isabella has achieved. Mark "Sid" Sidaway maybe, but Sid doesn't live here anymore.
So, who is Charlie Caulfield I can hear some people saying? Well, if you go down behind the RSL there's a magnificent, lush green oval with a synthetic cricket pitch in the middle that is well-loved and well-used by our community. The oval is called the Caulfield-Chambers oval, which means that Charlie Caulfield has had an oval named after him in his lifetime. At least half an oval anyway. But which half?
For me, it has to always be the half where Charlie is fielding in gully. Sixty-plus years old with a mind as sharp as a razor blade and wise-cracking after each delivery and still managing to catch super reflex catches as if it was 1983. The legs may not work as well, but the mind and the catching hands work like a Swiss watch!
Like so many in Coolum, Charlie wasn't born here. He spent his formative years in Tasmania, a graduate of New Town High School no less, before heading north to find his piece of paradise right here in Coolum Beach. To his surprise, Charlie found that his beachside paradise didn't have a cricket club, so he set about laying the groundwork for the thriving club that now plays in juniors and seniors right through to the A-division.
In many ways, Charlie's is the quintessential Coolum story. He came to balance life with lifestyle, he made friends and never took himself too seriously, he paid his dues and played a game we all love and in the process he won the respect of his peers and his community. And he stayed humble and modest the whole time to boot! As Coolum grows and changes and gets busier by the minute, we'd do well to remember the humour and humility of the people who shaped our unique place. Yep, there's not much that says 'Coolum' quite like Charlie Caulfield.
---
21st January 2021
It's that time of year again. New uniforms are racing off the shelves. Shoes, still in perfect condition (every parent knows how long that will last), are being measured, checked and sold by the container load. Yes, it's the back-to-school rush and, for our incoming Year 7s, it represents that exciting time where you "start high school" and a new and unforgettable journey begins.
As adults, we sometimes don't remember the intensity of youth. Starting high school is a big thing – there are so many stories (some apocryphal) of everything that will happen at high school. You have been the biggest of the little kids, but suddenly you are the smallest of the big kids. Whereas in primary school you would have belted out the national anthem with gusto on parade, in high school you have to look around and give a tentative squeak and, best of all, pretend you don't know the words to a song that you have been singing since Prep.
High school is such an intense journey of change – physically and mentally. The complex equations of senior Maths subjects are still a world away for the student at the beginning of Year 7 who is more interested in where to line up for tuckshop. The development of a human being through the teenage years is still a marvel and, as adults, we can never truly remember what is going on through the eyes and the mind of a teenager. It's a journey of discovery, of becoming more self-aware, of learning, of making friends that will travel with us for life. And, for the Year 7s of 2021, who will graduate in 2026, it is just beginning. Let's get started!
---
14th January 2021
Coolum and Peregian have an energy about them now that will never go backwards. Over the summer, our community was filled to the brim with holidaymakers and day trippers; parking was at a premium, cafes were heaving and the beaches were flooded and filled with the happy noise of contented tourists.
It's the same at Coolum High. With the new Wandama Centre at the front of the school standing as a symbol of our growing maturity and confidence, we know that there is no going backwards. In fact, we know that in 2021, it's the year!
2020 was a year of adaptation when schools closed for the first time in generations, but in 2021 we are well positioned to lead the fight back. Our music programs are ready to flourish, our sports teams are chomping at the bit to get cracking and our academic programs have a new maturity to assertively embrace changes to Queensland's education system.
We believe that Coolum High, along with our colleagues at Coolum State School and Peregian Springs State School, are at the centre of the surge in our community towards a new and confident place that is ready to embrace the challenges of the future. Education always leads the way and in 2021 that is more important than ever.
As Australia shows incredible resilience in the face of unprecedented turmoil overseas, our community remains as a beacon of friendliness, environmental awareness and community spirit. We have an incredible opportunity in front of us, and it's time to get started because in 2021, it's the year!