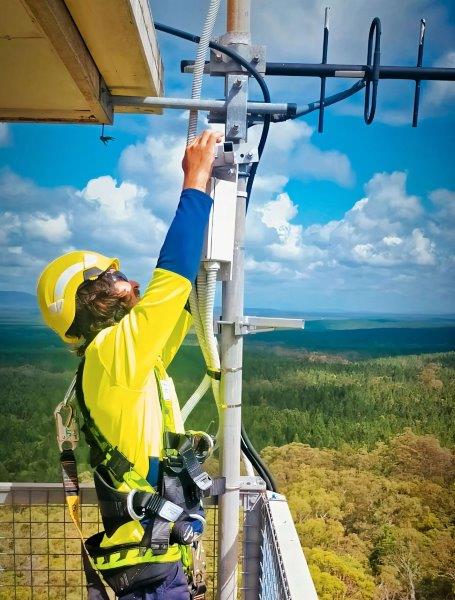 AS THE Sunshine Coast braces for a challenging fire season, a ground-breaking tool is now at the disposal of Sunshine Coast Regional Council and will enhance the safety of residents, properties, and the natural environment.
Developed by a local company, exci (formerly Fireball International), is a cutting-edge AI-assisted program that employs a fusion of satellite imagery analysis and on-ground camera observations to rapidly identify signs of heat and smoke, providing invaluable insights for proactive fire detection. 
The name "exci," derived from Latin, translates to "alarm," and in the event of a fire, the exci system promptly generates comprehensive reports which are instantly transmitted to emergency services and council. These reports serve as crucial information for decision-making and formulating an appropriate and rapid response.
The implementation of this innovative AI technology stands as a significant advancement in bolstering the Sunshine Coast's readiness and preparedness for the approaching fire season.
Local Disaster Management Group (LDMG) Chair and Sunshine Coast Council Mayor Mark Jamieson welcomed the announcement for this life-saving technology that will benefit and help protect our region.
"Council's primary focus is to ensure the safety of our communities and exci's sophisticated system will help us rapidly respond to bushfire threats," Mayor Jamieson said.
"The swift arrival of our firefighters can be the difference between an easily contained minor incident, and a major bushfire that can lead to extensive destruction."
'Smoke alarm for the bush'
exci's Managing Director Christopher Tylor said he was extremely pleased to deliver an Australian-made and owned fire detection system for the Sunshine Coast. 
"The exci system can automatically detect bushfires within minutes, using satellite and ground-based sensor data analysed by powerful, machine-learning algorithms." 
Mr Tylor said exci would collaborate with Land Watch Australia, a family-owned business located in Palmwoods, known for delivering remote, camera surveillance solutions to Australian farmers and rural communities.
"Their expertise in crafting rugged terrain-specific camera systems aligns with our wildfire detection technology, making them the ideal hardware partner for us.
"Like us, they have a passion for making Australia a safer place to live."
Sunshine Coast Council is committed to working with Disaster and Emergency Services to deliver a coordinated approach to disaster management and community support.
While previous seasons have focused on storms and flood risks, the Bureau of Meteorology is predicting this one to bring heatwaves and the threat of severe bushfires due to the El Niño weather pattern.
Being prepared is everyone's responsibility and the best thing you can do for yourself, your family, business, and community, is to Get Ready.
There are a few simple steps people can take to help safeguard their family, home and business.
Step one: Understand your risk.
Step two: Prepare a household emergency plan.
Step three: Pack an emergency kit.
For a full list head to getready.qld.gov.au.
For the latest updates, practical resources and what to do before, during and after an emergency, visit disasterhub.sunshinecoast.qld.gov.au.