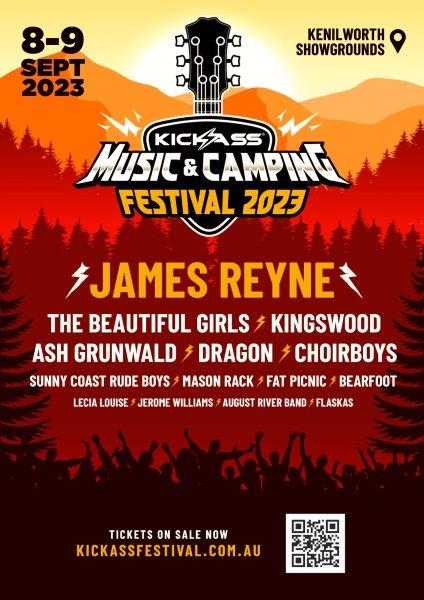 AN ABSOLUTELY huge line-up of Australian music is set to rock the Kenilworth showgrounds from September 8-10 with the KickAss Music and Camping Festival returning for a second year to the Sunshine Coast hinterland and the Advertiser has two double passes for the Saturday up for grabs.
With a legendary line-up of Aussie talent including James Reyne, The Beautiful Girls, Kingswood, Dragon, Ash Grunwald, The Choirboys and the Sunny Coast Rude Boys to name just a few, the event is a multigenerational experience for anyone wanting to experience the great outdoors, immerse themselves in local culture, and connect with like-minded people over an array of some of Australia's best talent. 
Headlined by the magnetic Australian icon James Reyne and his eight-piece band, the unforgettable frontman from Australian Crawl has accolades that span ARIA awards and a coveted place in the Australian Songwriters Hall of Fame. 
One of the most exciting aspects of the festival is the location itself. The Kenilworth Showgrounds which are just under an hour drive away from Coolum are surrounded by lush rainforests, pristine creeks, and the tranquil Mary River – a true oasis for camping enthusiasts.
To win one of the double passes that the Advertiser has for the Saturday of the festival (please note this is just a day ticket and does not include camping) please email your name, address and phone number to michelle@coolumadvertiser.com.au with the subject heading 'KickAss' by 5pm Monday August 28. A winner will be randomly selected and notified by phone the following day.
Tickets for the festival are still available and can be purchased via the following link –