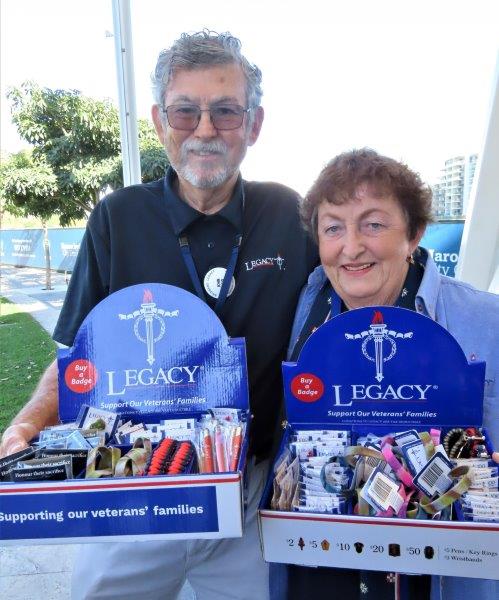 FOR THE past 100 years, Legacy Australia has looked after the families of veterans who served our country. Legacy Week is an opportunity for us to lend a hand to this great cause.
Sellers will be out and about across the region and the week was officially launched with a special commemorative event at Sunshine Coast Council on Tuesday.
Sunshine Coast Mayor Mark Jamieson said there was never a more important time for us to play our part in supporting what Legacy does.  
"Back in 1923 Legacy first made its promise to Australia's service men and women that their families would be taken care of if the worst was to befall them – and 2023 marks the 100th year of Legacy keeping that promise," Mayor Jamieson said.
"Legacy Week, also known as 'Badge Week', runs from August 26 to September 3 this year and is the annual national appeal to raise awareness of, and funds for, the families of Australia Defence Force men and women who've lost their lives or have ongoing health issues.
Mayor Jamieson said Sunshine Coast Legacy volunteers would be out and about during Legacy Week selling badges and merchandise which help raise funds for the charity.
"Sunshine Coast Legacy has around 40 volunteers who support nearly 700 Legacy clients locally, including children and people with a disability," Mayor Jamieson said. 
"Often, the beneficiaries need assistance to access war pensions, counselling, housing, medical and social support.
"Legacy relies solely on donations from the public and supporters in the corporate and community sector.
"Last year, through the generosity of the Sunshine Coast community, around $35,000 was raised during Legacy Week – it would be fantastic to match or even better that target, this year. 
"I encourage everyone to keep an eye out for the tireless and dedicated Sunshine Coast Legacy volunteers, who'll be selling Legacy badges and merchandise at many locations across the region including shopping centres, markets and RSL clubs. 
"The few dollars you spend symbolises a promise to uphold our nation's utmost values of mateship, compassion, and fairness."
For more information about Legacy Week 2023 and how you can support the cause, visit www.legacy.com.au