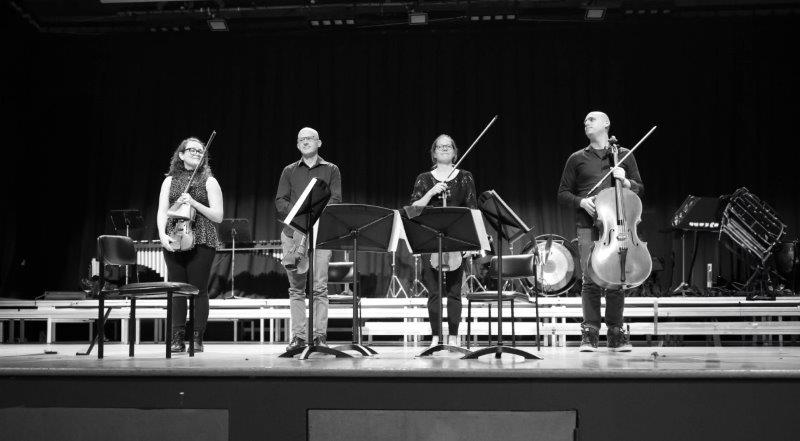 CLASSICAL music with a large dose of world music influences is set to take centre stage for just one night at the Coolum Civic Centre as the Innovative and boundary-pushing, the Black Square Quartet bring their hauntingly beautiful string music to Coolum on Saturday, August 19.   
The Quartet brings together a fusion of musical genres, including Contemporary, Nordic Folk, Balkan Gypsy, and Renaissance music, weaving a tapestry of diverse sounds that redefine the boundaries of classical music.
This is not classical music as you know it!
Inspired by the iconic and controversial artwork, The Black Square, by Kasimir Malevich, one of the first true examples of artistic minimalism, the quartet is set to captivate and inspire audiences with their fresh perspective on classical music.
Audiences will have the opportunity to experience a unique repertoire featuring captivating works from acclaimed composers such as Caroline Shaw, Thomas Green, Jessie Montgomery, The Danish String Quartet, Michael Bacrncev, and the quartet's very own Michael Patterson.
"We can't wait to bring this unique programme to audiences on the Sunshine Coast," violinist Camille Barry explained.
"This selection of works traverses time, cultures and genres – there's something in there for everyone.
"We're passionate about new music, so it's an honour to be able to perform several works by homegrown composers."
The Black Square Quartet formed in 2018 and is committed to promoting new and Australian music. They have premiered works by notable composers including Ken Thomson, Cathy Likhuta, and many more. Collaborating with some of Australia's most talented musicians and ensembles, such as Trichotomy, Shugorei, Sarah Curro, Aaron Brown, and Steve Newcomb, the quartet brings a fresh perspective to classical music that is both inspiring and unforgettable.
The Quartet will perform across the Sunshine Coast at the following venues – Coolum Civic Centre Saturday August 19 (7pm), Eudlo Hall Sunday August 20 (4pm), and Maleny Community Centre Friday August 25 (7pm).
Full Event Details: www.redchair.com.au
The Black Square Quartet Sunshine Coast tour is presented by local performing arts company Red Chair with the support of the Queensland Government through Arts Queensland. This initiative was supported through the Creative Industries Investment Program and is jointly funded by ArtsCoast through Sunshine Coast Council's Art and Heritage Levy and the Regional Arts Development Fund in partnership with Queensland Government.