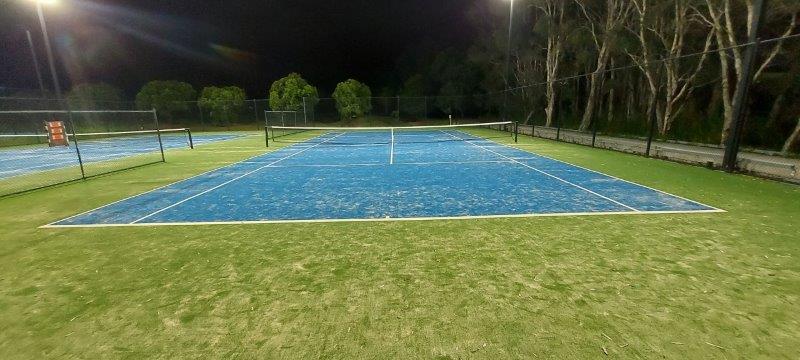 SPORTING clubs, community groups and not-for-profit organisations with an event to put on or who need funding for works can now apply for up to $30,000* to bring their initiatives to life through Sunshine Coast Council's Major Grants program.
Coolum Tennis Club Inc. received $19,000 in the August 2022 Major Grants round towards their $60,000 synthetic grass court resurfacing project.
Coolum Tennis Club President Jonathon Holford said the Coolum Tennis Club was a proud and grateful beneficiary of the Grants Program.
"The resurfacing of our two synthetic grass courts has brought them up to competition standard, allowing the Club to continue hosting tournaments for both our junior and adult players."
Community Portfolio Councillor David Law said Council's Major Grants program aimed to support projects that enhanced the region's cultural, sporting, environmental and community wellbeing.
"The program reflects Council's commitment to fostering community development and empowering local organisations to make a positive impact on the Sunshine Coast," Cr Law said.
"By providing financial assistance, Council seeks to enable local not-for-profit groups to deliver innovative projects that enhance the community and welcomes diverse applications from a wide range of sectors and interests."
Major Grant applications can be submitted in one of six categories: 
Community development, community facilities, creative development, cultural heritage, economic development and sports and recreation.
Visit www.sunshinecoast.qld.gov.au to apply today and to find more information on the grants.
Eligible not-for-profit organisations can apply now for up to $15,000 towards one-off projects, or events and activities that meet community need and provide community benefit. Grants of up to $30,000 are also available towards infrastructure projects that involve developing, maintaining or improving buildings or land that contribute to providing a safe, accessible and inclusive community facility.
Environment Levy Grants of up to $5000 are available to not-for-profit community organisations for projects that make a positive and ongoing contribution to the region's biodiversity and waterways.
This round will close on August 28 with notifications anticipated mid-October 2023. Details on grant writing workshops can be found on Council's website.