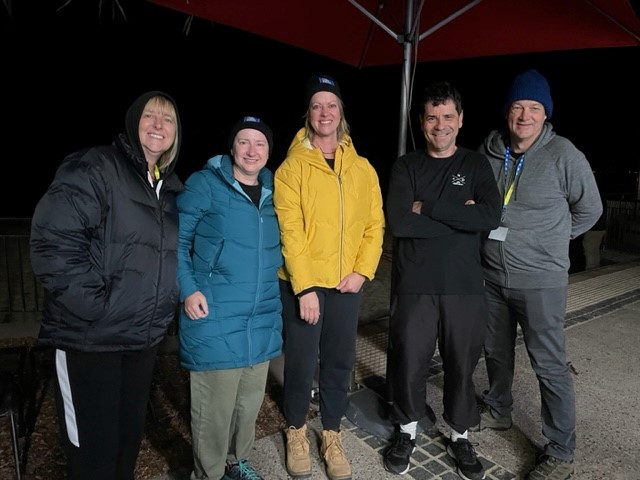 IN A SIGN of the times more people than ever are finding that they need the services of St Vincent De Paul, with homelessness one of the main issues affecting many on the Sunshine Coast right now.
To raise awareness and funds about this issue, Sunshine Coast Council representatives united with other leaders across the country for the 'Vinnies CEO Sleepout' which took place in late June.
Sunshine Coast Council CEO Emma Thomas, Councillor Maria Suarez and Group Executives Greg Laverty, Debra Robinson and Scott Taylor experienced a cold winter's night on Mooloolaba Beach for just one night.
The reality though is that many are doing this night in and night out.
CEO Emma Thomas said over the last few years we had all become more aware of our increasing number of local residents and Australians experiencing tough times and who might be at risk of finding themselves without a safe place to call home. 
"This is the second time I've participated in this event, which is growing with more and more support each year," Ms Thomas said.
"Whilst we will experience one night, we are mindful of people who face uncertainty more often."
"Council is also preparing a Housing and Homelessness Action Plan, which will outline actions to help address housing and homelessness on the Sunshine Coast.
"Our Sunshine Coast Council Sleepout Team raised more than $9360 and joined business, government and community leaders across Australia in sleeping out outdoors to support the many Australians who are experiencing or are at risk of homelessness." 
All funds raised will help Vinnies' vital services stay up-and-running all year round. These services include food, accommodation, education, counselling, employment and health programs for those who are impacted by homelessness.
Vinnies Sunshine Coast Diocesan President Beryl Rowan said the CEO Sleepout is crucial in helping the growing number of locals experiencing homelessness, especially as the state-wide rental crisis and rising cost-of-living continues to contribute to an increased number of households experiencing financial strain.
"We raised nearly $200,000 last year and are hoping to raise even more than that this year to provide emergency accommodation during this ongoing housing crisis," Beryl said.
"The CEO Sleepout has a tangible impact on the lives of individuals facing housing and financial insecurity.
"While it's just for one night, the annual event is a powerful catalyst for change. It sparks conversations, fosters empathy and drives government and industry bodies to work together with us, to find solutions to address homelessness in our community," she said.
All money raised will go to the St Vincent de Paul Society to support impacted Australians. ​
If you would like to donate to this worthwhile cause, please visit: https://www.ceosleepout.org.au/
If you are experiencing homelessness or domestic and family violence you can call:
*Housing Service Centre phone (07) 5352 7333
*Homeless Hotline phone 1800 474 753
*DVConnect phone 1800 811 811