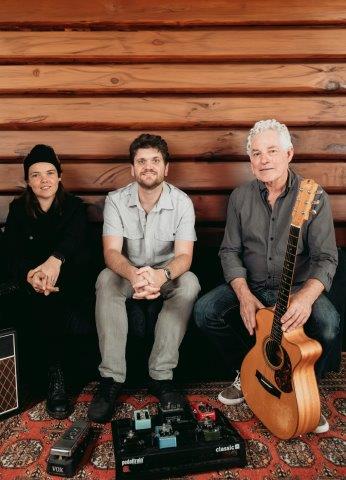 A LITTLE bit of country, a little bit of jazz, some blues and world music with a whole lot of exceptional guitar playing will be the order of the night as the highly anticipated Acoustic Guitar Spectacular graces the stage of the Coolum Civic Centre on Saturday, July 22 – the night will literally be a showcase of 'fretboard fireworks'! 
The concert series which will be touring the Sunshine Coast this July will feature the talents of three critically acclaimed guitar virtuosos who will each entertain with their special brand and style of acoustic guitar playing.
Audiences and guitar aficionados are in for a treat as they witness the storytelling, songs, humour and dynamic playing from this highly entertaining trio. Showcasing solo and ensemble performances, these diverse guitarists offer a rare opportunity to experience an abundance of extraordinary musical talent on a single stage.
Critically acclaimed Brisbane guitarist Michael Fix will serve as the host for these special concerts and Michael is renowned for his breathtaking fingerstyle guitar playing and captivating compositions.
Michael has enchanted audiences across Australia and the world through his extensive touring and has released numerous albums and garnered multiple awards, including three Country Music Golden Guitar Awards.
Joining Michael in this spectacular musical journey are fellow-Queenslanders Minnie Marks and Sam Shepherd with Michael stating it is an honour to be working with such great artists across the Sunshine Coast.
"This time around, we are thrilled to showcase a fresh new take on the event, featuring the extraordinary talents of Minnie and Sam.
"These two young guitarists are exceptional, and together, we have crafted something truly magical for this tour!"
Minnie Marks, a singer, songwriter, and multi-instrumentalist, is a force to be reckoned with on the guitar. Her rich bluesy tones and remarkable skills have earned her the distinction of being hailed as one of the finest young guitar players in the country.
Sam Shepherd, an up-and-coming, award-winning guitarist, possesses a unique playing style that draws from a wide range of influences. Sam plays music which is a versatile blend of jazz, country, folk, and other genres which creates a distinctive sound that is uniquely his own. 
This is an unmissable event for guitar enthusiasts and music lovers alike.
The Acoustic Guitar Spectacular will tour Coolum, Maleny, Pomona and Eudlo with details on each concert below.
Saturday 22 July, Coolum Civic Centre
Thursday 27 July, Maleny Community Centre
Saturday 29 July, Majestic Theatre, Pomona
Sunday 30 July, Eudlo Hall
Full Event Details: redchair.com.au/what-s-on/event/574-acoustic-guitar-spectacular
The Acoustic Guitar Spectacular Sunshine Coast tour is presented by local performing arts company Red Chair with the support of the Queensland Government through Arts Queensland. This initiative was supported through the Creative Industries Investment Program and is jointly funded by ArtsCoast through Sunshine Coast Council's Art and Heritage Levy and the Regional Arts Development Fund in partnership with Queensland Government.