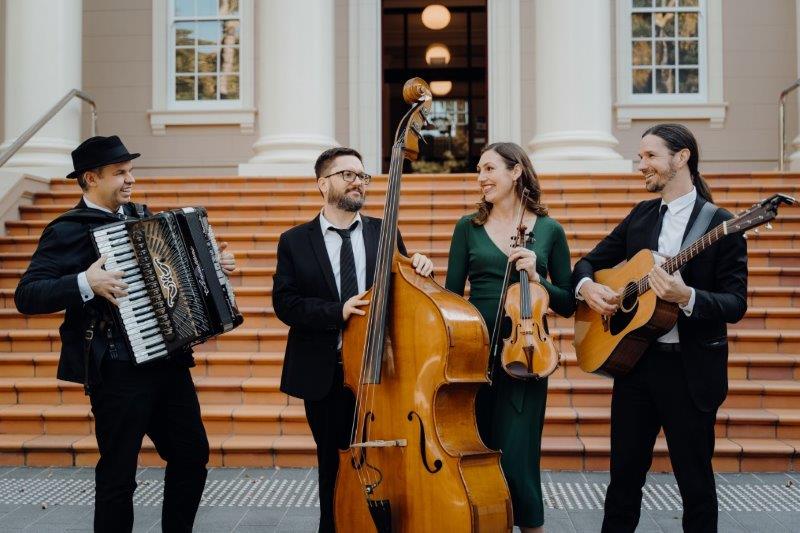 ARE YOU looking for a night of music that takes you on a journey from Australia via the Appalachian Mountains with a twang of finger-picking bluegrass that leads all the way to the sultry quarters of Parisian France with a pit stop on the steamy streets of Brazil? Then look no further than an evening of world music with 'Estampa' this coming Saturday night at the Coolum Civic Centre.
World music is once again coming to the Civic Centre stage thanks to local production company Red Chair, which excels in curating concerts that feature the very best in local and international world music.   
Brisbane-based world folk jazz band Estampa will dazzle Sunshine Coast audiences with their upcoming tour which is finishing this weekend here in Coolum.
Estampa features the exceptional talents of vocalist Rebecca Karlen on violin, Paul Henderson on guitar and banjo, John Reeves on accordion, and Samuel Vincent on double bass.  Estampa's performances are a lively mix of world music that transports audiences to different cultures and countries. 
Audiences on Saturday night can expect to be immersed in joyful improvisations, intricate harmonies, and captivating storytelling all the while evoking visions of Parisian laneways and the sensual streets of South America.
Rebecca Karlen explains that their music is rooted in the traditions of French jazz and Brazilian Bossa Novas.
"Our shows leave audiences feeling like they've entered a 1930s Parisian jazz club or the streets of São Paulo and we can't wait to share our special style of world music with Coolum audiences." 
Estampa has performed at prestigious festivals, including the Woodford Folk Festival, the Brisbane International Jazz Festival, and Le Festival which is the French Festival in Brisbane. The band has been praised for their time-travelling musical elegance and unforgettable performances with pundits exclaiming that one must simply, "go and see them." 
The Estampa Sunshine Coast tour is presented by Red Chair with the support of the Queensland Government through Arts Queensland. This initiative was supported through the Creative Industries Investment Program and is jointly funded by ArtsCoast through Sunshine Coast Council's Art and Heritage Levy and the Regional Arts Development Fund in partnership with Queensland Government.
For more information and to secure your tickets please visit – www.redchair.com.au/what-s-on/event/575-estampa