BY VANESSA BACON-HALL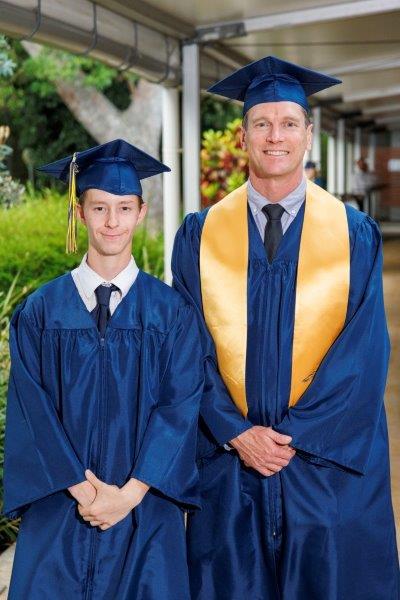 Each month the Advertiser will take you on a journey through the life of people in our community – the characters, the notable ones and just those with an interesting backstory.
A CAREER based on dedication to education is how one might describe Coolum State High School Principal Troy Ascott. As he says, "education is in his blood" with parents who were both teachers and even a grandmother who was a teacher, so it seems that it was a certainty that Mr Ascott would follow the same path and seek out a career in the field. However, it was journalism that Troy says he would have pursued if teaching had not been his main career path. That concise aptitude in communication is evident in the columns that he pens for the Advertiser which always speak so glowingly of the school he stewards and the greater Coolum community. With those keen writing skills, the Advertiser is letting Troy do the talking here and we had the pleasure of sitting down with Troy Ascott and getting to know what makes him tick and why he loves both education and Coolum.

What made you get into teaching?
My parents, especially my Mum, were very focused on education as a way to improve your life and to broaden your horizons. They had come from homes where money was a real struggle and they had seen that education could be the ticket to a better life. I moved around the state as my Dad became a high school Principal and I think it just seeped into my blood. Schools are at the centre of the community, so you get to meet a lot of people from all walks of life, and I've always liked that.
Is it a tough job being a principal? 
That's a good question – yes and no. It can be tough as there's a lot of factors that you're dealing with at once. But I don't think any job is easy. I certainly admire so many people like all our health workers, police, and people working in aged care and when I see people working in construction. I think it's important to put things in perspective and see that all jobs can be tough sometimes. Being a Principal can also be very rewarding when you see students succeeding and then when you catch up with them or their parents in the years after they've left school and you hear about all the things they are doing. 
 
Why is education so important? 
How long have I got? Education is everything to me. I don't believe there is a problem on earth that isn't made better by education. Whether it's wars, environmental problems like climate change, or how we learn to master our own personal issues – there isn't anything that couldn't be improved by more education. There is so much research that shows that education benefits people in all types of ways – including our health, our wealth, and improvements to our environment. The more educated we are, the better we can face the complex problems that we have in the world today. 
How did you come to be in Coolum? 
We first moved to Coolum in 2000 when I was transferred to work as a teacher at Burnside State High in Nambour after spending three years teaching at Cloncurry State School in Northwest Queensland. Coolum was very different back then. It only had an IGA where Coles is now and many of the houses you see now weren't there. It was a real village, full of characters, and of course, the natural beauty was just spectacular. I just loved it, right from the beginning. 
 
What makes Coolum so great? 
Everything about Coolum is great. The natural beauty is phenomenal; it's next level. But what I've always really liked most about Coolum is the people. Everyone in Coolum is interesting and everyone has a story. We have had such great neighbours who've become friends and really become part of our lives. I think everyone in Coolum can relate to what I'm saying. I guess it's a place where people matter, and it also doesn't hurt that the environment is just so stunning and that it draws you outdoors. 
 
Do you have an interesting person that you think the Advertiser should feature? Send in your suggestions to editor@coolumadvertiser.com.au