Anzac Day 2023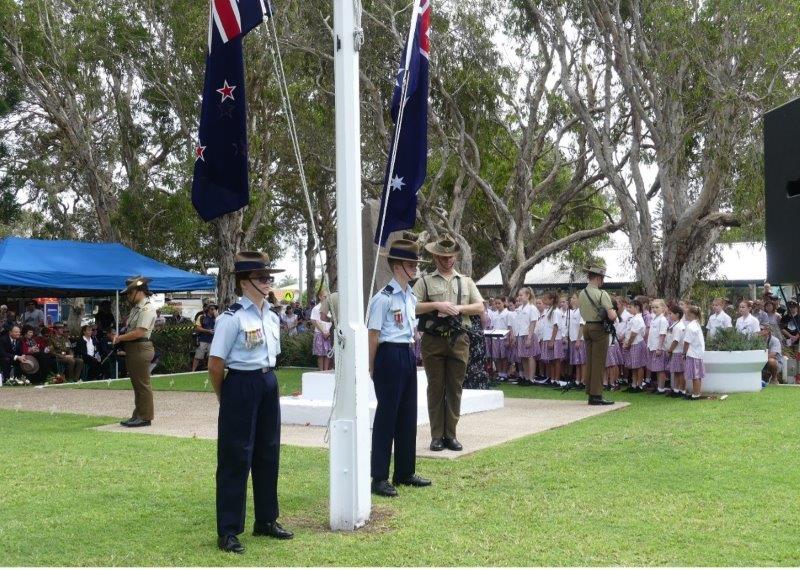 THE MUDJIMBA RSL Sub Branch will again conduct its ever-popular Anzac Day Dawn Service, Veteran March, and Community Service on Tuesday, April 25.  Everyone is encouraged to attend these services at the Cenotaph at Power Memorial Park which is located along the Mudjimba Esplanade.  
The Dawn Service will commence at 05:30 am.
A Gunfire Breakfast for serving and past Australian Defence Force (ADF) members wearing medals, and their immediate families will be held at the RSL Sub Branch, located at 43 Cottonwood St Mudjimba following the Dawn Service. Entry is by Gold Coin donation.
The March will assemble at the corner of Coolibah St and Mudjimba Beach Road at 10:30am and step off at 10:45am and proceed down Mudjimba Beach Rd to the Cenotaph.
The Community Service will follow at 11:00 am.
Representatives of ADF, ex-service and community organisations who wish to participate in the wreath laying during the services are asked to register with the Sub Branch by emailing mudjimbarsl@hotmail.com or leaving a message by phoning 07 5458 8320. 
While traditional floral tributes are always welcome, an alternative is to lay a book that relates to a veteran or group of veterans, a campaign or UN Mission, or any theme relevant to veteran commemoration.  Mudjimba RSL Sub Branch will present these to local school libraries to further assist the education of the young about our proud past. Plain wrapping would be appropriate.
The public will be invited to lay tributes at the Cenotaph at the end of each service.
The RSL Sub Branch will also provide entertainment on Anzac Day from 2 – 5pm with the band 'Fonix' playing. The club will be open to everyone for an afternoon of entertainment and entry will be free with alcohol, soft drinks, and pizza available to purchase.
To accommodate the services there will be bus route changes. The 620 bus will be re-routed to avoid Mudjimba Beach Rd between 10:40 and 11:00am. The buses will be diverted via Coolibah and Currawong Streets. Bus Stops at Mudjimba Beach Rd near Kawana St (Stops 301721, 301722) will be closed. Alternative Stops will be Mudjimba Esplanade at Currawong Street (Stops 316031 and 316032) or Mudjimba Beach Rd near Coolibah St (Stops 302099 and 302100).
We hope to see as many as possible on Anzac Day this year.