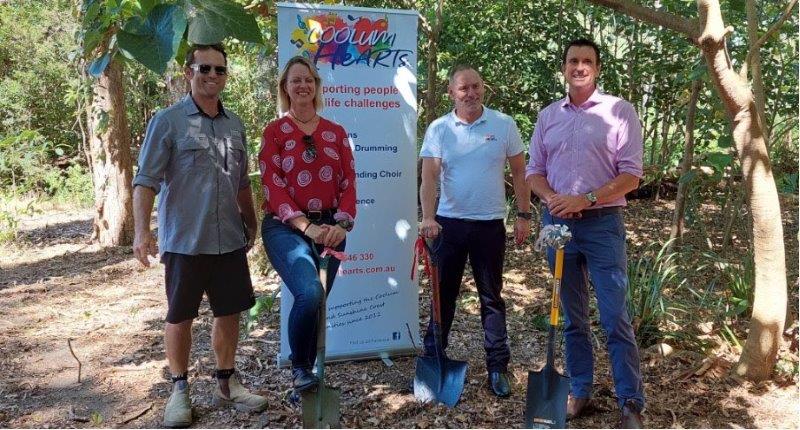 IT WAS a morning that has been a long time coming with the much anticipated 'breaking ground' ceremony taking place on the grounds at Coolum HeARTs where their much larger shed extension will be constructed.
Taking place on Tuesday, March 7 local representatives such as Councillor Maria Suarez, Dan Purdie MP, Nathan Larsen from Shoreline Constructions and Coolum HeARTs representatives including founders Clive and Barb Holden were on hand with shovels to officially kick start construction of the additions to the existing shed.  
The Coolum HeARTs team were excited by the breaking ground ceremony and to let the community know that their shed is going to get a facelift with the floor space being extended to a more user-friendly space for everyone. 
The work has been made possible through the genuine support provided by local, state, and federal governments and by the generous support provided by local businesses and members of the community.
Brett Leahy from Shoreline Constructions is coordinating the build and working with contractors as required and the HeARTs anticipate having the work completed by June of this year.   
Currently, some existing activities are being run at the adjacent Coolum Beach Lions Hall.
Coolum HeARTs Inc is a local not-for-profit organisation offering low-cost access to the arts, music, and life skills for everyone in the community where members can participate in any activity at the low cost of $5 per session. 
Coolum HeARTs offer a range of activities and classes guaranteed to bring out the talents of everyone and is also a great social hub and a great way to meet interesting and like-minded people from all walks of life.  
New members are always welcome and for more information, visit www.coolumhearts.com.au