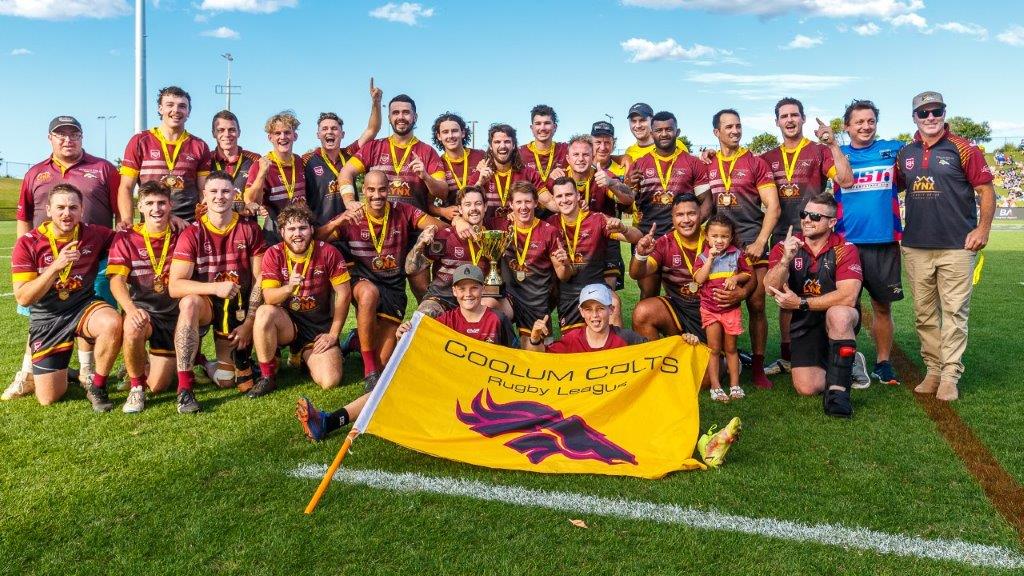 BY PAT CAVANAGH
THE COOLUM Colts Senior Rugby League team were crowned the Sunshine Coast Gympie Rugby League Division 2A champions last Saturday, September 10 and played in front of a large contingent of passionate Coolum supporters at Sunshine Coast Stadium – the team defeated Beerwah 24 to 4 to claim their third premiership in five years.
Coolum opened the scoring within eighteen minutes when Mason Johnson scored off a deft Marlon Hawkins pass. Coolum defense was outstanding as they withstood wave after wave of attack from the Beerwah team for the remainder of the first half.
The halftime score was six to four in favour of Coolum.
The second half was a different story as Coolum's ball control and kicking game were instrumental in keeping Beerwah on the back foot.
Experienced players Jordie Line, Jakson Shearer, Mboya Adams and Luke Philp kept the team focused during the second half as they closed out the game with disciplined and determined play.
Tries to Jordie Line (40th minute), Luke Phillips (55th Minute), and Jake Bartel (65th minute) plus four successful conversions to Marlon Hawkins ensured the championship trophy was heading back to Coolum. The final score was 24 to 4 in favour of Coolum.
It was a great all-round team effort where tight defence won the day with Marlon Hawkins and Jordie Line being amongst Coolum's best. Nelson Marketo was named man of the match.
Club President Josh Olsen praised the efforts, dedication and determination of the team, coaching staff, and supporters as a key component in the premiership win.
"This is a very proud moment for our club. This side has been quite successful over the past couple of years and since 2018 there have been four competitions run (2020 did not run due to COVID) and we have won three of them – that's a great achievement." 
Josh pointed out that most of the premiership squad played all their Junior football with the Colts thus creating a strong bond between players, officials, and supporters from different eras.
"Nine players in this year's squad come from our Under 18's side from last year and it's been very rewarding watching them step up to the week-to-week challenge of playing against men. We are by far the smallest side in the competition, but we make up for that with a toughness and tenacity that has seen us take out all of the challengers. 
Josh also went on to state the achievements of the Juniors with five of their teams competing in the Junior Grand Finals recently which capped off a successful year.
"Participation rates in our Juniors are at the highest levels in our history.
"Our junior club had six teams playing in competitions that had a finals series and all six teams played finals with five of the six teams playing on Junior Grand Final day. This has by far been our most successful season since our inception into the competition way back in 1989 and it's a credit to all our players and coaching staff," Josh said.
"There is a club culture and a pursuit of excellence that is putting our small community club on the map."