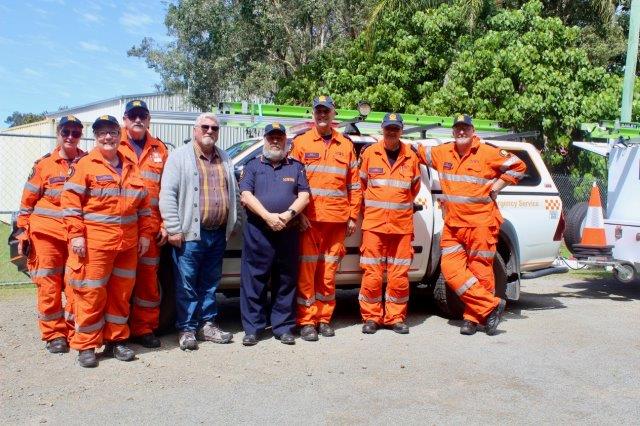 VANESSA BACON-HALL
EDITOR
IT WAS a long and wet summer just gone with the SES fielding a large volume of callouts, especially during the late February floods and the forecast is for another wet summer and the local Coolum SES desperately needs more volunteers to help them when emergencies strike.
Opening their doors on Saturday, September 10 as part of State Emergency Service Week the local Coolum SES teamed up with the local fireys and hosted members of the community and fielded questions from interested people.
The morning also served as a birthday, recognising the presence of the Coolum SES in the community since 1984.
Coolum Group Leader Brendan Jones said that joining the SES was extremely rewarding and provided transferrable skills for volunteers.
"What we teach are skills such as leadership, and teamwork and everyone looks good in orange!"
Brendan said that the team at Coolum urgently needed volunteers who were willing to take up the challenge and put on the orange overalls and help the community all whilst gaining new skills and making new friends.
"What we really need is as many people as possible who are committed, that's the main thing that we need – it's just one night a week and we understand that people have lives, and we can work in with them."
The Coolum SES meet each Tuesday night at the SES shed from 7-9pm and if this summer is anything like last year, more community members who are over the age of 16 are needed ASAP.
"When we had the flooding in February, we had in one day 120 calls and we didn't have enough resources and there were delays but we did our best to work through them," Brendan said.
Queensland Fire and Emergency Services Commissioner Greg Leach said SES Week marked an important event in the calendar for SES staff and volunteers.
"SES Week provides us with the opportunity to thank our SES volunteers and recognise the impact they have in making Queensland communities safer and more resilient," Mr Leach said.
"Being an SES volunteer requires a high level of commitment and I would like to thank our SES volunteers who have shown their community spirit and dedication during what has been a challenging year.
"I'd like to also recognise the families and friends of our volunteers who support their loved ones while they selflessly support their community."
Mr Leach said the SES performed a diverse range of functions during floods, storms, and other emergencies.
"Whether it be vertical rescue or road crash rescue, flood boat operations or land searches, SES response can often mean the difference between life and death," Mr Leach said.
"SES members work together with a great group of like-minded people.
"They train together, respond to emergencies together and often make life-long friendships along the way.
"They are people helping people, mates helping mates and neighbours helping neighbours."
To join the SES, please visit https://www.qfes.qld.gov.au/careers-and-volunteering for more information.