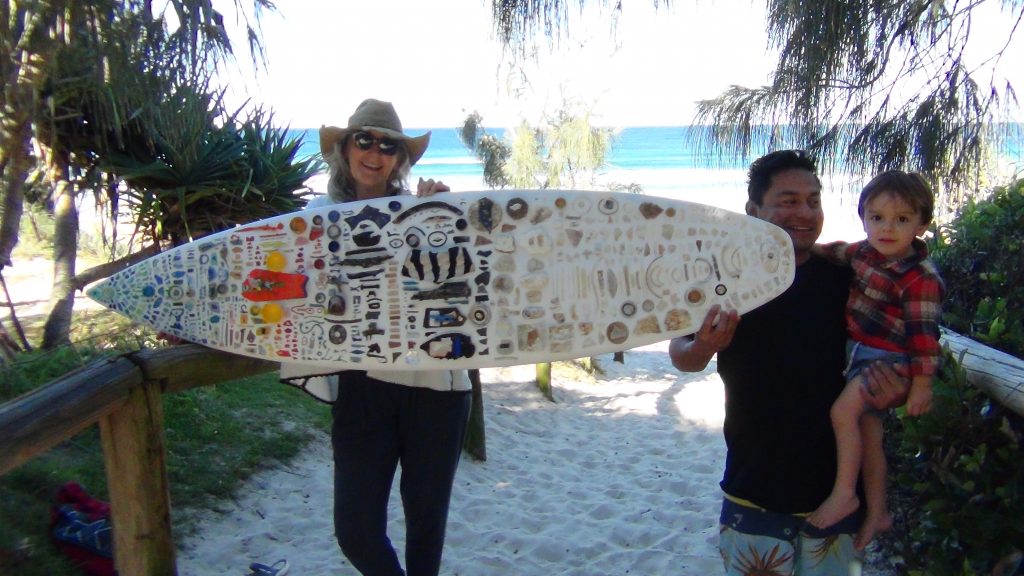 At around the same time that Covid hit last year, beach-walker Arturo Hernandez and his then one-year old son Naolin started collecting small bits of rubbish on their daily walk on Peregian Beach with Arturo stating that they collected all manner of items between beach access 64 and 65.
"Every day in the rain, wind – it didn't matter.
"We collected plastic, styrofoam, cigarette butts, ghost net and all sorts of stuff just south of the village," Arturo said.
Gradually, Arturo could see how much he and Naolin were picking up in just that 200 metres of sand, and he wanted to somehow turn it into a message.
Since arriving from the Mexican coast a few years ago, Arturo was keen to connect with his new local community in Peregian Beach and he became a regular in the Peregian Beach Community Association (PBCA) bushcare group.
PBCA Environment Co-ordinator Rochelle Gooch put Arturo in touch with another keen bushcare volunteer and artist, Vicki Bradbury, and the idea for a surfboard made from the found items was floated.
Vicki named the piece 'Beach Artifacts from an Anthropocene Age', and said people have difficulty
believing the beautiful object is comprised of beach rubbish.
The artwork is illustrative of the rubbish left over by humans within our current geological time frame.
Vicki is hopefully that the new Community House currently being built in Peregian Beach might be an appropriate home for the piece and serve as a reminder for all to look after their surrounds.
Arturo said that the recycled surfboard isn't the end of this story.
"I will continue picking up rubbish, volunteering at PBCA bushcare and teaching my young children to care for their beautiful beach."