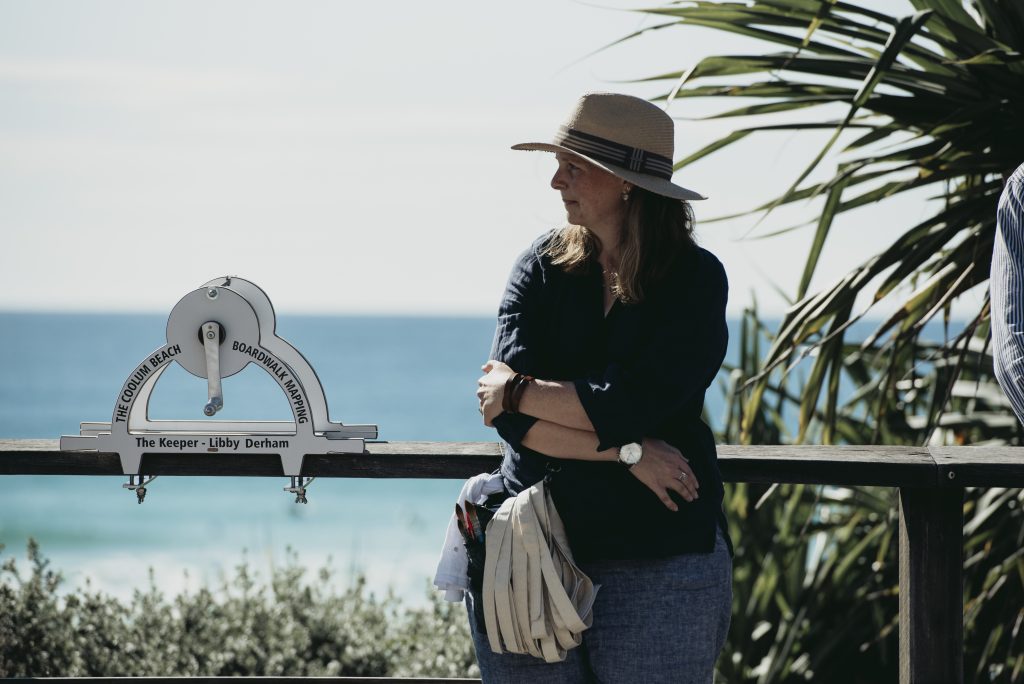 A new live public art project is underway in Coolum and everyone is invited to get involved.
The Keeper Project is a live public art project where artists work in a temporary role as observer, collector, maker and storyteller within a community.
There are ten Coolum based artists and creative practitioners working on The Keeper Project which is running from July 2021 – March 2022 with each Keeper holding a residency of sorts during this time.
The artists come from a range of practices including visual arts, music, spoken word and inter-disciplinary practice. One at a time each of the artists takes the role of The Keeper.
The Keepers will be keeping a log of their journey and the public can read their account on the website or visit their office at Coolum Library. They can also be followed at the keepers on Instagram @creativespaces.sc
The first Keeper is Libby Derham a fourth-generation watercolourist who is capturing the unique landscape and stories of the Coolum Boardwalk as she paints her way from the Surf Club to Point Perry.  With her custom-designed surf reel and watercolours, Libby is painting the 350metre boardwalk in her role as The Keeper #1. 
Sunshine Coast Council Divisional Councillor Maria Suarez encouraged everyone who lived, worked or played in Coolum to contribute to this public art project and be part of the story.
"You'll find the first Keeper, Libby Derham, capturing the unique sites and stories of the moment as she paints her way along the Coolum Boardwalk," Cr Suarez said.
"Each day the Keeper compiles a log of their journey by typewriter, stationed in their office, in a public corner of the Coolum Library.
"Stop to say hello, ask questions and you may just see your story, conversation or discovery captured in the Keeper's log or if you don't feel like chatting, just enjoy seeing this epic work on paper as it comes to life."
Each Keepers' journey will be different, so keep checking back to see what's new.
Libby can be found on the Coolum Boardwalk until Friday, September 3.
The Keeper Project is delivered by Sunshine Coast Council in partnership with Red Chair and takes place in Coolum from July 2021 until March 2022.
There will be a public call-out for more Keepers in October 2021. 
www.keeperproject.com.au @artscoast
Meet the Keepers
*Keeper 01 Libby Derham – July 24 to September 3 (extended due to lockdown)
*Keeper 02 Peta O'Hara – September 3 to September 24
*Keeper 03 Shannon Carrol – September 24 to October 15
*Keeper 04 Simone Gillam – October 15 to November 5
*Keeper 05 Kellie O'Dempsey – November 5 – November 26
*Keeper 06 Alison Mooney – November 26 – December 17
*Keeper 07 Jack Hagan – December 17 – January 7
*Keepers 8, 9 and 10 are still to be discovered.