Vanessa Bacon-Hall
Editor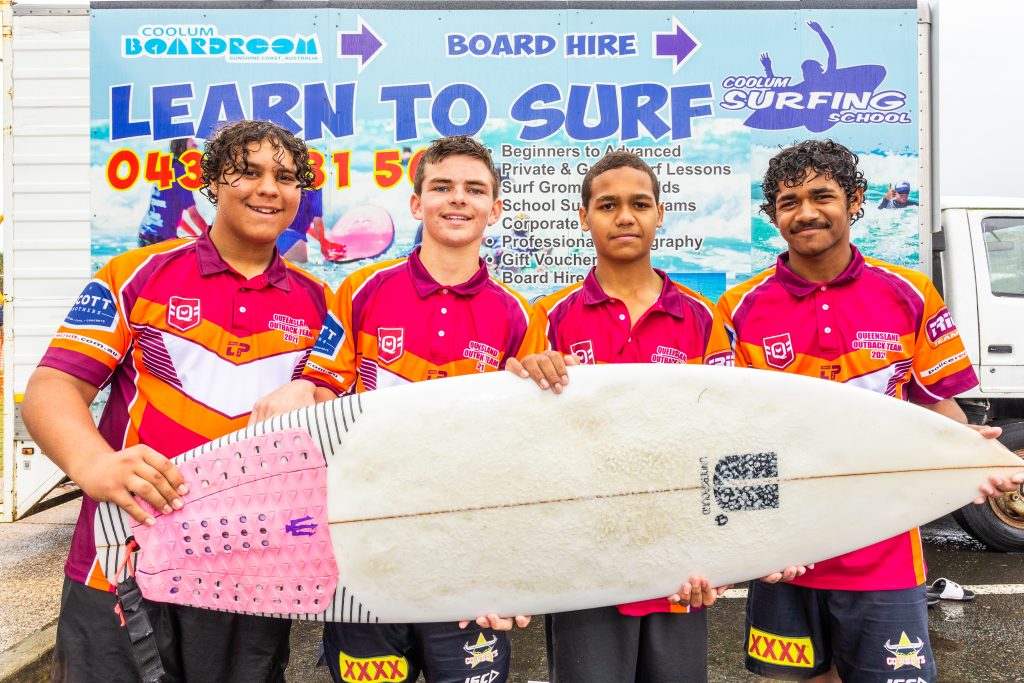 Last Friday morning a group of young, outback, and rural Queenslanders had a great morning on Coolum Beach learning to surf with the best in the business – Chris Kendall from Coolum Surf School, and despite the rainy and cool conditions the smiles on the faces of the participants showed how much fun was had.
The new surfers were participants in the Queensland Rugby League funded 'Queensland Outback' group which saw a busload of 88 travel all the way from Mt Isa and everywhere in between for a weekend of league and extra fun in Coolum.
Peter Rafter from QLD Rugby League said that the program was a way for the outback kids to get more footy experience.
"We realised that the outback kids don't get to play that much, so we have been doing this for the past seven years and we bring them over here and they stay in Coolum and play footy with lots of other kids – there's no scores kept, its just a fun weekend."
The outback kids stayed at the Apex camp and Luther Heights and consisted of two boys and two girls sides and their dedication to making it to Coolum was evident with some traveling 28hours on the bus for the three days of action packed fun.
The girls had the privilege of meeting and then going to the Women's State of Origin match at Sunshine Coast Stadium.
"I've been doing this for years, but telling the girls they were going to meet the women's side was the biggest thrill for them," Peter said.
Some of the boys took up the opportunity to learn to surf when not playing footy and Chris from Coolum Surf School said that the smile on their faces said it all.
"Some hadn't seen the ocean before and none had surfed.
"It's cliché but our business is passing on the stoke of surfing and its great being able to pass on the basics and some of these kids were standing up within a few minutes," Chris said.
Chris further went on to say that their learn to surf programs and lessons are a great team building exercise and no one is ever too young or old to learn.
"I love being able to pass on what we have here and getting people out on the Coolum Beach shore break and it's amazing how quickly people can advance with a few basic skills."
If you would like to learn how to surf or book in for a group team building lesson, give the team at Coolum Surf School a call on 0438 731 503 to find out more.