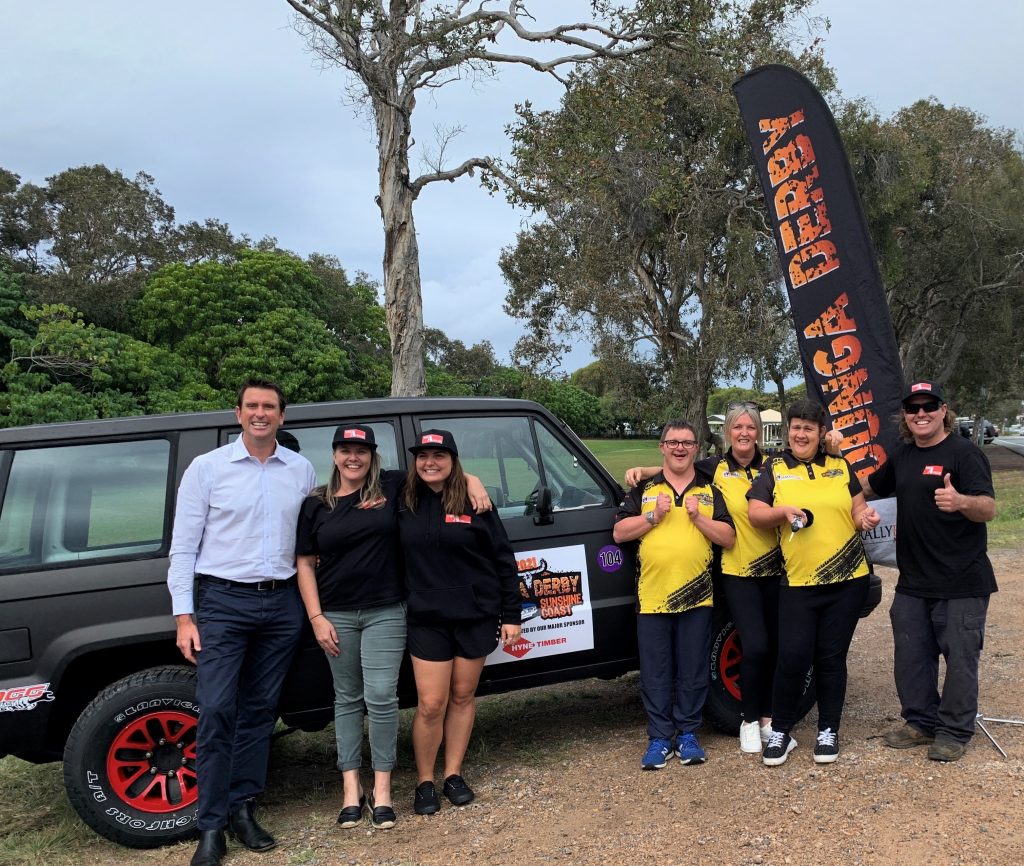 Coolum's very own A-team may not have gotten their wheels dirty yet, but locals are already reaping the benefits of the iconic Dunga Derby fundraising rally event which kicks off again next month.
Ninderry MP Dan Purdie caught up with one third of the Coolum based team – Michelle Stewart, whose team will hit the road in the annual rally event in car #104.
Mr Purdie said it was great to see the charity behind the Dunga Derby, 'Rally for a Cause', already helping locals, despite only being the second year the event has been held on the Coast.
"I'm keen to throw my support behind Michelle and her A-Team because even though they've yet to hit the road, the charity has already provided much needed assistance for one local family," Mr Purdie said.
Rally for a Cause provides support for families and individuals affected by life-limiting medical conditions. Recently the charity helped local family the Cunninghams convert an area under their home to allow their daughter Allyce to live independently.
Originating on the Fraser Coast, the Dunga Derby has assisted over 130 families and individuals and raised over $1.3million (not including this year's fundraising efforts).
This year the Sunshine Coast Dunga Derby will be held over four days from July 29 to August 1.
For Coolum local Michelle, the decision to put her hand up for the event was a simple one.
Michelle was first introduced to the event in 2018 when a small group of Coast businesses were invited to participate in the Fraser Coast event.
"Not only did I come back trying to put my automatic car into gear for the next week, I just couldn't wipe the smile off my face after the amazing experience of meeting a bunch of fun, adventurous do-gooders that genuinely want to raise money to help others," Michelle said.
Joining Michelle in the A-Team is Adam Govett and Sarah Kimmorely, who will join 26 other teams from across the Coast who have registered to participate in the four day event, which departs from Aussie World on July 29. They will be joined by a further 65 teams from the Fraser Coast, bringing the total number of participants to 300, with 50 officials.
In the lead up to the derby the teams will fundraise with loads of events throughout that time – everything from raffles, gala dinners, sportsman luncheons, barefoot bowls to BBQ's! The local communities will be buzzing with activity and businesses are encouraged to get behind the event, sponsoring teams and their vehicles (the Dungas!)
To support Michelle and Coolum's A-Team, you can donate via the link https://sunshinecoast.dungaderby.com.au/teams/a-team.
You can also support them at the following upcoming fundraising events:
*Wednesday and Thursday July 7-8 at Prestos Pasta and Pizza, Suncoast Beach Drive Mt Coolum with $1 from every pizza and pasta donated to the A-Team.