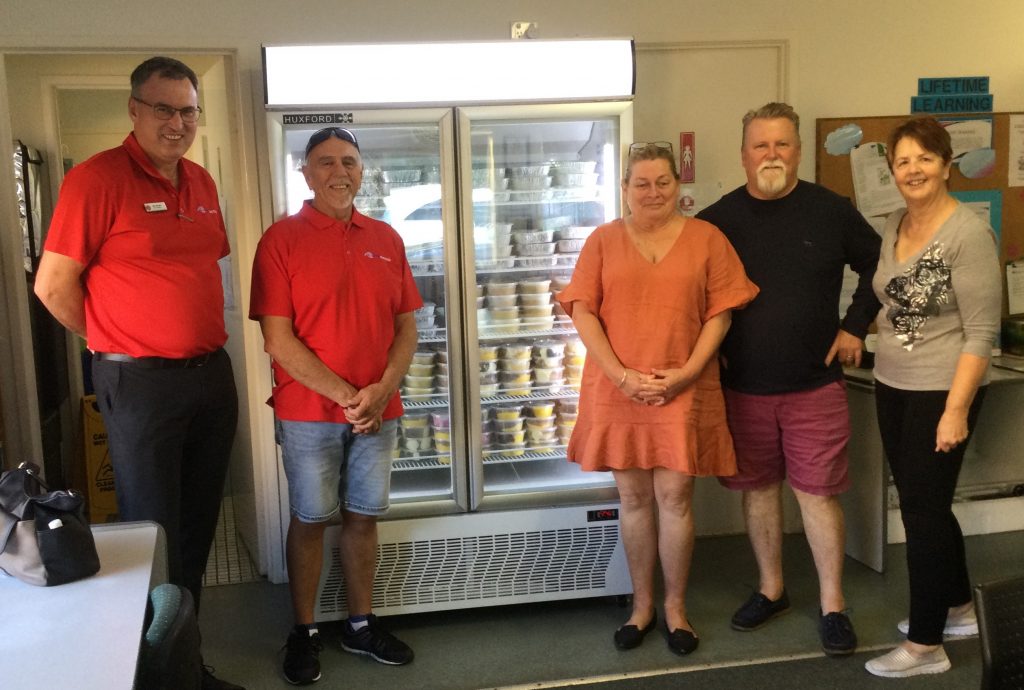 In a gesture of great community goodwill and helping those in need out, the Coolum Surf Club and North Shore Realty made a very generous donation to Coolum Beach Meals on Wheels to enable the community group to purchase a new freezer which will enable them to store frozen meals for their clients.
The donation will also enable Meals on Wheels to make repairs to their solar system.
Recently the Coolum Beach Meals on Wheels met with the President of the Coolum SLS Supporters Club Ernie Burrows and General Manager Mal Wright along with Noel and Gillian Mooney from North Shore Realty to show them the new upright freezer they were able to purchase with the generous donations made by these organisations.
During COVID it became apparent that Meals on Wheels needed more storage space for frozen meals so that they would have enough stock in the event of a lockdown and they were unable to produce fresh, hot daily meals for their clients.
President of the Coolum Beach Meals on Wheels Management Committee Sue Green said that other community groups were able to help out during COVID with the hire of a freezer.
"Both Mark from Coolum Business and Tourism and member for Ninderry Dan Purdie were able to help out with the rental of a cool room freezer and we were able to have sufficient storage space. However, that was not the long-term solution and so with community support Meals on Wheels were able to purchase a brand new freezer."
Sue further went on to state that Meals on Wheels could not survive without the very generous support from the community.
"Coolum Beach Meals on Wheels acknowledges the on-going support from the community and especially the Surf Club and North Shore Realty in ensuring we can support the aged and NDIS Participants in the community with nutritious and fresh chef-prepared meals."