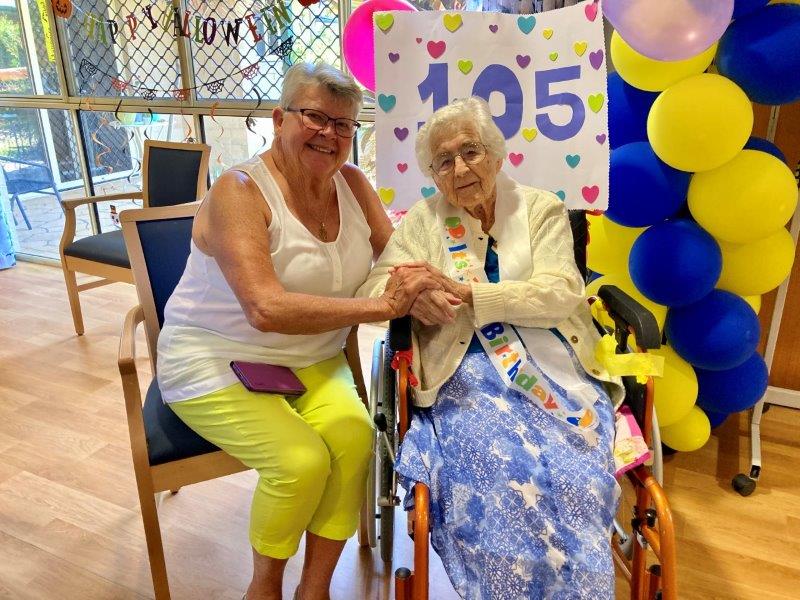 THE LOVE was evident on Sunday October 29 as Rose Clarke who was celebrating her 105th birthday held her daughter's hand and lovingly thanked her for such a special birthday celebration at Coolum Waters.
Born in 1918, the same year that saw Billy Hughes as Australia's Prime Minister, the nation's population hovering around five million, and the tail end of World War I for Western allies, Rose's life story is a tapestry of resilience, enduring spirit and love.
A daughter in a family of six children, Rose navigated the challenges of life, including the hardships of the Great Depression and witnessing brothers go off to fight in World War II. Born in Essex London, Rose made her journey to Australia at the age of three when her family immigrated. The family landed in Victoria and went looking for work and eventually Rose's dad secured work at the Isis sugar mill near Childers.
Rose left school just after year eight and did housework for other people and met and married Col Clarke and the two eventually settled in Coolum around 1943. Col found work with the Coolum Yandina buses, while Rose devoted herself to homemaking. Rose and Col became parents to a daughter, and their family grew to include two granddaughters, five great-grandchildren, and even two great-great-grandchildren, with most of the family residing in the local area.
Daughter Colleen Goodin recounted some of Rose's memories about Coolum from long ago.
"Mum would tell us that the sight of an automobile on the road was a thrilling rarity!"
Rose dedicated significant time to volunteer work, contributing to the Anglican Church, Meals on Wheels, and the blood bank and she loved bingo.
"Mum would go anywhere for a bingo game, and she also loved to do crosswords and she loved reading."
Only recently, Rose began using a wheelchair, a testament to her lifelong commitment to a healthy lifestyle.
"It was a different time back then and I think Mum's longevity has to do with eating lots of un-processed food, fresh and seasonal vegetables and having a content and happy outlook," daughter Colleen recounted.
"Mum really was always happy with what she had regardless of money and family has always been so important – family is her greatest blessing ever."
Rose lived independently up until the age of 97 and now resides at Sundale Coolum Waters where she has found a home and a welcoming community.
"Mum absolutely loves it at Coolum Waters, and she is so grateful for everything that they do for her."
The love was all around on Sunday October 29 as the Coolum Waters community celebrated Rose – happy 105th Birthday Rose Clarke and the secret to a long life?
"To walk and be happy!"