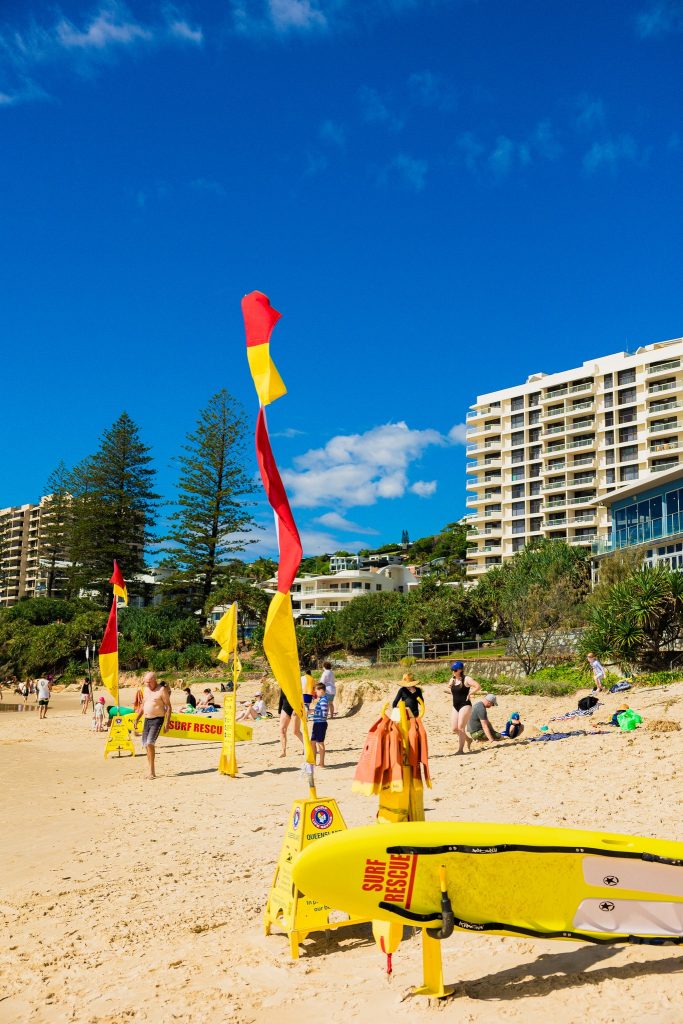 IT'S THE all too familiar catch cry of summer – "swim between the red and yellow flags' and with the official start of the summer patrolling season having kicked off on September 16, beachgoers are reminded to be cautious at the beach.  
Coolum Beach Surf Life Saving Club officially welcomed back their volunteer surf lifesavers over the past weekend and has 14 volunteer teams who patrol the beach as well as paid lifeguards, and this year will mark the 105th year of patrols along Coolum Beach.  
A longer and hotter summer season is going to make a swim more enticing than ever, but beachgoers are being warned a dip in the ocean can be deadly if they aren't swimming in patrolled areas.
Thousands of volunteer surf lifesavers, and professional lifeguards funded by Sunshine Coast Council, are bracing for what is expected to be one of their most challenging seasons.
The volunteer surf lifesaving season runs from September 16 until early in May 2024.
Surf Life Saving Queensland Sunshine Coast Regional Operations Manager Aaron Purchase said a key consideration was the predicted El Nino weather pattern that was likely to spark increased visitation.
Mr Purchase said the pattern historically brought drier and warmer conditions and a reduced risk of cyclonic weather.
"Traditionally, we see more people at the beach and in the water during hotter and drier summers and if they become complacent and stray from the red and yellow flags, they can very quickly get into trouble, sometimes with tragic consequences.
"When it is really rough, it's obvious that the conditions are dangerous and people stay out, but when it's seemingly calmer, they enter the water or swim out a bit further than their ability should allow, thinking it's safe. 
"They can easily miss the hidden dangers, like rips. Our advice is always to stick to patrolled areas where lifeguards and lifesavers can see them."
Throughout 2022-23, lifeguards and lifesavers patrolling beaches in the Sunshine Coast Local Government Area recorded more than 7.5 million visitations and performed 745 rescues and 111,059 preventative actions and administered 3,336 first aid treatments.
Volunteer lifesavers patrol at major Sunshine Coast beaches every weekend and on public holidays from 7am to 5pm from September school holidays to early May with extended hours to 6pm through the busy Christmas holiday period. This vital service supports lifeguard patrols which occur year-round.
Sunshine Coast Council Community Portfolio Cr Rick Baberowski said Council's continued support for lifeguard services, operated by Surf Life Saving Queensland (SLSQ) across the region, was particularly important during what was predicted to be a hotter than average spring and summer. 
"Council's $5.8 million investment in lifeguard services this financial year provides 34 permanent lifeguards, two supervisors, a chief lifeguard and a casual pool of up to 96 lifeguards during peak season, across 22 patrolled beach locations, from North Coolum to Bulcock Beach," Cr Baberowski said.
"It also provides our professional lifeguards with vital equipment they need to perform their duties including jet skis, rescue boards, flags, first aid kits and portable surveillance cameras for high-risk locations."