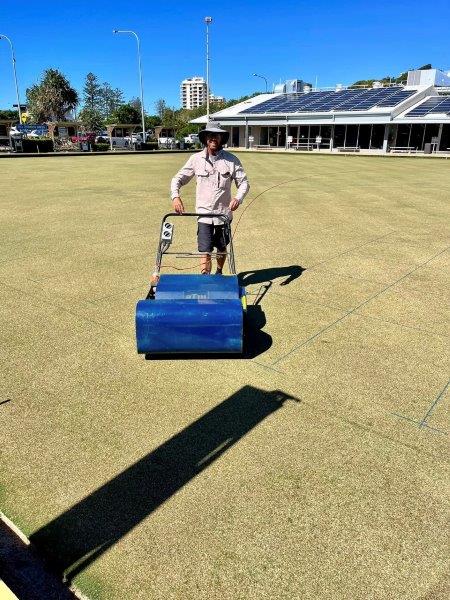 The month of May will see Coolum inundated with the best of the best bowlers as the Coolum Beach Bowls Club hosts every final for the 2023 State District Sides Championships and the 2023 State Championships.
In what is a huge coup for the Coolum Beach Bowls Club, the club has been keeping busy making sure everything is looking its best.
Club Manager Wendy said that they were looking forward to hosting the bowlers from across the state.
"We had to nominate to host and the prestige of hosting this is huge, and it has been a good excuse to get the club looking good."
Wendy explained that the games will be live-streamed.  
"Coolum is going to be shown to so many people – it's going to be great."
A massive win for restaurants and accommodation providers, Coolum will be hosting 160 players during just the first three days of competition alone.
Spectators are encouraged to come along and watch what will be some of the best bowlers in Australia.
State District Sides Championships
The competition is held over four days, with approximately 550 players and team officials attending from May 3-6. The State District Sides Championships is the marquee event on Queensland's bowling calendar, with districts going head-to-head in separate men's and women's competitions. These teams battle it out, not only for bragging rights but also for the chance to be crowned Queensland's top bowling district.  
2023 State Championships
From Monday, May 8 to Sunday, May 21 Queensland's State Championships will be held and they are open to all Bowls Queensland affiliated bowlers. These championships enable players to compete for state titles in Singles, Pairs, Over-60s Pairs, Mixed Pairs, Triples and Fours. Capturing a coveted state crown places the winner in the company of some of Queensland's greatest bowlers. Winners of the 2023 Singles, Pairs, Triples, Fours and Mixed Pairs advance to the Australian Championships to be played in October at a club TBC. 
Coolum Beach Bowls Club will share the hosting duties with Club Kawana, Maroochydore Beach Bowls and Tewantin/Noosa Bowls. In what is a massive win for Coolum, every single final for both events will be played at Coolum Beach Bowls Club.