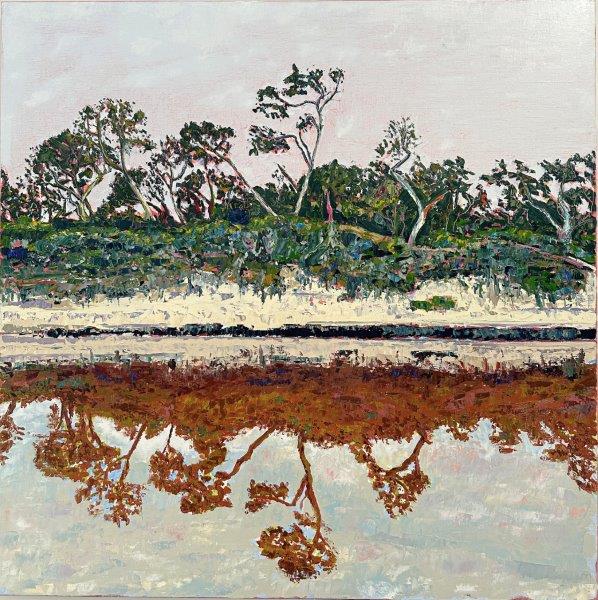 THE SUNSHINE Coast has a rich history of celebrating and recognising artists and Coolum resident Benjamin Hedstrom recently took out the top award at the Sunshine Coast Council-sponsored 'Local Artists – Local Content Art Prize' for 202.  
Benjamin's work titled 'Creek Reflection' a 101 x 101 cm oil on linen which was inspired by Stumers Creek in Coolum won the Best of Show Acquisitive Award and can be viewed along with the other entries at the Caloundra Regional Gallery until May 7.  
The exhibition has been an initiative by Friends of Regional Gallery Caloundra Inc. and showcases 40 established and emerging artists, each expressing their understanding of the environment either through painting, drawing, printmaking or sculpture.
Caloundra Regional Gallery Manager and Curator Jo Duke said that while the 40-finalist works were available to view online, a visit to the gallery was recommended to really appreciate the detail of the pieces on show.
"When viewed together, the works highlight the way our artists view, work and create in this region, from varied and unique natural landscapes, people and communities – all different ways to see, feel and connect.
"You will see artists who work with the more traditional mediums such as oil, acrylic, gouache on canvas through to works on paper including watercolours, prints and digital photography.
"Then there are the works by artists who work in 3D with clay, wood, resin, textiles and found objects, plus artists who combine the 2D with the 3D to create something totally unexpected – pushing ideas of perspective."
Sunshine Coast Arts Portfolio Councillor Rick Baberowski said there was an impressive and delightful range of works on show in the Local Artists – Local Content Art Prize 2023 exhibition and would have presented a wonderful challenge to the judges.
"I offer my thanks and congratulations to all finalists, however just being selected for the exhibition is a real achievement," Cr Baberowski said.
"From across our whole region, our Sunshine Coast artists are represented in this exhibition, and I urge and encourage everyone to support them by visiting the gallery." Visitors can also be the judge when they visit the Gallery and enter the People's Choice Award. 
With an eye to the future, visitors can also view the 'Local Student Art Prize exhibition' which provides a valuable snapshot of the region from a young person's perspective.
From artists as young as six right through to 17 years, this enlightening collection shows us how well are we supporting our region's youth in developing their skills as well as what are they captured by, and through this body of work, we can really listen to what these pieces and our youth are telling us.
The Regional Gallery at Caloundra presents a dynamic exhibition program featuring leading national and local artists, complemented by immersive public programs, educational programs, tours and events. 
Caloundra Regional Gallery is open from 10am, Tuesday to Sunday, and is located at 22 Omrah Avenue, Caloundra.