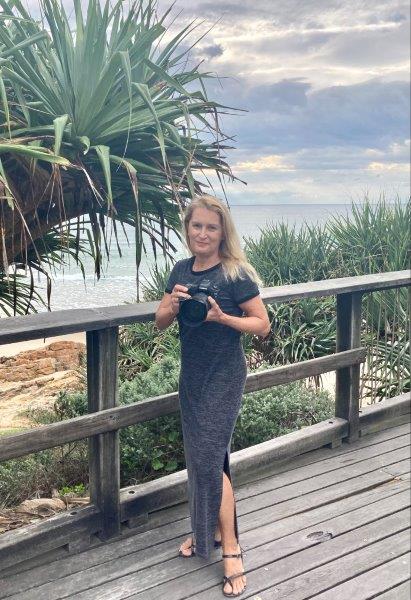 Kerry Mulgrew 
BY VANESSA BACON-HALL
Each month the Advertiser will take you on a journey through the life of people in our community – the characters, the notable ones and just those with an interesting backstory.
They say that the 'early bird catches the worm', for photographer Kerry Mulgrew that saying could read 'the early bird captures sunrise 365 days of the year'. That's right, every morning, rain, hail or shine Kerry is up and out and down at the coastline ready to capture the first rays of the day.
Like many others in our area, the natural world provides the perfect canvas for art and capturing the world where we live and for Kerry, the love of photography started when she was young but was further fuelled by way of film and working in the world of movies.
Formal education saw Kerry study a BA in film and video production at the Queensland College of Art.
"They only took 16 students each year and I learnt everything from the ground up and ended up working in film production on the Gold Coast for almost 17 years."
Working out of Movie World Kerry's work was varied from organising immigration details for actors and agents to organising travel arrangements.
"On set you have a second Assistant Director who runs everything on the actual set, and I was the in the office counterpart organising everything from that side such as making sure cast were booked in for the day and accommodation is ready amongst everything else."
Kerry notes working with Donald Sutherland as one of the nicest stars that she worked with.
"He was nice and not too needy… I worked with him on the film 'Fools Gold' which also starred Matthew McConaughey and Kate Hudson."
After more than 16 years and work that consisted of long days, moving on from the movies was brought about by a need to move back home to where Kerry says, "the Sunshine Coast has always felt like home" and a slower pace of work.
"Growing up on the northside of Brisbane I always wanted to be by the beach and in 2007 I moved back to embrace my creativity and moved to Alex Heads and in 2012 I moved to Coolum."
Landing a quieter job in an office, Kerry also went back to study and did a Cert IV in photography.
"I was still shooting in film even back in 2007 and I needed to learn digital photography.
"I love being able to record things and I have always kept a journal and photography has always been a love of mine."
"And as soon as I moved back to Alex, I was up every morning and not having to be at work at 6am in the morning to deal with a film production I had the time to actually enjoy the start of each day."
Kerry explained that happiness for her is being at the beach.
"I would get up every morning before work and walk to Mooloolaba and I would take along my point and shoot camera and then in 2011 I got my first DSLR and could get so much more out of the images."
The mornings for Kerry are the perfect time to shoot with the colours making the early starts so worthwhile.
"It's the change of light in the mornings and everything that goes with that – there is so much life in the morning and I'm a morning person!"
Even when it is raining Kerry will still drive down and just sit in her car waiting for a quick break to shoot the morning sunrise and this time of the year is one of her favourite times.
"I love shooting in April and winter – the colours are just so vivid and some mornings they just keep going on and on."
And for anyone wanting to start capturing the world around them with a camera Kerry says to just start.
"If you can, buy the best camera you can afford but just get out there and start taking photos, even if that is with your phone."
Kerry has lots of prints available to buy with most prints featuring landscapes from Coolum to Noosa. Kerry will also be teaching soon with group photography classes being taught via getting outdoors and learning via a 'walking photography' class. For all details on Kerry's work please visit www.kezignphotography.com.au
Do you have an interesting person that you think the Advertiser should feature? Send in your suggestions to editor@coolumadvertiser.com.au