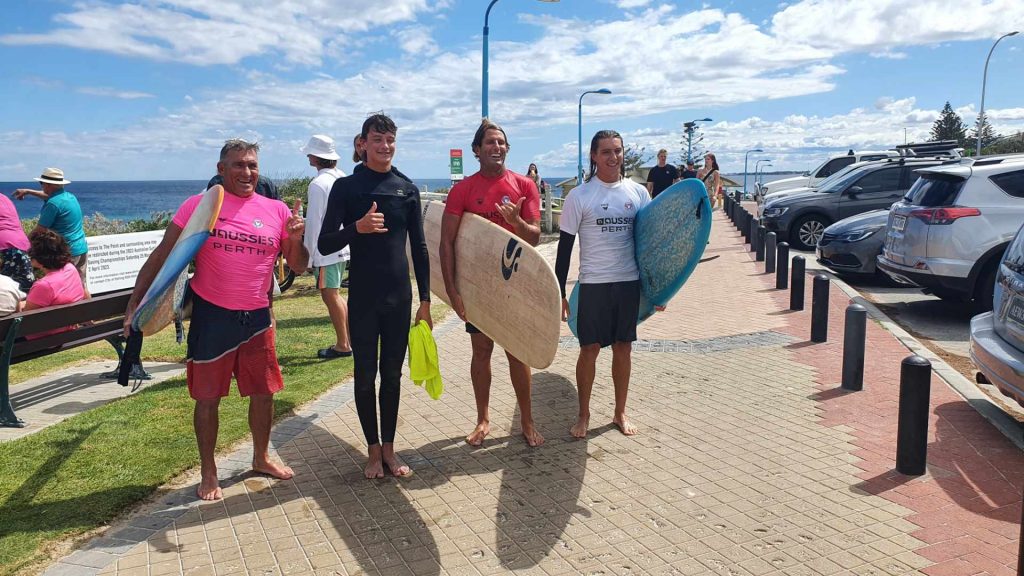 PETER GARDINER 
A NEW wave of fearless young surfing lifesavers at Coolum Beach has teamed up with a couple of revered, wave-riding elders to take down the might of Bondi Rescue at the Aussie Surf Life Saving Titles in Perth. 
Perennial national masters surfing champion, Coolum Beach Surf Life Saving Club Life Member and former Maroochy Council Chief Lifeguard Bruce Dunne has for years been helping harness a small but enthusiastic team of talented youths on short and longboards. 
This close-knit Coolum surfing team are still on a natural high having just been crowned the 2023 Australian Champion Board Riding Club and winners of the Peter Doolan Trophy, after taking out four individual gold, four silver and two bronze at the recent Aussies in Perth.
They blitzed some strong contenders including runners-up, the Bondi Beach SLSC team, led by national double gold medallist Anthony "Harries" Carroll – the dashing lifeguard of Bondi Rescue fame.
For Coolum, Bruce took gold in the 60-69 years Male Long Board, Jodie won the Female Long Board while 32-year-old Coolum relative lifesaving newcomer Jake Harris struck double gold in the 30-39 years Male Long and Short Board. 
According to 52-year-old Jodie, the club's young tearaways were equally impressive with teenage brothers Josh and Lachlan Andrews helping lead the way.
Josh took silver in Under 15 Male Surfboard Riding and 17-year-old Lachie pushed Bondi star Carroll all the way in the Open Short Board final for silver.
Jodie's 21-year-old son Cooper also made life hard for Bondi's Harries in the Long Board final but had to settle for silver, while Bruce was runner-up in the 60-69 Short Board.
Jodie and Bruce also pulled out all stops to each take a bronze in their Open Long Board finals.
The team stayed together in Perth as a happy "family" unit, with the supportive vibe helping Lachlan and another brother Toby, place fourth in Open Male Long Board and U19 Male Short Board events. 
Lachie also made the finals in open long boards placing fourth.
"It's just been remarkable for such a small team to be able to get into finals and open finals," Jodie said.
According to Jodie, team captain Bruce remains their surfing talisman.
Bruce's mantra is that the best surfers make the best rescuers – long gone are the days of surf beach tribalism when "surfies" were the sworn enemies of the red and yellow-capped "clubbies". 
"Their talent is excellent for patrolling, with over 75 per cent of ocean rescues being performed by surfboard riders," Bruce said.
"To see the skill and talent they've developed on the short boards is quite remarkable.
"They're all rescue ready, they're in the water and have respect of the ocean."
Jodie said the club Management Committee has provided invaluable backing to help support the surfers get to the Perth titles and the team is pleased they've been able to repay the faith by way of gold, silver and bronze.  
While Coolum surfers will be lining up again next year when the nationals are held at home on the Sunshine Coast, Jodie said the team's primary aim is to do what they always do, go out to have as much fun as possible.