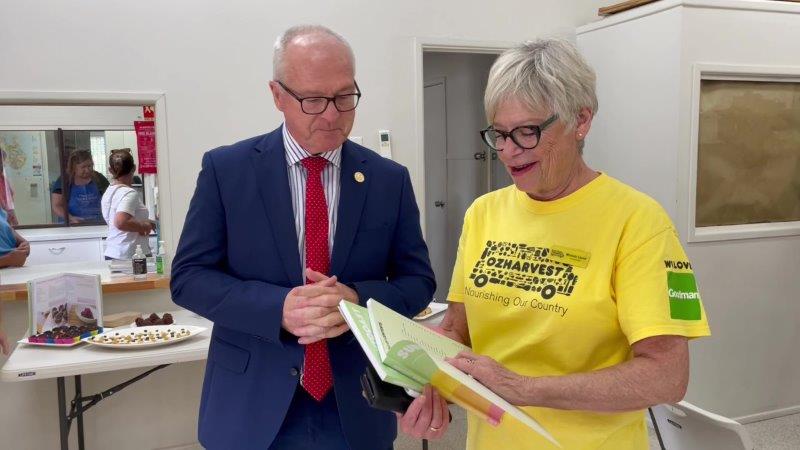 A FEW editions ago we brought you the story of Michele Lipner – the Sunshine Coast Council Citizen of the Year and founder of the local branch of 'OzHarvest' and last week OzHarvest launched their first cookbook which will help local charities and their recipients make the most of rescued food, reduce food waste, fund charitable operations, inspire home cooks and help feed those most vulnerable in the community.
Aptly titled 'SunnyCoast Eats – an A-Z Guide to Cooking with local food', the book is a collaboration between OzHarvest Sunshine Coast and Gympie, and the Nutrition and Dietetics discipline at the University of the Sunshine Coast.  
The aim of the book is to help OzHarvest recipients and home cooks make the most of donated items or food that's left over at the end of the week.
Ms Lipner said SunnyCoast Eats was a comprehensive guide and recipe book that had been six years in the making. 
"In 2017 we realised we were doing a great job of rescuing quality food that would have otherwise gone to landfill and re-distributing to organisations that feed those most vulnerable in the community, but an element was missing," Ms Lipner said. 
"Sometimes we are passing on foods that people may not be familiar with using or it may not be obvious how the donated food might come together to form a meal—and that's the same for people at home, who are trying to stretch their dollars and make the most of every item of food available.
"We put our heads together to find a solution and six years' later, the result is SunnyCoast Eats, which will help those who receive donations from OzHarvest, and home cooks make the most out of every food item they receive, no matter what it is.
"The 100-page collection features 53 contributed recipes, which are easy to make, budget-friendly and champion local ingredients as well as tips on kitchen basics, food swaps and reducing food waste at home—a problem that accounts for more than a third of the country's food waste. 
"Our initial print run is 2,000, with half the books donated to local OzHarvest recipient agencies and their clients. Thus, for every book purchased, one book is gifted. Proceeds from book sales will support local OzHarvest operations."
The book is the result of hundreds of hours of effort by local OzHarvest volunteers, USC Nutrition and Dietetic students and community members, with all creative input into the production of SunnyCoast Eats donated – including needs assessments, recipe development, design and graphics.
Lecturer in Nutrition and Dietetics at USC Angela Cleary said that the partnership between OzHarvest and USC had been very rewarding and mutually beneficial, allowing students hands-on and real-world experience.  
"A group of 15 students from both the USC Nutrition and Dietetics Programs completed Work Integrated Learning Projects with OzHarvest under the supervision of Michele and myself.
"Students engaged in a variety of projects, working in close collaboration with the SunnyCoast Eats working group to understand the need for the resource, design the concept and collate, test and photograph the recipes."
SunnyCoast Eats is available to borrow from Sunshine Coast Libraries and available to purchase for $30 including postage from the OzHarvest office in Coolum and for more information please email –  sunshinecoast.info@ozharvest.org