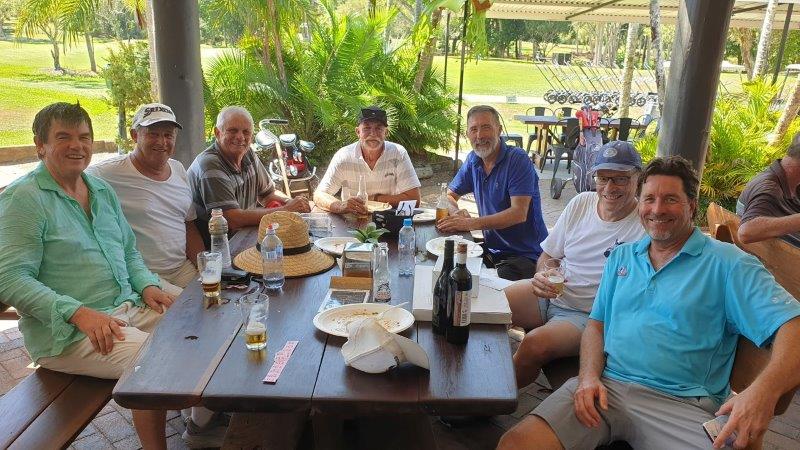 They say you can't teach an "Old Dog" new tricks – of course you can, and this is evidenced by the new skills that members are enjoying at the Coolum Men's Shed which is conveniently located at the Industrial Estate at Quanda Park, Coolum Beach (26 Research Street). The shed is now in its eleventh year of operations.  
In addition to the existing plant and equipment located in the Men's Shed, two more areas of interest have recently been included to accommodate the needs of members. These include the newly formed Art Group and Camera Club run by Nick Welling (0414729890) and Peter Oudyn (0429508593) respectively.
Nick Welling is an accomplished artist, who helps where he can and offers an opportunity, particularly to those who no longer wish to use machinery, to get in touch with their creative side. The group has a motto of "Come along and do your own thing."  
The Camera Club is a group of enthusiastic men keen to learn, improve their photography skills and share knowledge. This group meets on the first and third Wednesday of the month at 12.30pm at the Men's Shed.  They do a variety of things including field trips, but primarily the club is about enjoying themselves.
It's important to highlight that each new member gets a two-part induction into the shed. Firstly, so that they get a comprehensive understanding of the rules and how the shed operates – particularly Occupational Health & Safety and secondly, new members are inducted into the operation of all the various pieces of equipment so that they can use it safely.
The Coolum Men's Shed opening hours are 8.30am to 2.30pm Monday, Wednesday, and Friday. The shed puts on a popular BBQ lunch each Friday for just $5 plus $5 in raffle tickets.  
The shed gets funding via our own raffles, sausage sizzles, markets, community jobs and the support of very generous sponsors including those listed below – a very public "thank you" to them all!
Patron, Peter Andrew of Peter Andrew Real Estate
Brennan Carolan of Coolum Mitre 10
Christine Mertens of Coolum Charcoal Chicken
Ben Budd of Budd's Butchers
Siobhan Grey of Bunnings Noosaville
Steve and Tina of The Produce Wholesaler
Shane Berger of Coolum Beach Hotel
Jacob Iverson and Isaac Duggan of Pro Computers
We depend on all our members as far as possible to pitch in to help with fundraising where they can. 
The AGM was held recently, and a new committee was elected for 2023 with Frank Bates (President) David Redfern (Secretary) and Trevor Ryan (Treasurer).
During 2023 we will be organising events including the sportsman lunch (June) and a racing day at the Sunshine Coast Turf Club (Oct). We recently held our golf day at the Noosa Hills Par 3 earlier this month and our first Patron of the Coolum Men's Shed Peter Andrew was one of our major sponsors on the day. Peter is a local Coolum Real Estate Agent who has resided and worked in the Coolum Beach district for the past forty years.
There is great comradeship with many neighbours and friends supporting our group and we take this opportunity to invite you to join us and be a part of a wonderful organisation.
For more information on the Coolum Men's Shed please visit www.coolummensshed.org