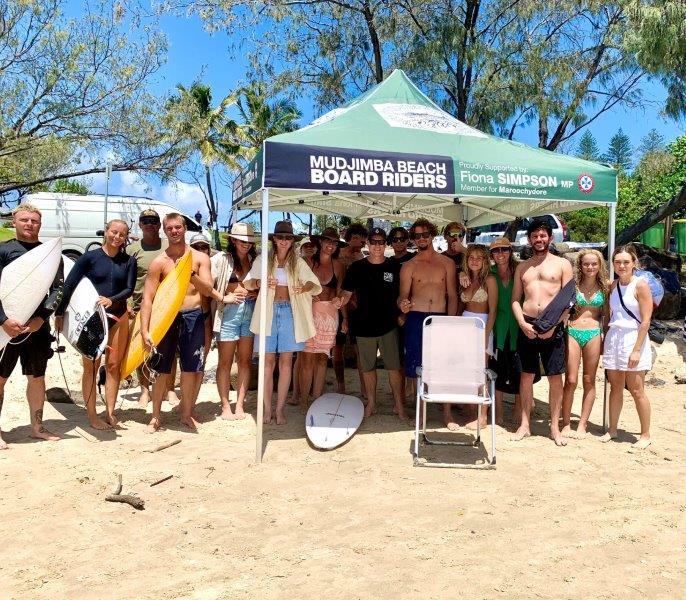 MUDJIMBA BEACH BOARDRIDERS
MUDJIMBA Beach Boardriders started the year off by competing in the Usher Cup held on the Gold Coast last weekend with our team including Sasha Baker, Kalani Wulf, Nick Anders and Leon Vinaev. 
Sasha made it through to the quarter-finals in the Individual event, while Kalani placed third, and Nick and Leon placed fourth in their heats. 
Mudjimba also competed in the team's event and made the quarterfinals just missing out on the semi-finals. We placed 19th overall out of 30 clubs. 
A massive thank you to our sponsors so far this year for making these competitions happen: Your Mates Brewery, Disc Landscaping, Maroochy North Shore Realty and One Place Development.
We would love to welcome any new members to the club and will be having a club sign-on and meet and greet this Saturday, January 28 from 9am – 10:30am in Mudjimba Park. 
COOLUM BOARDRIDERS 
WE HAD such a great time down at Snapper Rocks again this year. Wayne "Rabbit" Bartholomew and the Usher Cup team did so well to put on an amazing international event this year. Coolum Boardriders as usual were down on the rocks with our flags every time one of our surfers was in the water. We got a few mentions over the PA for how good our club spirit is… a photo of us even made the ABC news! 
Stand-out competitors from Coolum were Gabriel Ribero winning his first heat and Ellia Smith finishing up in the top 20. 
The World Cup Challenge on the Saturday was exciting from the start! Gabriel posted a 7.17 in the first few minutes and Ellia backed him up with a 6.60. Coolum was winning for most of the heat, but unfortunately, the back end of the heat saw the waves machine turned off for Gavin and Kai and Coolum only missed out in the dying minutes as Point Lookout (Stradbroke Island) beat us by a narrow .34, taking second place and pushing us into third. Despite this, the Coolum Boardriders team was stoked as always and we are already looking forward to next year. Gavin (Vice President).