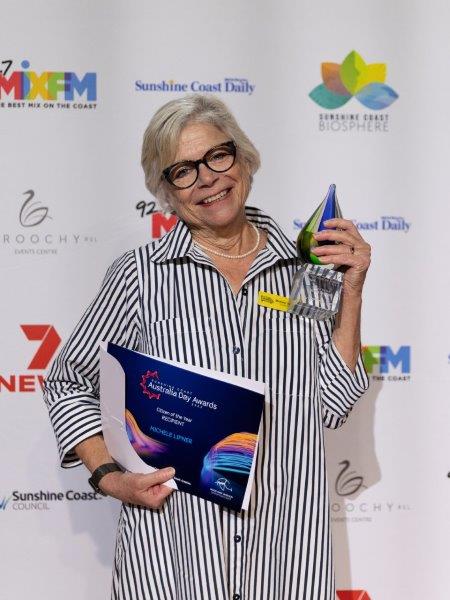 IN A CEREMONY that was held last week Sunshine Coast Regional Council presented their 2023 Australia Day Awards with Coolum local Michele Lipner from the charity 'Oz Harvest' bestowed with the prestigious 'Citizen of the Year'.
Michele has been described as a community champion whose efforts have helped feed thousands of people in need and has been honoured for her tireless dedication to helping others as well as reducing food waste and advocacy work.
A Coolum local, Michele is the founder and coordinator of the local chapter of OzHarvest, Australia's leading food rescue organisation.
OzHarvest saves and redistributes surplus food to charities that feed people in need.  
Each month Michele and her volunteers rescue 15,000kg of quality food which goes on to support 45 charities, with 40 food donors and they have delivered 2.1 million meals.
The local chapter also runs hands-on cooking classes, showing participants how 
to transform rescued ingredients into delicious meals and deliver education programs to charities that teach healthy cooking habits and how to cook simple and low-cost meals.  
Sunshine Coast Council Acting Mayor Rick Baberowski said people like Michele formed the backbone of our Sunshine Coast community.
"This year, we received 63 Sunshine Coast Australia Day nominations across seven categories with a common thread weaving through each one — every nominee was praised for their selflessness and their dedication to helping others," Cr Baberowksi said.
"Together the nominations form a glorious account of the actions of everyday people who make a difference. It's a humbling account and every nominee should feel very proud.
"On behalf of Sunshine Coast — to all those nominated both this year and in previous years — a sincere thank you."
OTHER LOCAL NOMINEES INCLUDED
SPORT AND RECREATION AWARD  
Martin Bristow
Martin is the President of the Coolum Cricket Club (CCC) and has 
a vision for it to be the friendliest club on the Sunshine Coast.
Participation growth is high because of this, with Marty making a
point of welcoming new players and families. He has built a team
of helpers to ensure the juniors and seniors continue to flourish
and is diligent with administration. His most recent success was the
installation of top-grade lighting for the Ron Cargill Oval.
Amanda Jansen
Amanda Jansen has been the volunteer Junior Activities Chair
(JAC) at the Marcoola Surf Life Saving Club since 2018 and an
active club member since 2006. She also manages ancillary tasks,
assists with fundraising and actively participates in beach patrols.
Amanda manages the Nippers Program, something she says takes
an army of 70-plus volunteers to run each week. A huge reason for 
the substantial growth of nippers' numbers, in recent years, can be 
attributed to Amanda's tenacity, great communication and
coordination skills. 
SUSTAINABILITY AWARD 
Stephanie Hughes channelled her passion for the ocean to create a
completely circular economy for the everyday person's grocery
shop. In 2021 she set up Raw Bulk Foods Online and designed and
engineered the first food grade, recycled ocean-waste returnable
plastic bag, which is now being used across all food deliveries within
her company. She also trials and implements technology to facilitate
a circular economy for large scale food, uses pre-existing ocean
waste in her packaging and funds ocean clean ups.
COMMUNITY GROUP OR ORGANISATION AWARD 
Coolum Beach Uniting Church
The church is doing wonders for the welfare and wellbeing of
those in Coolum. Each Monday, they collect food from the Brisbane
Foodbank, which is then offered to the most vulnerable in Coolum
for a small donation, however, everyone can access the service 
regardless of finances. This is such a marvellous help to the
community, especially at these times with the cost of living so high. The
church also provides a range of community events and outreach
activities, working hard to assist the Coolum community.
A full list of recipients is available on council's website https://www.sunshinecoast.qld.gov.au