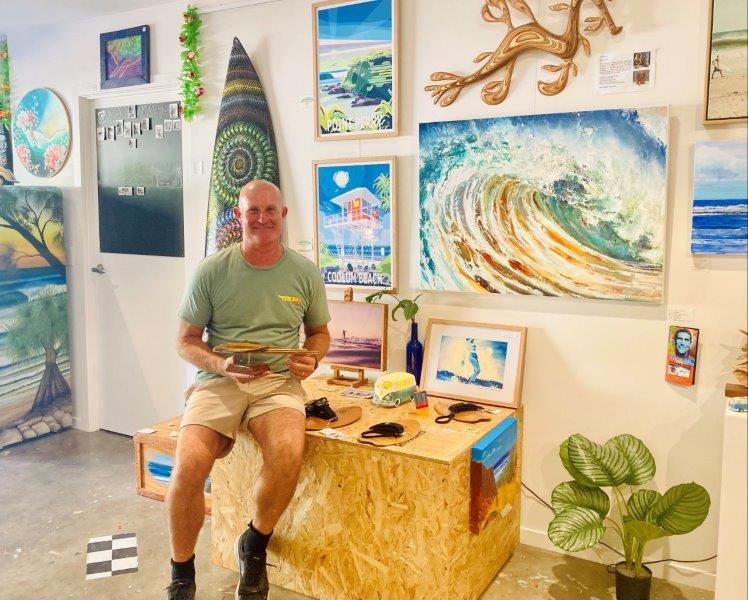 BY VANESSA BACON-HALL  
Each edition, the Advertiser will take you on a journey through the life of people in our community – the characters, the notable ones and just those with an interesting backstory. This week we look at the life of local artist Owen Cavanagh, who many will know as the artist behind the wave mural which flanks a shed along the Sunshine Motorway.  
NEXT time you venture out to Quanda Estate for a visit to 'Studio 53 Art and Surf Culture' which is the retail and workspace of surf artist Owen Cavanagh, you may want to start your visit with a simple 'Ciao' or 'Buongiorno' and you just might be pleasantly surprised to get a well-executed reply in near fluent Italian.
Living in Europe for some 20 years with most of that time spent in Italy will afford one linguistic capability that rivals those of natives and Owen made that journey to Europe by way of water, which is a theme that has featured throughout his life and as he says, "water is in my veins".  
If we go back to the beginning, Owen had a rural start to life with wide open paddocks and horses surrounding him and as a third-generation Sunshine Coast resident, this 'local' was brought up around sweetness by way of strawberries.  
"Mum and Dad owned a strawberry farm out at Tanawah and every morning before school and then after school, we were either picking them and then packing them," Owen explains.  
And just how does someone living out at Tanawah and going to Nambour High School for their agricultural studies offerings end up a keen surfer? Owen explains that it was all to do with family camping trips up to Double Island Point (DI).
"Dad's a passionate fisherman and we would have our summer vacation up at DI and when I was about ten that's where I first saw someone take off on a wave and I thought, 'I want to do that' but before that water was always there – we were always in the water either in the dams or in the water body surfing."
And at 13 years old Owen saved up his money from working on the family strawberry farm and bought his first surfboard and his love of the water was firmly cemented.  
"My Mum wanted me to end up working in animal husbandry or with horses as I had been in pony club and around horses but when I got my license, she realised this wasn't going to happen and horses were out the door, and everything was all about surfing."
Owen quickly became a regular fixture at Alexandra Headland and a member of the North Shore Boardriders Club all whilst completing an apprenticeship as a spray painter and going on to work in the trade.
Owen explained that there weren't a lot of apprenticeships around in the mid-80s and as luck would have it that spray painting apprenticeship would enable him to live and work in Europe for close to 20 years.  
"I ended up working on super yachts, painting and building them for a big English company and I lived on the east coast of Italy – surfing all year round even in six-degree weather!"
In Italy, Owen met his daughter's mother and together they moved back to Australia and the surf art idea took hold here.  
"I was in Brisbane working for a super yacht company and I just had enough, and I knew I needed a change – a friend had just done an airbrush course and his work was so cool – it was much more exciting than the work we were doing on these multi-million dollar yachts, so I did the course too," Owen said.  
It was also on a trip to Hawaii in the early 90s that Owen first saw the airbrush surf art and thought it was something different and something that he could do as a business potentially.
"I knew I had the skills with paint and colour, and I saw that you could do this style of art on almost anything."
As most artists will attest to it's not an easy journey that of a full-time artist and whilst trying to get his surf art business happening, Owen also did FIFO work for five years working a zillion hours and doing his commission artwork on the side. 
"It was a great way to get set up, but art has always been the passion."
During this time was also when a friend mentioned to Owen that they knew someone with a shed, a shed that might be available to paint.
"I first painted the wave mural on the motorway shed in 2001 and it's an actual wave that I took a photo of."  
Sadly, the mural has over time faded due to the weather, and then there have been the multiple graffiti attacks, and as a result, it has been re-painted four times with the mural currently under wraps due to the last graffiti incident. 
There are also issues around who will pay for the necessary CCTV and lights to protect the coast art icon once it is re-painted.  
"It's been a battle with both the Council and the Airport, and I really want to have it back up and to re-paint it as it brings so much joy to people and I am hoping that within a couple of weeks, we will know what is going on and when I am painting it again."  
The wave mural was a great business promotion and now after many years of hard work, Owen has that dedicated space with 'Studio 53 Art and Surf Culture' where both his commercial and passion pieces have come together along with the ability to host other artists' work.  
"This has just been so great – I've had other artists tell me how nice it is out here, and I really want this to be an art hub and I like to show other people's art in a cool place and also have the community involved with workshops and classes," Owen said.
And a cool place it is – drop by for a look yourself and be sure to say 'Ciao'. Studio 53 Art and Surf Culture is located at 53 Quanda Road and is open from 10-3 each day.
Do you have an interesting person that you think the Advertiser should feature? Send in your suggestions to editor@coolumadvertiser.com.au