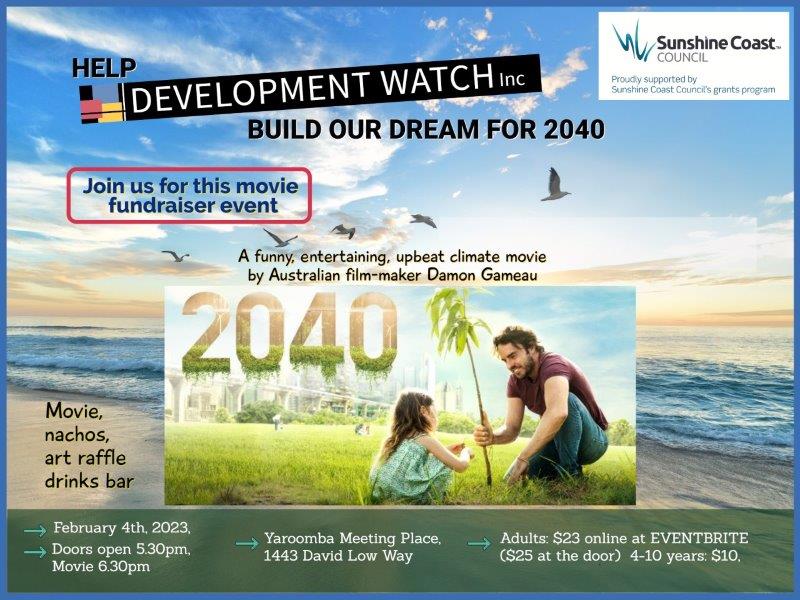 Movie night to raise funds
ADVOCACY group Development Watch is inviting the community to come along to their annual fundraiser which this year is a special screening of the Australian movie '2040'.
Development Watch (DW) is an Incorporated Association that was originally formed in 2004, to oppose an inappropriate development at Mt Coolum.  Over the years the non-profit, non-partisan volunteer organisation has been instrumental in fighting against many unnecessary developments in the area such as the Sekisui/Yaroomba Beach development and the group is united in their concern for the future of Coolum and surrounds and in holding both Council and the State Government to account on important issues.  
Australian filmmaker Damon Gameau describes 2040 as a letter to his four-year-old daughter; an uplifting and optimistic view of how we can survive and progress with the ideas and tools we already have. 
DW President Lyn Saxton said that many residents are aware of the high-profile battles DW is involved in.
"The marathon Sekisui case is still playing out in the courts, and there is still much more work to be done by our volunteers in protecting our coastal lifestyle, our wetlands and our beautiful environment from inappropriate development," Lyn said.
"Come along to the movie night is a great opportunity for people to give Development Watch some support and enjoy an excellent, upbeat family movie with like-minded people."
Tickets for the night can be booked online now for the special screening of 2040 on Saturday, February 4 which will take place at the Yaroomba Meeting Place located at 1443 David Low Way. Doors will open at 5.30pm for meal and drinks/bar with the movie starting at 6.30pm.
Entry includes a vegetarian nachos meal and drinks will be available to purchase at the bar.  Local community artists will also donate beautiful works to be raffled and there will also be the popular wine bottle lucky dip.  
Ticket prices are just $23 for adults online at Eventbrite: or $25 at the door and children are just $10 (age 4-10) with under three free.  
Numbers will be limited for this special event, so please book now at Eventbrite.
https://www.eventbrite.com.au/e/a-movie-event-to-help-development-watch-achieve-its-2040-dream-tickets-499851718947
Sunshine Coast Council is also supporting the event through its grants program.