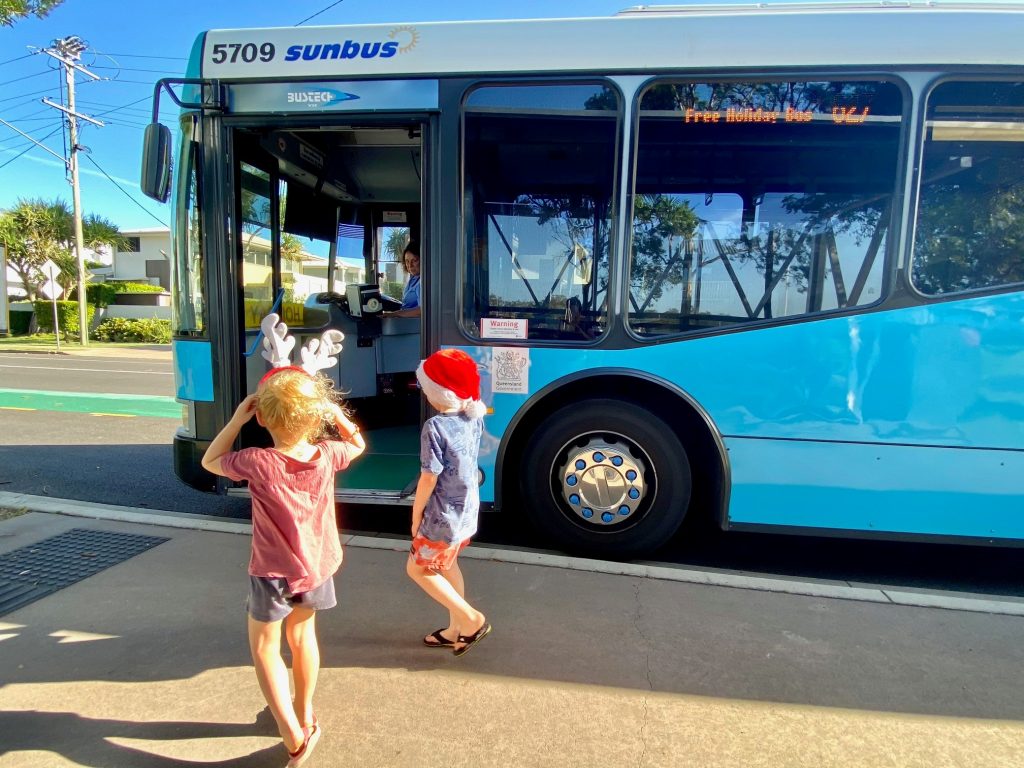 Free route 064 and 065 buses are back again these holidays and greener than ever with the addition of an electric loop bus.
Noosa Mayor Clare Stewart said that from 10 December to 22 January, the 065 Go Noosa electric loop bus will be doing the rounds, quite literally, as it connects Noosa Heads, Noosa Junction and riverside locations during the peak holiday period in a continuous all-day Loop.
The electric bus is charged by 100% green power, and with about 30% of Noosa's emissions coming from vehicles, it's another step towards reducing our emissions locally.
"These holidays will also see a huge milestone with over one million free bus trips since the Noosa Council Transport Strategy's Go Noosa holiday program started in 2018," Mayor Stewart said.
From humble beginnings of 10 days over the Christmas holidays and one week during Easter Holidays, the program has expanded to cover the entire Christmas and Easter Queensland school holidays, as well as the introduction of the 065 Go Noosa Loop bus.
Along with the Go Noosa Loop Bus, it will also be free to travel on five existing Translink buses that service Sunshine Beach, Sunrise Beach, Noosa Parklands, Tewantin, Noosa Civic, Cooroy, Cooran, and Pomona. Council also contracts an additional temporary route to provide a free service between Peregian Beach and Noosa Heads hourly (routes 626;627;628 629 and 632 only).
The Loop bus connects Noosa Heads, Noosa Junction and riverside locations along Weyba Drive and will again service a park-and-ride facility at the Weyba Road AFL ground (plenty of parking) and The J, every 15 minutes until 7pm and half hourly until 10pm.
Council also encourages residents and visitors to leave the car at home and consider exploring fun alternative transport options including the Noosa Ferry or hiring an e-bike or bicycle.
For those who do need to drive in, council will again offer paid parking, at peak periods, in the Lions Park at Noosa Heads, managed by the Tewantin Noosa Lions Club.
Half of the proceeds from the paid parking will go to Tewantin-Noosa Lions Club to fund its good work in the community."
All-day paid parking is also available at Bay Village on Noosa Parade and Noosa Marina in Tewantin.
The Go Noosa initiatives offer locals and visitors a relaxed and fun alternative to travelling around Noosa by private car. The focus is on moving people rather than vehicles.
For more information about Go Noosa, including the timetable for the temporary route 064 Peregian service, visit noosa.qld.gov.au/go-noosa-holidays.
A weekend timetable will operate on public holidays with most free bus services terminating around 7pm with the exception of the 065 Go Noosa Loop Bus which will operate until 10pm and until 1am on New Year's Eve.
For bus timetable information on Translink routes 626, 627, 628, 629 & 632, visit translink.com.au or call 13 12 30.