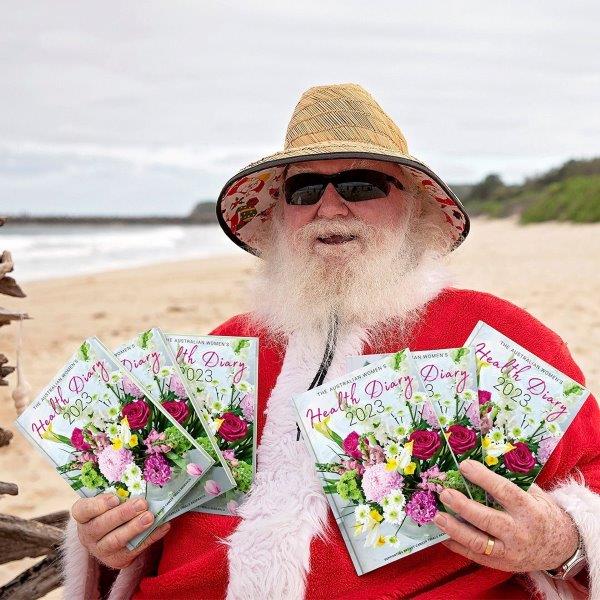 SANTA knows what is the perfect gift to give to women of all ages, however if Santa won't be making a stop by your house this Sunday, then why not purchcase a copy of the Australian Women's Health Diary – now in its 25th edition, the diary funds vital research into breast cancer research.
The diary is the perfect Christmas gift, stocking filler or secret Santa and most importantly, purchasing the diary will be supporting life-saving breast cancer research.
Every diary sold funds research to identify new treatments and prevention strategies – research that could one day save your life or the life of someone you love.
Deaths from breast cancer have fallen 30 per cent over the past 20 years which is largely due to new treatments like Herceptin, Exemestane, Letrozole and Tamoxifen which were identified through the Breast Cancer Trials research program – this diary is truly saving lives.
Despite this promising work, there is still a long way to go. This year breast cancer is estimated to be the most diagnosed cancer in Australian women and every day 56 people are diagnosed, that's one person every 25 minutes, and eight will lose their life to breast cancer each day.
Continued research is needed to ensure every person gets the treatment they need to survive and for over 40 years, Breast Cancer Trials have been leading the way in saving the lives of women diagnosed with breast cancer in Australia and throughout the world. These significant breakthroughs have been possible thanks to the Australian Women's Health Diary and the support of the many Australians who buy the diary each year.
The Advertiser has a copy of the diary to give away and if you would like to win the copy, please email with the subject heading 'Diary' to michelle@coolumadvertiser.com.au by 5pm Thursday, December 29. Please include your name, address and phone number and a winner will be chosen randomly and notified by phone.
Alternatively, the 2023 Australian Women's Health Diary is available from all local newsagents, participating Post Offices and online at www.womenshealthdiary.com.au and the diary is just $19.99.