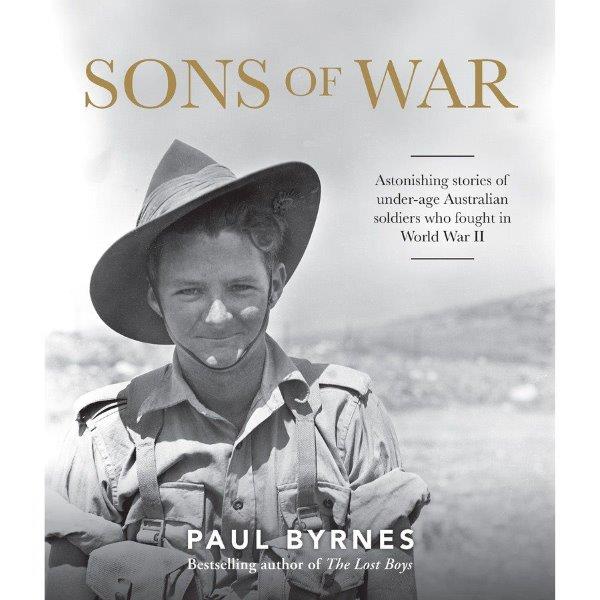 A NEW book that chronicles the stories of Australia's underage soldiers who enlisted and fought during the second world war has just been released and Author Paul Byrnes has featured one of Coolum's very own war heroes – Frank McGreevy in his book, 'Sons of War'.
A long-time Coolum local Frank McGreevy was one of those soldiers whose journey of bravery was chronicled, and although sadly Frank passed away just two weeks before the book's release, he did see a draft of the book just before his passing.
Frank's son Stephen said it gave the family peace to know that their Dad was acknowledged for his courage and strength.
"When my Dad first enrolled in the army, he was enlisted as a medic – but he didn't even know how to put on a band-aid," Stephen said.
"He just really wanted to be in the army and sought active service purely for the adventure."
Frank McGreevy served in World War II before going on to achieve many amazing milestones in his life. Frank was a stalwart of the Coolum-Peregian RSL and Coolum Bowls Club and was always happy to have a chat with people at the many services conducted at the RSL over the years.
Stephen said that even though Frank was patriotic to a degree, it was his pure love of adventure and being amongst it all that drove him. Frank was posted to Papua New Guinea which was a region where many Australians were posted including the author Paul Byrnes's Father – the two no doubt probably crossed paths at some point!
"Dad was very practical and great with his hands – he travelled Australia, building silos and irrigation channels on the Murray River," Stephen said.
During this time, Frank also met the love of his life – Hazel, and they raised four wonderful children together. When he settled in Coolum later in life, he became the longest-serving member of the Coolum Bowls Club, serving as President for a time before becoming patron in 1994.
"He could always be seen on a Friday night, holding court at the old diggers' table at the RSL – he really enjoyed that," Stephen said."
"It was his era and he felt totally at home."
Like many soldiers, Frank did suffer from bouts of PTSD, but he still was a great Father.
"The biggest lesson he taught me was to always be friendly with your neighbours, for they will be there in those lonely hours".
Frank died at the age of 98 a few months ago. He lived an incredibly full life and more of his early life can be read via the new book 'Sons of War' which is available to purchase from department stores and all good book retailers.