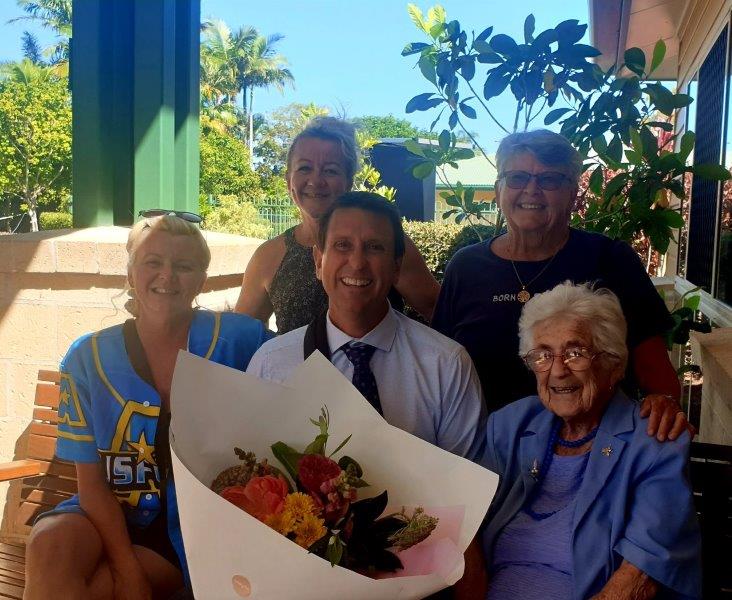 COOLUM resident Marie Rose Clarke recently celebrated her 104th birthday and the energetic and bubbly Coolum Waters resident puts her longevity down to daily walking and having a positive attitude.
To help celebrate her birthday Marie was surrounded by family and friends and was even visited by local MP Dan Purdie with the local politician stating that Marie Rose was most likely Coolum's oldest resident.  
"I was blown away to learn that Marie, who at 104 years of age is the oldest resident in the electorate and was also possibly among the first," Mr Purdie said.
Ninderry MP Dan Purdie was alerted to Marie's remarkable dynasty when he visited her to celebrate her 104th birthday.
Marie, a resident at Sundale Coolum, first arrived in Coolum in 1946.  After stints in Nambour, Marie returned to Coolum in 2000 and has been a resident of Sundale since 2015. 
"Marie's is an incredible story that began when she arrived on a boat from England with her family when she was three years old, and it was an absolute pleasure to spend some time with her today and listen to some of her fascinating stories.
"She is such a delight – a real living treasure."
Marie, the matriarch of four generations of local women, and a much-loved member of the Sundale community puts her longevity down to walking and having a positive attitude. 
Granddaughter Hayley Green, who runs Ausfunk in Marcoola, said her grandmother, who still votes and only just got her first hearing aids, has led a beautiful life.