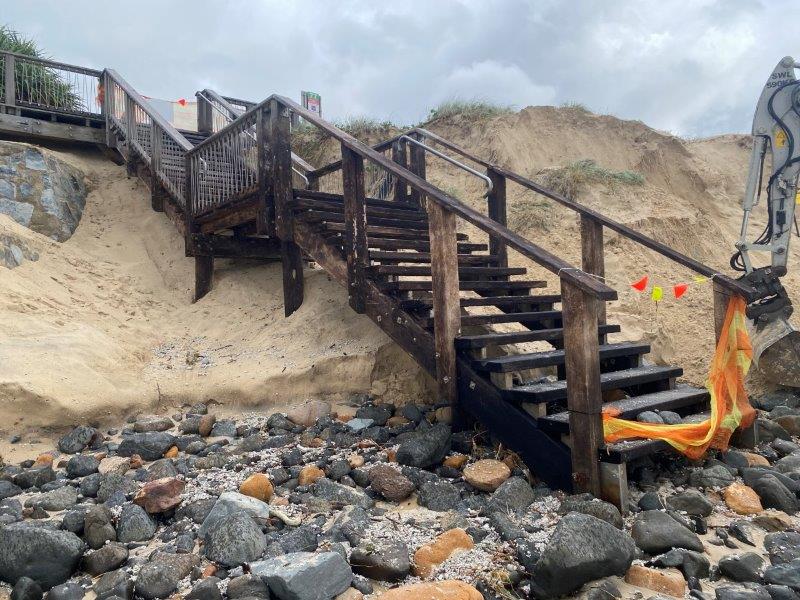 IT'S BEEN a wild year of weather and sadly our beaches have copped a harsh battering and in some cases infrastructure such as stairs have also been damaged.
The beach access stairs from Tickle Park down to Coolum Beach have been closed for quite some time whilst these damaged stairs are upgraded and replaced.
The new stairs to grace the beach access will look a lot like the sturdy set which allow for easy access to the little hidden 'Third Bay' beach.
The new set of robust timber and aluminium stairs have been designed to look and feel similar to the existing set.
Work to replace the damaged stairs at beach access 77 started this month.
It comes after erosion earlier in the year revealed wood rot and other structural defects.
Sunshine Coast Council Division 9 Councillor Maria Suarez said council worked to keep beach accesses in good condition.
"An engineer's review at beach access 77 stairs showed wood rot had damaged the structure," Cr Suarez said.
"After considering the options, council decided that replacing the stairs with a new aluminium and timber set offered the best value for money.
"The new set will be strong, last a long time and require minimal maintenance.
"It will still have timber treads and balustrades to keep that coastal texture and feel similar to the beach access 83 at Third Bay.
"The beach is an important part of our Sunshine Coast lifestyle and these designated entry points help to protect the dunes and coastal foreshore areas from erosion and damage.
"We thank the community for their patience while we work to restore safe access for our community."