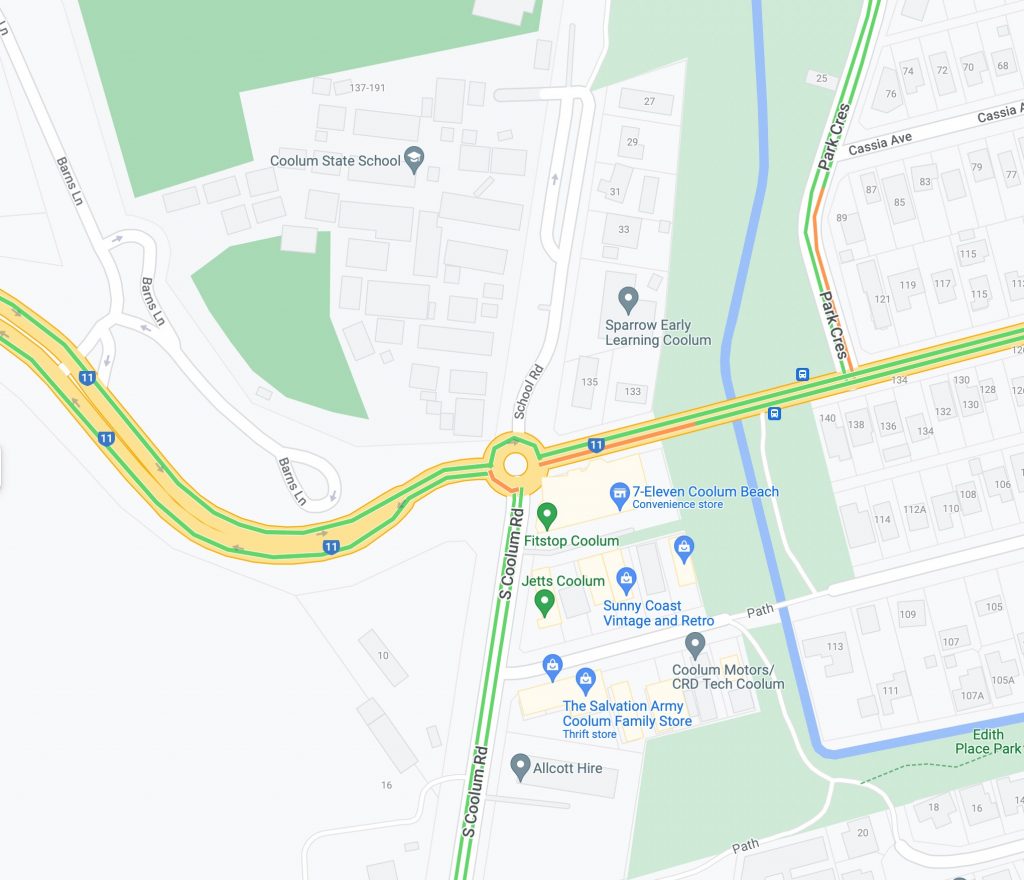 VANESSA BACON-HALL  
EDITOR  
IT HAS long been the bane of any motorist entering or leaving Coolum at almost any time of the day – navigating the roundabout at the juncture of School Rd and South Coolum Rd and last week funding to the tune of $5 million was announced by State Member for Ninderry Dan Purdie which will at this stage see the roundabout replaced with traffic lights.  
The traffic lights have been assessed at this stage by road engineers and the Transport and Main Roads Department (TMR) as the best solution.
Mr Purdie made "busting Coolum's congestion" and fixing the roundabout which serves as the sole entry and exit into Coolum from the Sunshine Motorway, one of his original election pledges back in 2017 and it appears that after many years of petitioning and surveying that funding has now been allocated to work on a viable solution to this nightmare traffic spot.  
Mr Purdie joined members of the school and business community last week to make the announcement, which will see the notorious roundabout replaced with a signalised intersection.
"This is a massive win for our community," Mr Purdie said.
"Since I was elected, locals have told me their top priority is to upgrade this roundabout and improve the congestion and safety issues for the hundreds of school children, their families and other motorists who use it on a daily basis," Mr Purdie said.
"Thanks to the support of the community, our combined efforts have finally paid off, and I acknowledge the State Government for funding this important project."
Mr Purdie said the roundabout was a serious choke point and safety hazard, with traffic regularly trailing back to the Motorway during peak school times.
The Member for Ninderry said replacing the roundabout with traffic lights was the first stage of a much bigger project to duplicate the Sunshine Motorway and upgrade the interchange on Yandina Coolum Rd and create a second access at Mount Coolum.   
The School Rd project would also tie in with the new Coolum State School masterplan and other yet-to-be-released design elements.  
TMR STATE THEIR DESIGN PROCESS
A Transport and Main Roads (TMR) spokesperson said that planning is underway for future upgrades to the Sunshine Motorway from Pacific Paradise to Coolum, including the School Rd intersection with Yandina Coolum Rd in Coolum.
"This initial phase of the planning process is a critical step towards identifying a preferred option which we expect to share with the community for feedback later this year.
"Introducing traffic signals at School Rd will improve safety, traffic capacity and efficiency and pedestrian facilities at the intersection will provide ease of crossing for vulnerable pedestrians and bike riders all day."
The spokesperson said that the $5 million was already allocated towards the delivery of a future upgrade to the roundabout at School Rd over the course of 2024-26.
"Further design details will be known when planning has progressed, and we will keep the community updated on opportunities to provide feedback."
TMR was also looking at other hazards relating to traffic flows into Coolum.
"Due to its location near the Sunshine Motorway and Yandina Coolum Rd intersection, the School Rd intersection is being investigated along with a $1.75 million planning study into the future duplication of about 10 km of the motorway, between David Low Way at Pacific Paradise to north of Yandina Coolum Rd interchange."
SCHOOL & COMMUNITY LEADERS HAPPY
Coolum State School P&C President Shane Urban said controlled traffic flow around busy drop-off and pick-up times would help the whole community.  
"Over 40 per cent of students travel to school by footpath, and a controlled crossing will make the trip so much safer, not only to and from school but also outside school times," Mr Urban said.  
"This is another step towards rectifying the traffic issues for both the school and local Coolum community."
Coolum Business and Tourism President Mark Cameron said the existing roundabout was long past its use by date and upgrading it would have a significant impact on the whole region.
"It's good for our community, it's good for business and it's good for the local economy," Mr Cameron said.
"For years we've been calling on the government to fix this roundabout, and thanks to Dan's unwavering support, we've finally been able to achieve it."
MINISTER WEIGHS IN ON WHO SECURED FUNDS
Transport and Main Roads Minister Mark Bailey was scathing in his reply to the funding announcement.
"Dan Purdie is pulling a self-promoting swiftie because he's re-announcing an upgrade that the Palaszczuk Government announced more than three months ago in the state budget.
"To claim he "secured" funding for this project is a lie pure and simple and he should apologise to the community for making such a false claim," Minister Bailey stated.
  
Mr Purdie responded that finally, something was starting to happen, and he was not bothered by the words from the Minister.  
"For years we have known about this and there has been no forward momentum and now we have something happening.
"With the community getting behind this we are now moving forward to bust congestion."
*Detailed design of the new intersection is expected to commence next year, with construction to occur in the 2024-2025 financial years.