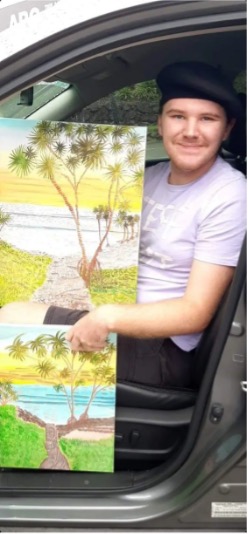 THE ART produced by people living with a disability will be taking centre stage this Saturday, August 20 at the Coolum Civic Centre with the ArtWorkz Exhibition returning after a successful inaugural exhibition last year.  
Artists from across the Sunshine Coast will be exhibiting their creations at the Coolum Civic Centre from 9.30am to 2.30pm at ArtWorkz – Art for Everyone and this second year is set to be even bigger, better, and full of community spirit and entry is free for everyone!
Hosted by local disability support organisations, Equity Works and Spiral, the event celebrates the valuable contribution people living with disability make to all aspects of community life and ArtWorkz aims to raise awareness and engagement around inclusivity of people from all walks of life and the therapeutic benefits of engaging in creativity.
The day also provides a platform for the artists to sell their original pieces and to be recognised for their hard work and achievements via creative outlets.
Spiral Communications Officer Tara McNeela said that many people use art to communicate with the world.
"Providing this platform for showcasing their work, is a way to open opportunities as well as connect with the community.
"We hope that ArtWorkz and our artists inspire guests to explore their own creativity and discover new ways of seeing and portraying the world," Tara said.
Many participants are involved in community art classes and explore the creative process as a means of connecting to themselves and expressing their inner worlds. The artwork reveals the authentic and often unselfconscious perspectives of the artists.
Several exhibiting artists already collaborate with businesses across the Sunshine Coast to display and sell their pieces, with great success. 
Damon Dionysius, also known as Damon the Artist, will be painting live at the exhibition and his paintings can be purchased on the day.
Damo said that he likes doing art because it makes him feel happy and excited.
"I am painting lots of different things, especially portraits of people and landscapes and this year I started clay modelling, and it makes me feel happy making models of Shrek.  
"My favourite colour is blue and I would like to be a famous artist one day."
The exhibition also serves as a way for visitors to meet the artists and ask questions and participate in collaborative art activities, and most importantly the day is set to be a fun-filled event drawing in people from all over the Sunshine Coast.
Equity Works and Spiral are not-for-profit organisations that together, support over 300 people living with a disability. The two groups regularly collaborate on projects that centre around building inclusive communities. Equity Works and Spiral share a passion for supporting the development of opportunities for everybody – ensuring that each person can flourish and grow their involvement within the community. 
Sunshine Coast Regional Council have supported the development of the exhibition and assisted to raise awareness of the event through their extensive community networks.