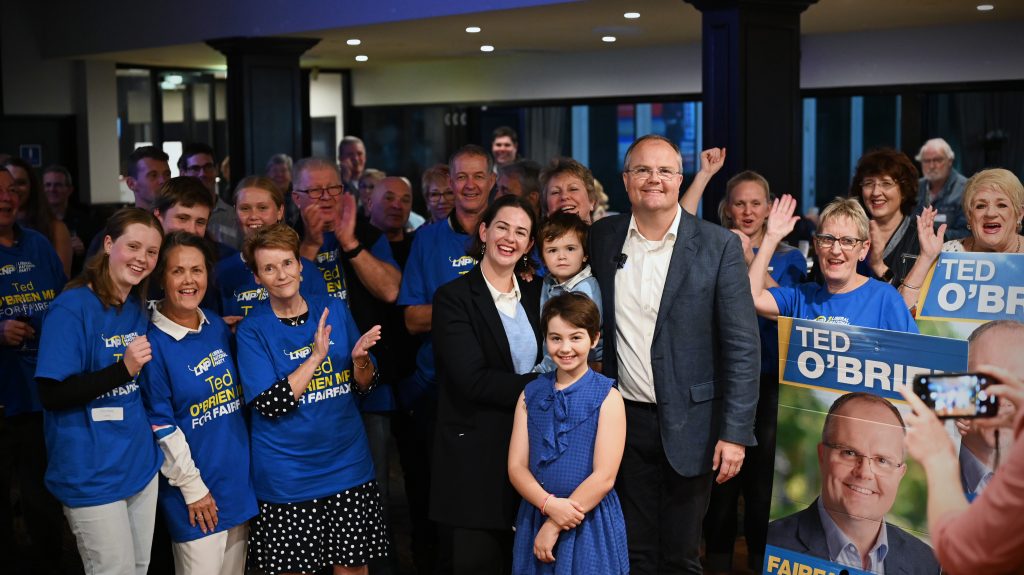 VANESSA BACON-HALL  
EDITOR  
IT WAS a night of celebration in Fairfax on Saturday, May 21 with LNP sitting member Ted O'Brien claiming a third term in office, and whilst the LNP did not come back to form government nationally, Ted said that he was humbled to be re-elected and was very grateful to the local community.  
"Although I am delighted to have been re-elected, I am also conscious that the Liberal-National Government lost office and there was also a swing against the LNP locally. 

"There is no shortage of political commentary explaining the 'why' of the election result, but I'd prefer to hear personally from local residents who I serve as Member for Fairfax," Ted said.
In an effort to find out what the community does think, Mr O'Brien will be conducting a road trip to meet locals across the electorate in the week beginning Monday, June 6 and has also launched a survey (see www.tedobrien.com.au).    

"My hope is to learn every possible lesson from the election so that I can better represent our local community in the next term of government."
Many of the national swings against the LNP and lost seats were in what were considered safe seats with these falling to the 'teal independents' who made climate change a big-ticket item on their ballot.
"Climate change will continue to be an important factor moving forward," Mr O'Brien said.
"I was proud to have helped lock in a commitment to a 'climate positive' Olympic and Paralympic Games when negotiating our bid to host the 2032 Games and I was also happy to secure Federal funding for the Blue Heart environmental project only a couple of months ago. 
"Protecting our way of life has always been a priority for me, and that includes protecting our local environment and this will continue to be the case moving forward."
Sue Ferguson who was the ALP candidate for Fairfax said that despite not winning, the team were happy with their result and the swing to the ALP in Fairfax was a good result.
At the time of going to print figures showed that all parties secured swings to them apart from the LNP, One Nation and an independent who all recorded swings against them.
"We went in wanting to win but what we did get was an incredible result and it was all done by an incredible team – no one was paid," Sue said.
"I heard time and time again at the polling booths that people want change, and many want an ALP member in Fairfax and this one was all about building trust."
"It was an incredible result overall for the ALP and it has shown that people want the atrocities in aged care fixed, our First Nations people to be recognised in our constitution and action on climate change.
Sue went on to say that she heard that climate change was a big concern for many people whilst campaigning and stated that it was only an ALP member for Fairfax who would see a change in that area.  
Ms Ferguson was back at her day job on the Monday after the election where she works as an outreach nurse for Sunny Street – delivering care for the homeless across the coast, however, she intends to run again.  
"I will be sticking around – and coming back in three years. I loved this and want to represent the people of Fairfax."
Mr O'Brien stated that he intended to continue fighting for the residents on the coast.
"It will be a different term in office, now that we're in opposition and not in government.
"While this may make things more difficult, you can be sure that my commitment to work day and night serving our local community remains unchanged."