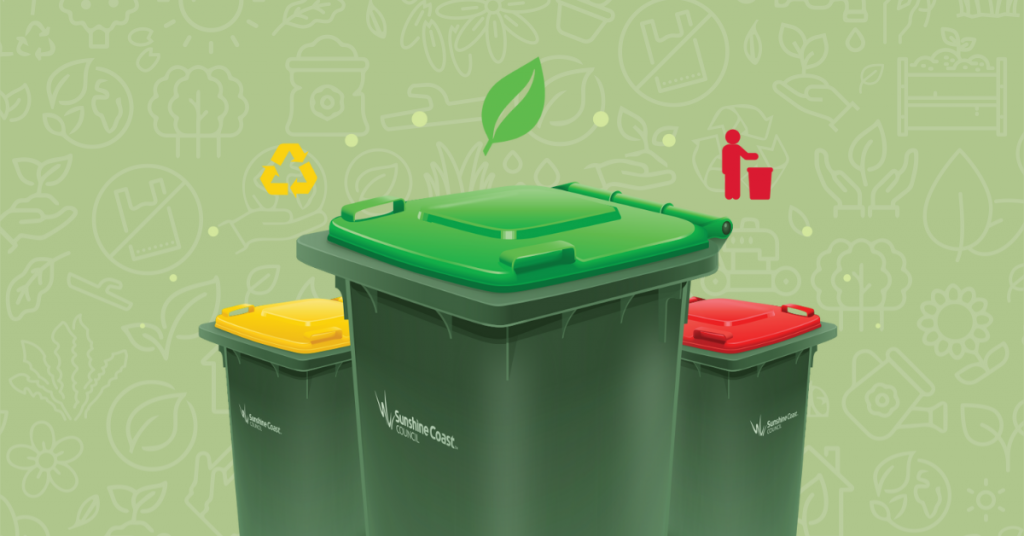 No more trips to the tip for green waste will be needed with the garden organics bin collection service to be expanded across the Sunshine Coast from July of this year, giving residents an easy and convenient way to recycle their garden waste.
The 240L garden organics bin service is expected to cost approximately $35 per year (subject to change), will be collected fortnightly and will be delivered to residential properties later this financial year, ready for the service to begin from July 10.
Waste audits have shown that almost 55 per cent of material in general waste bins is organic material that could be repurposed – so it makes sense not to send that waste to landfill.
Lawn clippings, weeds, leaves and other organic garden materials placed in the new lime green-lidded bin will be collected by council and as such diverted away from landfill and mulched ready to be reused.
Mulching garden waste, instead of dumping it, will extend our landfill life and reduce greenhouse gases being released into the atmosphere.
Close to 50,000 property owners across the Sunshine Coast show have by now received a notice in the mail or an email from council to inform them of the new service.
The other 40,000 property owners are already using the garden organics bin service.
It could also potentially save property owners paying the full cost of the Queensland Government Waste Levy.
Sunshine Coast Council Environment and Liveability Portfolio Councillor Maria Suarez said council's aspiration was for the Sunshine Coast to send zero waste to landfill by 2041 for a cleaner, greener environment and sustainable future.
"To do this, we are delivering our plan to divert more of our community's waste away from landfill to be reused and recycled," Cr Suarez said.
"This is known as a circular economy, where products and materials keep being reused in the market for as long as possible."
Community feedback conducted by council showed overwhelming support for a garden organics service on the Sunshine Coast.
"In fact, 84 per cent of respondents agreed it is very important that council provides a service to reduce organic waste in landfill and convert recovered organic material to useful by-products," Cr Suarez said.
Eligible properties can apply for an exemption from the organics bin service if they meet certain criteria. For information on the exemption criteria and answers to other frequently asked questions please visit www.sunshinecoast.qld.gov.au/gardenbin
KEY POINTS
*An expanded garden organics service will start for Sunshine Coast residential households from July 2022.
*Garden clippings, weeds and leaves can go into the lime-green lidded garden organics bin.
*The garden organics bin will be collected fortnightly, on alternate weeks to recycling bin collection.
*Garden organics will continue to be accepted at resource recovery centres.
*As a result of economies of scale, the garden bin collection service will cost less.
*Some property owners may apply for an exemption. Details are available on council's website.
ADDITIONAL BENEFITS
There are multiple benefits to having a garden organics service:
*It is an easy and convenient way to dispose of your lawn clippings, weeds and other garden organics.
*The expanded service will reduce the amount of organic material that goes into your general waste bins.
*If you currently take garden organics to council's resource recovery facilities, you may no longer need to make those trips, saving you money and time.