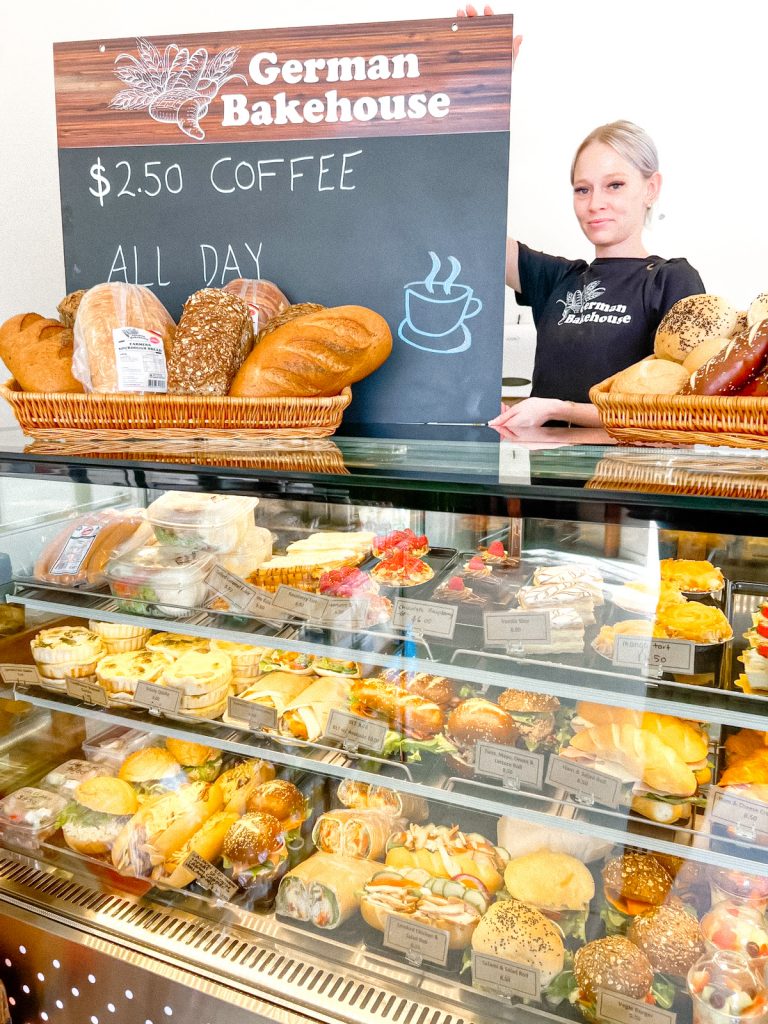 A balance of healthy and indulgent treats
There is so much hidden out in the Quanda Industrial Estate and one of the best foodie gems has got to be the 'German Bakehouse' – is there anything better than freshly made bread? We definitely think not and the German Bakehouse know how to make bread and treats worth the quick drive out to the industrial estate.
Located at 54 Junction Drive and open from Monday to Friday, 5.30am -2pm the German Bakehouse has on offer the finest and freshest German sourdough to be found outside of Deutschland and also has the cheapest barista-made coffee in town at just $2.50.
Using authentic German traditions, the dough is proofed over a 48-hour process, which is hard to find anywhere else in Australia, and the sourdoughs contain a particularly high level of fibre as well as essential vitamins and minerals and gluten-free options are available as well.
The German Bakehouse has a warm, friendly and comfortable atmosphere which makes it a great place to get together with friends or for a business meeting, and the deli is stocked full of freshly made quick bites, including gourmet sandwiches, wraps, fruit salad, yogurt and granola bowls, pies, sausage rolls, sweets, and patisserie cakes. There is the perfect balance of healthy and decadence on offer.
Looking for specialty European treats? The German Bakehouse stock a huge selection of retail items that are great for at home use or as gift ideas that you won't find anywhere else on the coast. And it wouldn't be a German foodie retail space without a selection of sausages, with Bockwurst, Kransky, Frankfurter, Rostbratwurst, and Knackwurst amongst offers available to purchase for only $10!
Special occasions and functions can also be catered for with the team offering a range of catering options for business breakfasts and lunches, small celebrations and receptions, and corporate events. They are happy to accommodate kids and special dietary preferences, as well as custom orders including special occasion cakes.
On the first Saturday of each month, the German Bakehouse partners with the Sir Henry Royce Foundation for the 'Cars & Coffee – Sunshine Coast' morning from 7am-10am. The morning is a great opportunity for motoring enthusiasts to come together and admire the collection of cars housed next door in the museum and grab a European treat and coffee.
The German Bakehouse also has their commercial kitchen available to hire and for more information on what they have on offer as well as their full menu and products please visit – www.germanbakehouse.com.au.
The German Bakehouse also has a retail space in Cooroy and can be found at 10 local markets and stockists across the Sunshine Coast and Brisbane region.