Vanessa Bacon-Hall
Editor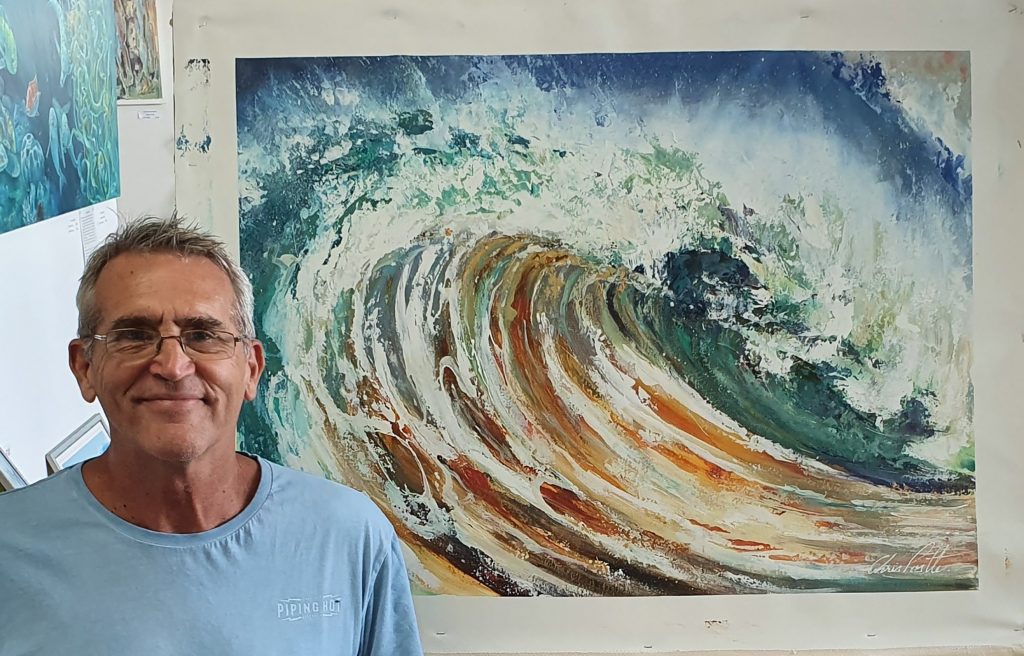 A venture down to Point Arkwright on any given day in the afternoon or morning will find a group of photographers and friends waiting for the perfect 'photo' and enjoying a chat, and regular 'Arky' resident and photographer, Mike Drinkwater is these days not holding a camera and taking stunning pics, unfortunately, due to cataracts obscuring his vision and making him blind.
Coming to his rescue has been sister Kelly and artist friend Chris Postle with Kelly starting up a GoFundMe to raise funds and Chris painting one of his signature pieces of art inspired by one of Mike's wave photographs and all money from the sale of the piece going to Mike's GoFundMe.
Sister Kelly explained that Mike has been losing his eyesight for over a year now due to cataracts, which is the clouding of the normally clear lens of the eye.
"Mike has been diagnosed by a professional with having this condition in both his eyes at an advanced stage.
"Since the end of last year, his situation has deteriorated so much that it is impossible for Mike to do his job as a professional cartoonist and semi-pro photographer," Kelly stated.
"And now even the most basic daily tasks have become a challenge for Mike such as reading emails, seeing his phone, typing, reading a book or even driving his car."
Mike is desperately needing cataract surgery to restore his eyesight – a relatively quick and painless medical procedure that comes with a hefty price tag of around $10,000 and without private health insurance, a long wait in the public system is just not an option, so with the help of family and friends Mike is determined to have the surgery privately in Brisbane.
Obviously, Mike is overwhelmed by the local support, with the GoFundMe at the time of going to print having raised $4,000 of the $7,500 goal.
"To have so many friends and colleagues from the past come out of the woodwork and contribute is unfathomable and rather emotional", Mike said.
"The great thing to come out of this is not only that it looks like I will be able see again, but it's reminded me how bloody fortunate I am to know so many beautiful people."
"And Chris, what can I say? How great is he for doing this – 'Possy' is such a top bloke," Mike said.
The original photograph taken by Mike of the wave and the painting by Chris Postel is called 'Pobblebonk Cove' with Mike stating that he named it that after a secret surf break he found that has Pobblebonk Frogs.
Chris Postle who is a long term local to the region is currently living in Hervey Bay where he is caring for his elderly mother and has a gallery located at Shop 7 Buccaneer Dr, Urangan and can be contacted on 0409 286 364 for enquiries about his 'Pobblebonk Cove' painting for purchase.
To donate to Mike's cataract surgery GoFundMe please visit –
https://www.gofundme.com/f/please-help-me-return-my-brothers-eyesight