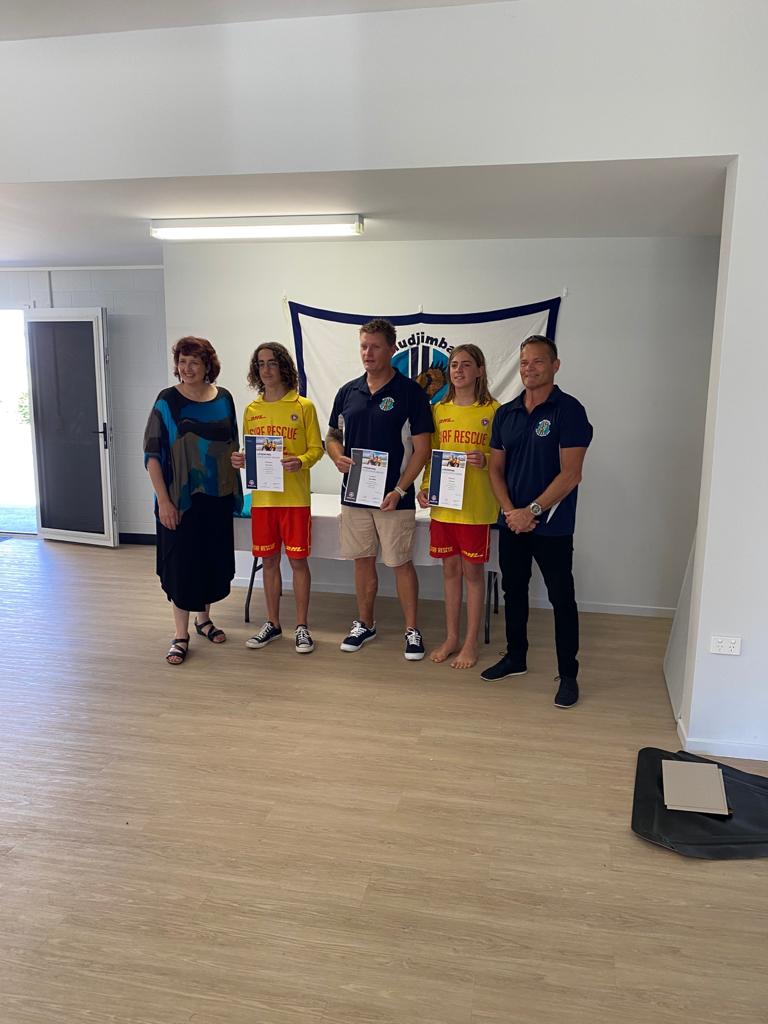 Darrin Edwards
President
ON Saturday, October 9 Mudjimba Surf Life Saving Club (SLSC) recognised the outstanding achievements of some individuals and teams in our club. Our club patron Fiona Simpson MP was on hand to present on behalf of Surf Life Saving Queensland three awards in recognition of 'Excellence in Surf Lifesaving' to three of our members who performed a rescue of a family of five between Mudjimba and Twin Waters on October 20, 2020.
Two of the rescuers, Caleb Teague and Ryce Connerty, both youth members, had only recently achieved their Surf Rescue Certificate and they worked alongside a relatively new senior member, Rob O'Neil. The club is incredibly proud of the skills and courage displayed by our members and also in the quality of training provided to ensure Rob, Caleb and Ryce were able to perform these rescues. Congratulations to Rob, Caleb and Ryce on being recognised by SLSQ – we are very proud of you all.
Also recognised on the night was our IRB racing team who were just awarded the Davey Jones Trophy for the 2020-2021 racing season. The criteria for being awarded this trophy is, in our opinion, greater than being champion racers. This trophy typifies what our club stands for and is something every member should be proud to acknowledge. This trophy is voted on by competitors and officials and is awarded to the club racers, officials and support crew who model exemplary conduct and attitude within the team and towards other teams and officials. It recognises a team that works to build a positive culture across surf spots in SLSQ. Congratulations to our IRB racing team – we are very proud of your efforts but we are most proud of the reputation you are building for our club.
Three of our IRB racing teams also received their Silver Medals from the 2020-2021 State Titles. Congratulations to Vicki Starr, KT Akers and Nathaniel Kelly.
I would also like to take this opportunity to say congratulations to Scott, his JAC Team, all our Executives and so many helpers, water safety, canteen co-coordinators and club members for the planning and commitment to making our first morning of Nippers so very successful. I did a rough roll count at the end of the morning and we now have 172 Nippers on our books and after speaking with almost 100 parents/guardians, we also have 100 happy new families/members in our Mudjimba family.
I am very proud to work alongside the amazing people that comprise our little surf club but special acknowledgement must go to Scott – our Director of Junior Activities.
During this SLSC Appeal Week, please take the time to show your support for your local club and we are always happy to have new members joining up – please visit our website for more details at www.mudjimbasurf.com.au