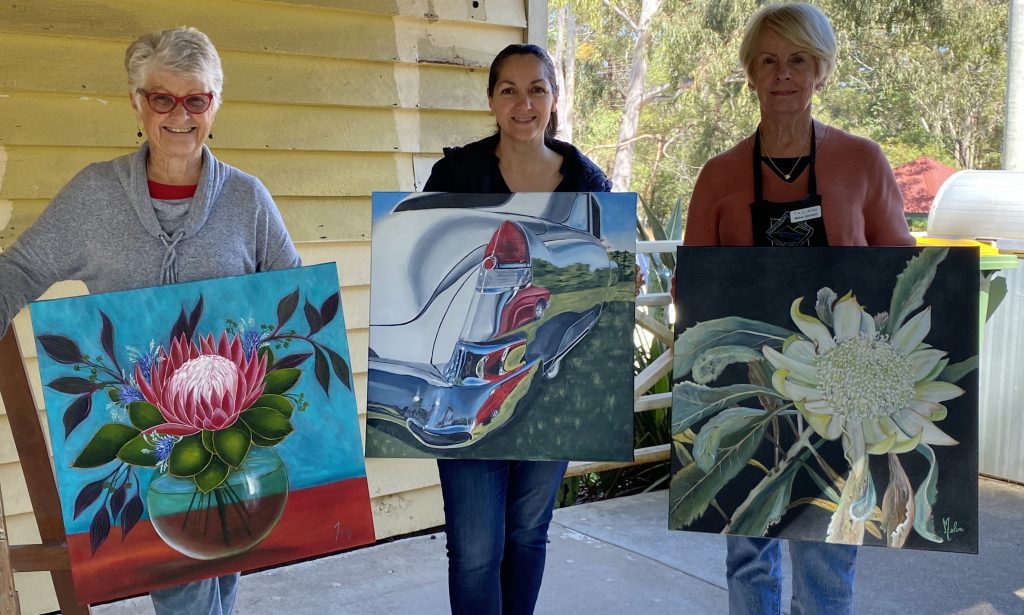 Keep Calm and Paint on!  That is the motto of the members of the Tinbeerwah Art Group (T.A.G).   Artists have been busy all year preparing for their annual three-day art show at Tinbeerwah hall this weekend, September 17-19.
The late Gwen Blair who was a retired art teacher founded the group in 1994. Gwen wanted to join an art group but she couldn't find one so she started her own and the rest is history. The Tinbeerwah Art Group has been meeting at Tinbeerwah hall ever since. Sadly Gwen Blair passed away in 2013 but her legacy lives on. The group has grown from a few friends meeting on a Thursday morning to a membership of over seventy local artists.
Committee member Jan Cooke said that the show this year would be their biggest yet.
"We are indebted to our award-winning guest tutors who have encouraged our members to try new techniques and develop their skills in different mediums."
"We encourage artists of all abilities and our members range from complete beginners to award-winning artists."
The exhibition will feature paintings to suit every taste with all for sale at reasonable prices. Once again this year T.A.G. is donating funds raised from gold coin door entry, raffle and artists donations to Katie Rose Cottage Hospice, Doonan in memory of T.A.G. founder the late Gwen Blair. The raffle includes two beautiful paintings donated by T.A.G. member Avril Hare.
Details
*Tinbeerwah Hall, Cnr Sunrise and Noosa-Cooroy Rd, Tinbeerwah.
*Friday Sept 17: 12 – 5pm, Saturday Sept 18: 9am – 4.30pm, Sunday Sept 19: 9.30am – 3pm. COVID 19 guidelines will apply.
Check out our work on the Tinbeerwah Art Group Facebook page.