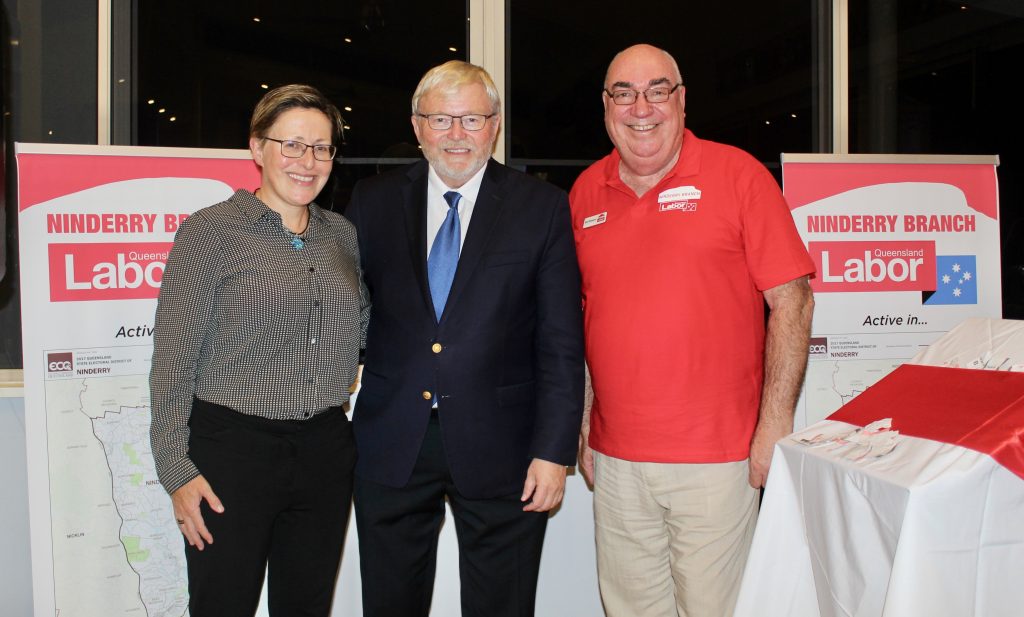 Saturday night saw the Ninderry Branch of Queensland Labor conduct the annual "Light on The Hill" dinner and speech at the Coolum/Peregian RSL to a packed room of Labor party faithful.
A local Sunshine Coast resident, work from home participant and former Prime Minister, Kevin Rudd was the guest speaker and drawing inspiration from Ben Chifley's famous 1949 speech, Mr Rudd was forthright, passionate and elegant in his advocacy for Labor's values which are underpinned by fairness and equity.
Ninderry Branch President Bill Gissane said that Mr Rudd was a huge hit on the night.
"Even those who don't normally associate with Mr Rudd's side of politics were deeply impressed with the simplicity and power of his logic.
"Mr Rudd made some telling points regarding the rather sorry state of the nation's current leadership with respect to the key Federal areas of quarantine and vaccine distribution," Mr Gissane said.
A key component of Mr Rudd's speech focused on the lack of media diversity in Australia and the impact that has on our political landscape with Mr Rudd stating that he is calling for a royal commission to be established into our lack of media diversity.
"Australians are a sensible people and they all have their independent political views and in shaping their views at an election they want balanced and factual information."
Mr Rudd is arguing that there is a distinct blurring of both fact and opinion within the Australian media by major operators.
Currently, a senate inquiry is running into media diversity – Mr Rudd has been before the inquiry twice so far and a national petition with half a million signatures asking for a royal commission has been presented.
"What we are waiting for is which way will the senate recommend.
"To proceed with a royal commission will shine a light on the existing monopoly and recommend a new legislature and regulatory environment for Australia and for maximum media diversity across all media."
Mr Rudd also spoke favourably about the role of independent media whilst talking to the Advertiser.
"What local communities want from what I have seen across the country is strong, independent and balanced local reporting."
Mr Rudd also spoke about his past memories of Coolum – in particular how long his family had been in the region.
"Coming to Coolum was always coming home – my parents bought their first home in Valdora in 1948 and then we moved to Eumundi in 1956.
"When the family would go swimming it was always to Coolum – back when there was only one store on the corner and as a high school kid we were always brought down here to the rocks at Coolum to study marine biology."
Ninderry candidate Melinda Dodds said it was inspiring to have Mr Rudd speak so passionately about the core values of the Labor Party which she outlined as essentially about fairness.
"Labor is all about every child getting a decent start and having access to health care and a fair taxation system."
Ninderry Branch President Bill Gissane said it was great to see so many diverse people in the room for the dinner.
"It was a privilege to have the recently elected member for Nicklin, Rob Skelton and most satisfying was the number of younger people in the audience, including two students from the University and their professor in International Affairs," Mr Gissane said.
"On behalf of Ninderry Labor we thank the volunteers and staff of the Coolum/Peregian RSL for providing the setting for a wonderful evening and recognise long time Labor identities Robyn Deane and Ray Marx who first devised the dinner."