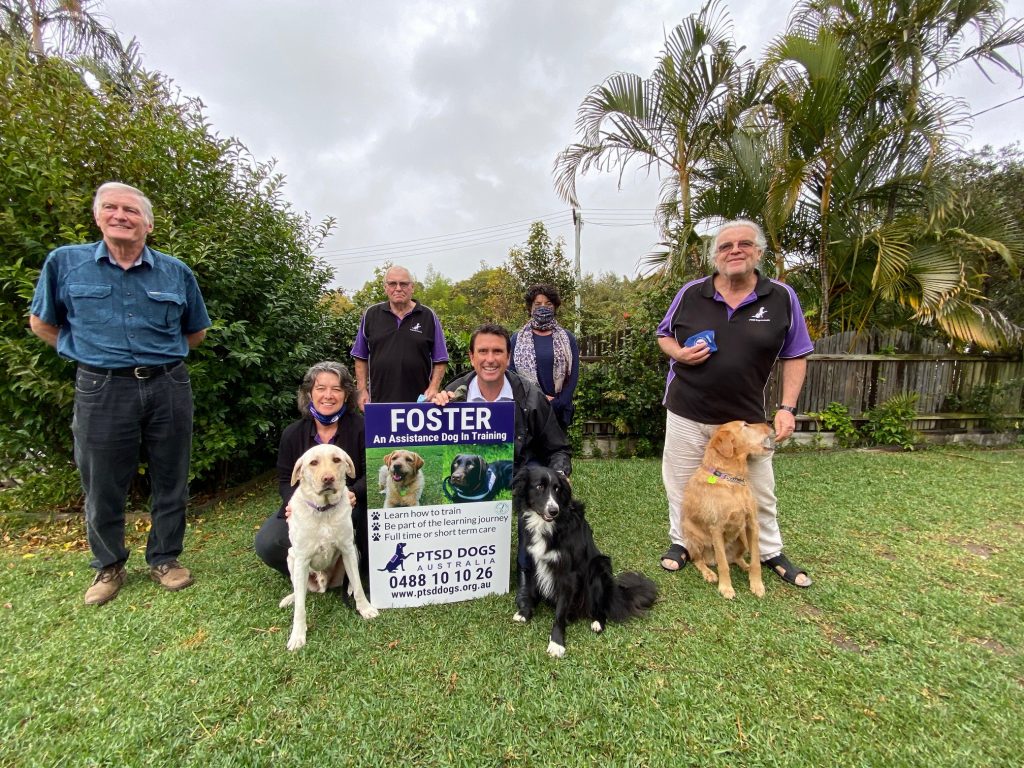 A shortage of dog-loving family homes is impacting on a local charity's ability to help PTSD sufferers on the Sunshine Coast and they need foster families now.
PTSD Dogs Australia currently based in Tewantin, has put out the call for short and long-term foster families for assistance dogs who are being trained to support former First Responders and Defence Force personnel who are battling Post Traumatic Stress Disorder (PTSD).
Ninderry MP Dan Purdie, a former frontline police officer, praised the work being done by the charity, which is being impacted because of a supply and demand crisis.
"PTSD Dogs Australia founder Angie Weeks and her husband Roger have had some amazing success helping PTSD sufferers find relief and support through the company of trained assistance dogs, however at the moment, they can't find homes to keep up with the demand," Mr Purdie said.
Since the charity began in 2018, 13 former service personnel who have served the community have received Assistance Dogs, at no cost, and eight rescue dogs have been rehomed in the process.
Ms Weeks said there are currently 171 people on their waiting list for a trained support dog.
"The need for these Assistance Dogs is immense. The amount of ex-service personnel who are suffering from PTSD is enormous, and unfortunately, we can't train the dogs quickly enough to keep up with demand. We need help from dog lovers in the community to help us raise more dogs and get the training process started," Ms Weeks said.
Coolum army veteran Laurie said his assistance dog Buddy has been a life-changer.
"Buddy is my best friend he is always there to lend a paw. He goes everywhere with me even when playing two Up on Anzac Day. PTSD Dogs Australia gifted Buddy to me two and a half years ago and he has changed my life in so many ways, ways I never thought possible. I also have my safe space, my pack of humans who understand me and have my back," Laurie said.
The work PTSD Dogs Australia is doing is not only providing a better life for dogs who have been displaced, it's also making a world of difference for people who are battling the very real and debilitating effects of post-traumatic stress disorder.
If there are any individuals or families in the area who would love to welcome a dog into their home for the duration of their training and learn about training an Assistance Dog, they would be making such an incredible contribution for such a worthy cause.
For more information visit the website and get the ball rolling visit https://ptsddogs.org.au/foster/
UNDERSTANDING PTSD
Posttraumatic stress disorder (PTSD) is a set of reactions that can develop after a person has been through a traumatic event, which threatened their life or safety, or that of others around them. Not everyone who lives through trauma will develop PTSD. However, the risk of PTSD is inherent in the work of military personnel and first responders (police, fire, ambulance) as they often experience several traumatic events over the course of their careers.
The symptoms people experience with PTSD are the result of stress-induced changes in brain chemistry and brain structure.