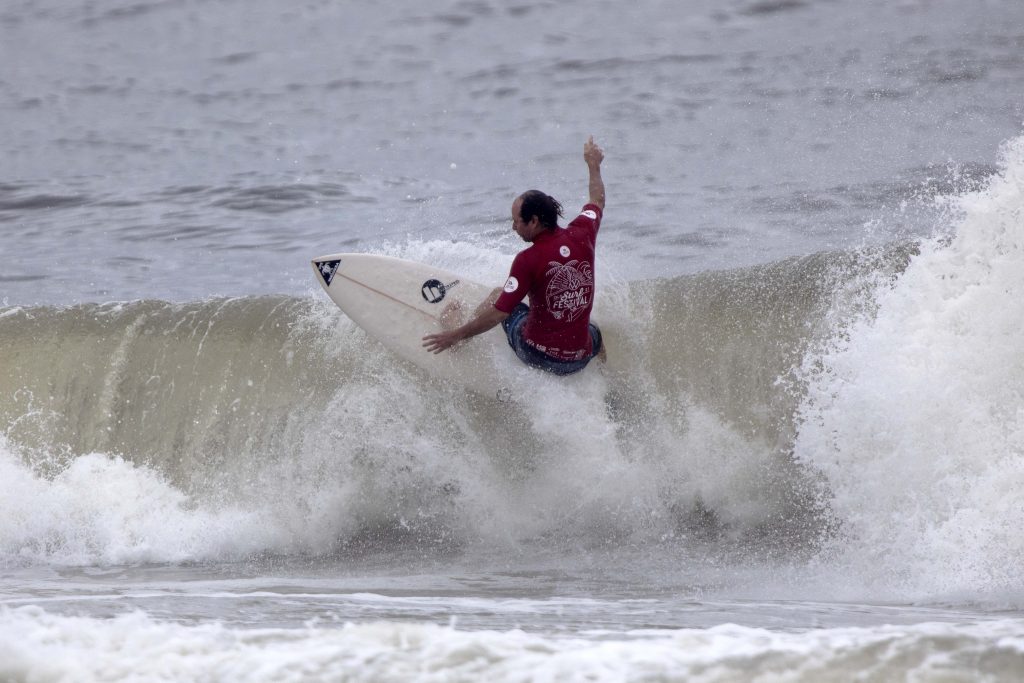 Yaroomba's Trevor Tripcony has taken out a double state title in the Volkswagen Queensland Surf Festival over the past fortnight – taking home the top honours in challenging, but clean two to three foot surf at King's Beach in Caloundra.
The nine-day Queensland Surf Festival was scheduled to be conducted entirely at Coolum Beach, however challenging and choppy conditions moved the event to other beaches for some of the events.
Trevor Tripcony was the standout of the Masters Shortboard division, taking out the Grand Masters Over 40 Shortboard and the Masters Over 35 Shortboard. He also completed the highest two-wave total (14.43) (Grand Masters Over 40) of any finalist.
Tripcony, already a past state champion, will now represent Queensland in multiple divisions at the Australian Titles later in the year at Port Macquarie, NSW.
Tripcony said the quality of waves throughout the day justified the decision to move to Caloundra for the Masters Finals.
"I'm wrapped with my performance.
"I'm really glad they changed the location to Kings Beach – the waves were good all day and there wasn't as much paddling as previous days.
"My arms aren't hurting as much."
Another local surfer, Bruce Dunne from Coolum also surfed well, coming in third in the over 55 Men's Shortboard division.
In the Women's Queensland Open Shortboard Team division Coolum's Ellia Smith placed well with a third and a score of 9.40 in washy, rising surf at Ann Street Reef, Dicky Beach
On the final day of the competition back at Coolum, past world champion Josh Constable from Peregian Beach was the star attraction, winning the Grand Masters Men's Over 40 Longboard with a huge heat score of 17.73, which included a single ride of 9.40.
Constable said he was happy with the waves and how the longboard component of the Festival turned out.
"It's actually been a great couple of days. The waves have been really fun. The wind picked up a little in the afternoon but there was still plenty of right-handers out there.
"It's always nice competing at home."
Constable said that after having some time away from competitive surfing, he's glad to be back in a contest rash shirt.
"I've had a bit of time off over the past five-to-eight years. I've got back into it over the past couple of years by competing on the World Surf League tour, but it has obviously been affected by COVID-19.
"I'm still enjoying my surfing and don't have any plans to stop."